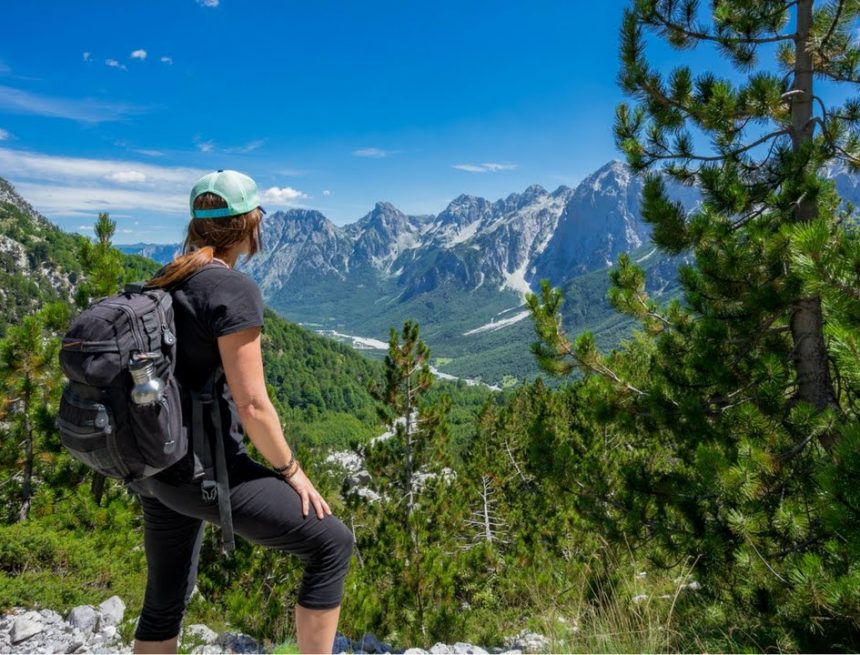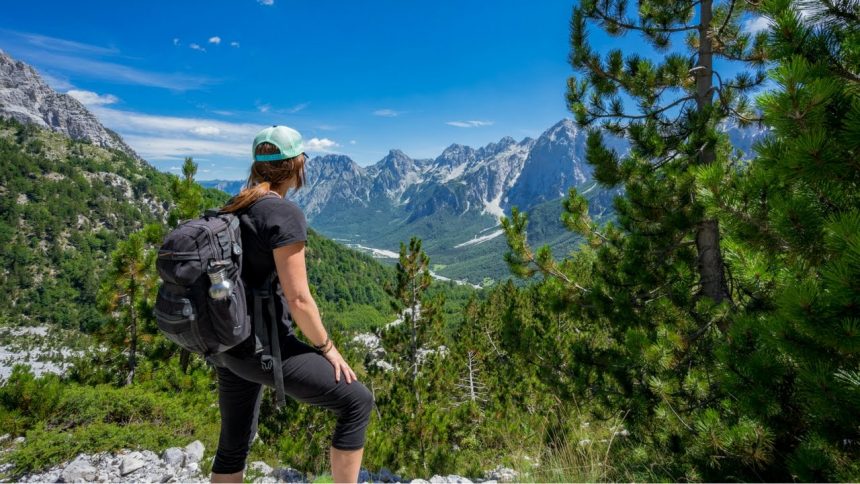 Hiking in the Valbona and Theth region – Photo Source: YouTube: Alesha and Jarryd
Walking holidays are the right way to creating unique authentic experiences in Albania.
There's too much to say about hiking opportunities in Albania, but the most important thing is that you'll have the trails for yourself. Albania is one of the best destinations for nature lovers, according to National Geographic. There are hiking trips of every length and difficulty through incredibly varied landscapes. Albanians love to explore their country and are taking seriously the existing trails, while many others are being mapped and signed. Guides take groups of Albanian and international citizens in a day, weekend, and multi-day trips across the country. Trekking in the great outdoors in the alternative to traditional beach vacations on the coast of the Ionian and Adriatic seas. Hiking in Albania is a large topic but it can be narrowed down to specific categories according to geographical, cultural, and historical elements. Given the strategic location in the Balkan's region, backpackers, solo and group travelers that pass through Albania take the chance to explore the little known inland and look for authentic experiences.
For hikers interested in hiking in Albania here is the list of trails according to regions
The Albanian Alps

Valbona Pass
It's when you see the Albanian Alps that you'll understand why they are called 'The Accursed Mountains'. The trip to the Northern Alps runs through Komani Lake, the best boat trip in Albania and one of the most fascinating in Europe. Valbona National Park is a must-see place and from there you can walk Valbona Pass from the valley to Theth. This walk is a small section of 'The Peaks of the Balkans' route that walks across Kosovo, Albania, and Montenegro. Valbona Pass is not a difficult walk and it can be completed by people of different ages.
The Peaks of the Balkans
Sports activities bring people and countries together and hiking cannot be excluded. The Peaks of the Balkans is a multi-day circuit about 200 km long. It can be completed in no more than 12 days. It's a lifetime experience.
A mountain walking trip "Around the peaks of the Balkans"
Via Dinarica
This one is for the bravest due to its length of over 2,000km. Via Dinarica crosses eight different countries in the Balkans from Slovenia to Macedonia. It is divided into 120 sections and traverses the Dinaric Alps and Sharr Mountain Range. This long distance walk that promotes responsible tourism across the Western Balkans is also a cultural corridor. It takes 70 to 90 days to complete the walk.
New Long Distance Hiking Route Connects the Western Balkans from Slovenia to Macedonia
Short hiking trips in the Northern Alps include routes to natural monuments such as waterfalls, caves and mountain peaks. Areas to explore: Curraj I Eperm, Lekbibaj, Vrane, Dragobi, Qerec, Lekbibaj, Vermosh, Lepusha, anyplace in Kelmend region, Gjallica Mountain in Kukes
What to do in Kukes? Hike in Gjallica Mountain
Short walks near Tirana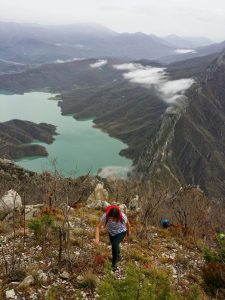 Fagu Mountain from Kllojka, a three-hour walk, 4.82 km long, three hours up, two hours down
Snoji Mountain from Biza, moderate difficulty, 6 hours to complete
Biza to Labinot, moderate difficulty, four hours to complete
Shengjergj to Vali Cave, moderate, about three hours to complete
Mali me Gropa to Facesh, moderate , about six hours to complete
Ostrovica Peak (Elbasan), moderate, about three hours to complete
Qafa e Shpellezes circuit walking to shepherds settlements, moderate, five hours to complete
Pellumbas cave from Pellumbas Village, moderate, about 1 hour
Dajti Crest Trail, moderate, seven hours to complete
Percellesh, moderate, five hours to complete
Dajti Mountain Trail, easy, about three hours
Durisht-Petrela, moderate, 5 hours and 30 minutes
Gamti Mountain, moderate, about six hours
Tirana-Zall-Guri I Bardhe-Klos, difficult, about nine hours
Tujan to Dajti Loop, moderate, about seven hours
Zeza Canyon, easy, about two hours
Cyclopes eye (Hurdha e Zeze) moderate, 4 hours
Qafe Molle loop, moderate, three hours
Sotours app Introduces the Best Hiking Experience in Mount Dajti
Day Walking trips in  Elbasan
Mali i Korres circuit, moderate, seven hours
Polisi Mountain, moderate, five hours
Gaferi Peak, moderate, ten hours
Kamara Bridge and Via Egnatia moderate, 3 hours 30 minutes
Gjinar Mountain, moderate, five hours
Belsh lakes, moderate, three hours
Godolesh-Mengel, moderate, five hours
Sotira waterfall, easy
Shebenik, moderate, 6 hours
Maja e Zeze, moderate, three hours
Kabashi Cave to Ferrica Cave, easy
Black Lake trip Gramsh, easy
Valamara mountain, easy
Komjani Mountain, difficult, 2 hours, 30 minutes
Dibra hiking
Radomira – Korab Summit moderate
Berat hiking
Shpiragu Mountain, easy, seven hours
Cuka Partizan-Tomorri Mountain, difficult, six hours
Tomorri Mountain Hiking Trails Expanded and Improved
Vlora Walking Trails
New Trail Opens for Hiking in Karaburun Peninsula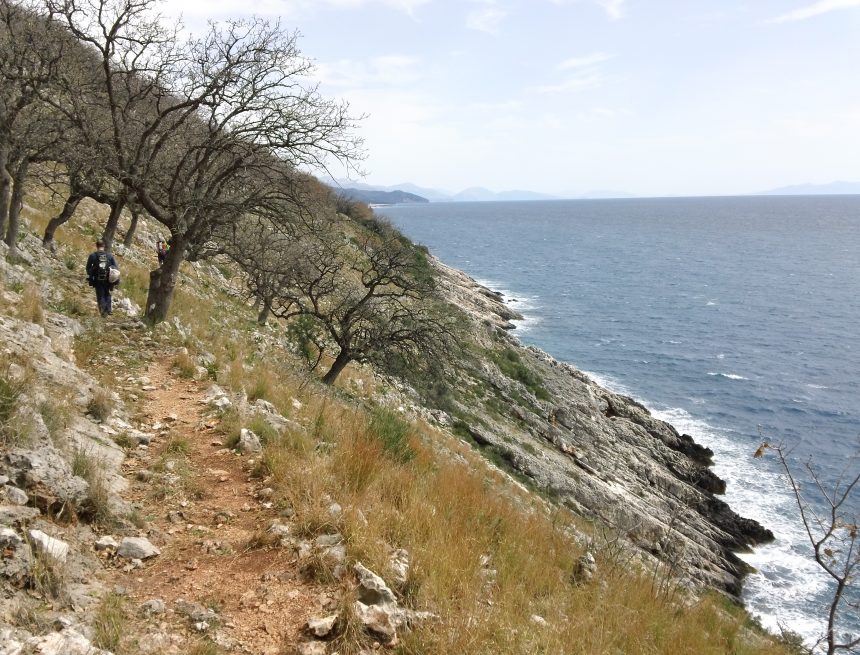 Orikum – Kepi I Gjuhezes, moderate
Orikum – Bristani Bay, moderate, three hours
Karaburun Crest, difficult, 12 hours
Shale-Palasa, moderate, 4 hours
Maja e Qorres, moderate, 4 hours
Cika Mountain, moderate, 5 hours
Llogara- Gropat e Piritirit, moderate, five hours
Llogara- Lek Duka- Thanasi Peak, moderate, four hours
Dukat – Terbac, moderate, 13 hours
Dhermi to Himara, moderate, 12 hours
Dhermi – Kondaq, moderate, one hour
Dhermi – Jal, moderate,7 hours
Dhermi – Gjipe, moderate, about two hours
Kudhes – Qeparo, four hours
Kallarat – Pilur, eight hours
Vagalat – Mile Mountain, easy, three hours
New mapped path for tourists along Karaburun Peninsula
Gjirokastra Hiking
Cajupi Summit, moderate, nine hours
Bureto Mountain, difficult, nine hours
Sheper – Permet, moderate, four hours
Crossing Dhmbel mountain, difficult, 12 hours
Benja Thermal Springs – Lengarica Canyo,n difficult, nine hours
Papingu Mountain, difficult, 24 hours
Hiking Articles
Travel Pages
Elbasan News & Blog articles