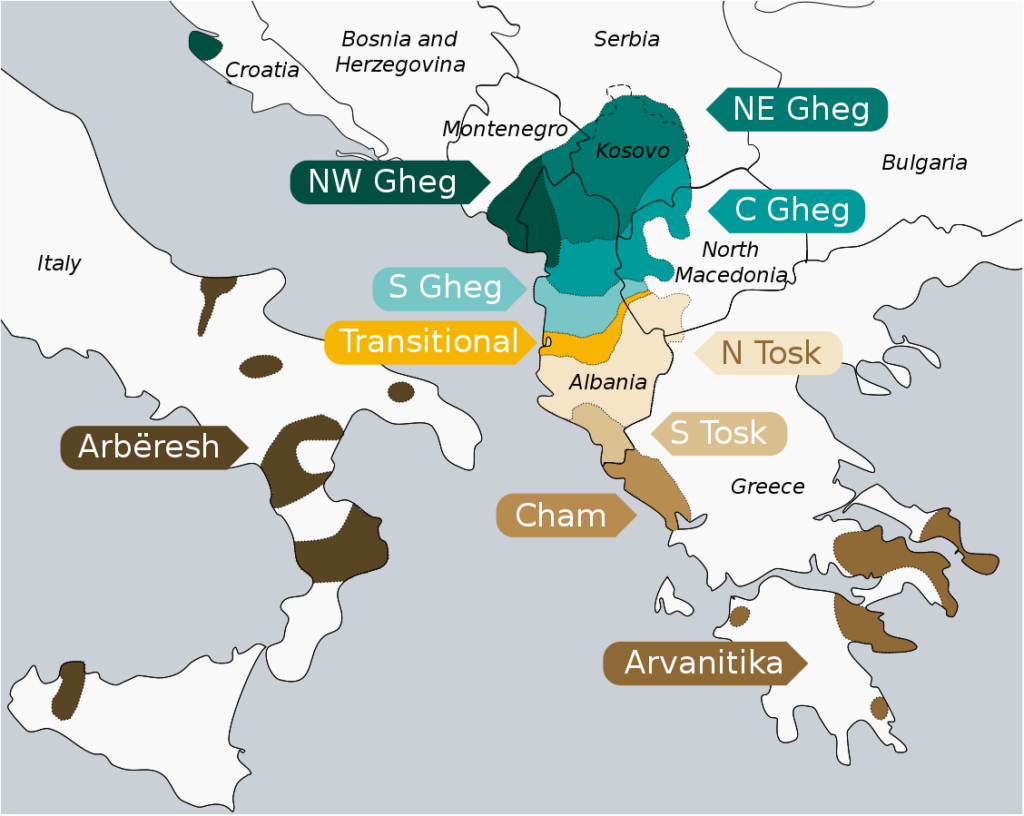 Table of Contents
Albanian, known locally as Shqip, is an Indo-European language, but it stands alone in its branch, making it rather unique in the language family. It is considered to be one of the oldest languages in Europe, tracing its origins back to the Paleo-Balkan languages of the Bronze Age.
There are two main dialects: Tosk, spoken in the south, and Gheg, spoken in the north, with the Shkumbin river acting as a geographical divider for their use. Learning Albanian provides a unique window into the rich history and culture of the Albanian people, their folklore, literature, and traditions.
Whether you plan to travel to the beautiful landscapes of Albania, to connect more deeply with Albanian heritage, or simply to expand your linguistic horizons, learning Albanian can be an enriching experience. The language's distinctive phonetics, the rhythm and melody in its speech, and its unique vocabulary provide an intriguing challenge for language enthusiasts.
While it may not be as commonly studied as other European languages, the growing availability of resources and tools online makes it more accessible than ever to start your Albanian language journey.
Here are some helpful resources to start learning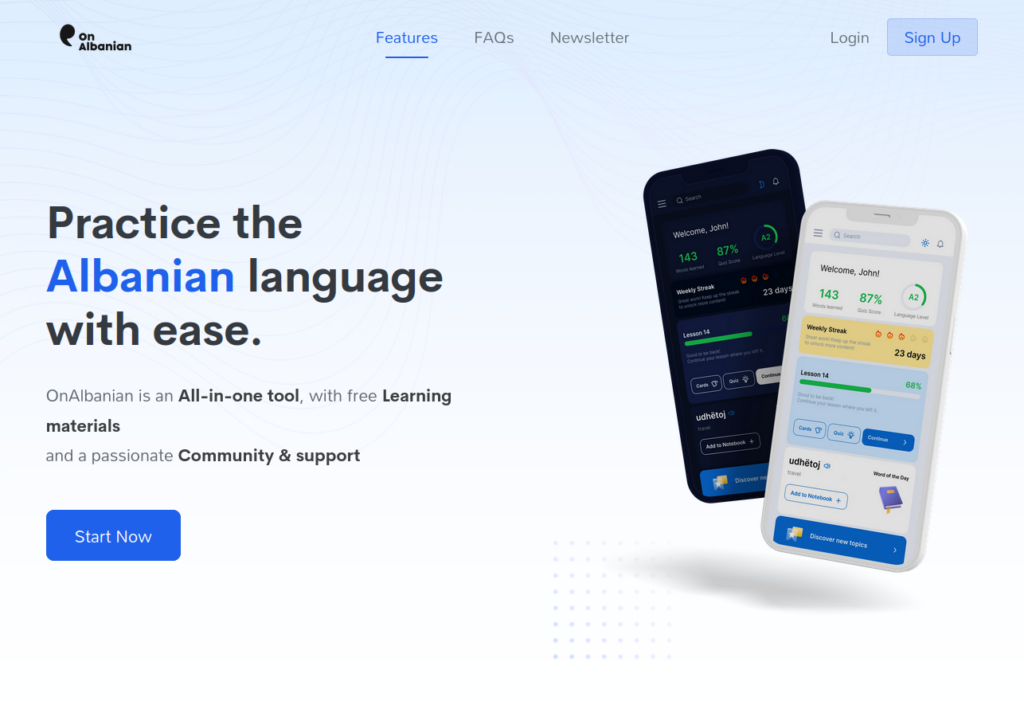 OnAlbanian is an all-encompassing tool designed to assist users in learning the Albanian language. It's an innovative platform that provides free learning materials and a supportive community for learners. It offers a plethora of resources, including 1500+ verbs with conjugations, 900+ nouns, and 200+ adjectives, all categorized by the user's level and paired with English examples.
The platform promotes effective learning through the use of interactive and customizable flashcards tailored to the user's interests, level, and learning experience. Additionally, OnAlbanian's diverse quizzes allow learners to test their knowledge in different ways, including listening exercises and sentence-building challenges. This platform is designed to be used anytime, anywhere, turning idle moments into productive language practice sessions.
Jonis, the creator of the first free interactive audio Albanian language course "Smart Albanian with Jonis", is an Albanian native speaker, has a master degree in Political Theory (Philosophy) from the State University of Tirana, is passionate about languages and is currently learning and improving: English, Italian, Romanian, Turkish, French, Indonesian, Russian, Greek, Swahili and Spanish. He is currently working on his various projects, while pursuing his hobbies. He wants his work and actions to speak for themselves.
Apps to learn Albanian
For Android there is the following app:
https://play.google.com/store/apps/details?id=com.goethe.sq
The app is also available for Apple iOS:
https://itunes.apple.com/us/app/learn-albanian-50-languages/id1095290389

History
This old language traces its origins back to the Paleo-Balkan languages of the Bronze-Age. The earliest recorded loanwords found in the Albanian language can be traced back to Doric Greek. There are some 30 Ancient Greek loanwords in Proto-Albanian. However, the most significant influence on Albanian came from Latin. The interaction between Proto-Albanian and Latin spanned a prolonged period, extending from the 2nd century BC to the 5th century AD. During the centuries, it has weathered the influences of Latin, Greek, Slavic, Ottoman Turkish, and Italian, amongst others, which are reflected in its lexicon.
According to the prevailing linguistic consensus, it is now acknowledged that the Albanian language evolved from one of the ancient Indo-European languages in the region, distinct from Greek. This understanding is supported by various scholarly perspectives.
The standard Albanian language of today was based primarily on the Tosk dialect and was established as part of the communist regime's nation-building efforts in the mid-20th century. However, the language in all its variations, including the Gheg dialect in the north, continues to be a fundamental part of the rich cultural heritage of Albania and the Albanian-speaking communities in Kosovo, North Macedonia, Montenegro, and other regions in the Balkans.
Dialects
The Albanian language is rich in dialects, providing an audio tapestry that spans various regions where the language is spoken. The Northern Gheg subdialect is spoken in regions north of the Mat river, including Montenegro and parts of Serbia, while the Southern Gheg variant is found in northern central Albania and parts of Macedonia. The dialects extend further into transitional forms that are found along the Shkumbin river valley.
On the other hand, Tosk dialect spreads in most parts of Albania south of the Shkumbin river and continues into Greece, also reaching traditional Albanian diaspora communities in Italy, Greece, Bulgaria, and Ukraine. Northern Tosk is common in regions south of the Shkumbin river, excluding certain southern coastal areas. The Southern Tosk subdialect stretches from coastal regions south of Vlora town and expands into Greece. Interestingly, there are archaic Tosk subdialects still spoken by a diminishing population in central Greece and southern Italy, providing an intriguing glimpse into the linguistic history of the Albanian language. This linguistic diversity is not only a treasure for dialectologists but also a fascinating exploration for anyone interested in the Albanian language.
To learn more about Albanian dialects and listen to recordings from all around, visit Robert Elsie´s website: http://dialects.albanianlanguage.net/
Numerals
një—one
dy—two
tri/tre—three
katër—four
pesë—five
gjashtë—six
shtatë—seven
tetë—eight
nëntë—nine
dhjetë—ten
njëmbëdhjetë—eleven
dymbëdhjetë—twelve
trembëdhjetë—thirteen
katërmbëdhjetë—fourteen
pesëmbëdhjetë—fifteen
gjashtëmbëdhjetë—sixteen
shtatëmbëdhjetë—seventeen
tetëmbëdhjetë—eighteen
nëntëmbëdhjetë—nineteen
njëzet—twenty
njëzet e një—twenty-one
njëzet e dy—twenty-two
tridhjetë—thirty
dyzet/katërdhjetë—forty
pesëdhjetë—fifty
gjashtëdhjetë—sixty
shtatëdhjetë—seventy
tetëdhjetë—eighty
nëntëdhjetë—ninety
njëqind—one hundred
pesëqind—five hundred
një mijë—one thousand
një milion—one million
një miliard—one billion
30 common phrases
| Albanian | English |
| --- | --- |
| Përshëndetje | Hello |
| Si jeni? | How are you? |
| Mirë, faleminderit! | Fine, thank you! |
| Si quheni? | What is your name? |
| Më quajnë… | My name is… |
| Është kënaqësi të ju njoh! | It's nice to meet you! |
| Ku jeton? | Where do you live? |
| Faleminderit | Thank you |
| Ju lutem | Please |
| Më falni | Excuse me / I'm sorry |
| Po | Yes |
| Jo | No |
| Nuk e di | I don't know |
| Kuptoj | I understand |
| Nuk kuptoj | I don't understand |
| Sa kushton kjo? | How much is this? |
| Ku është banjo? | Where is the bathroom? |
| Ndihmë! | Help! |
| Tung! | Bye! |
| Gjumë të ëmbël! | Sweet dreams! |
| | |
| Ku është stacioni? | Where is the station? |
| Unë nuk flas shqip mirë | I don't speak Albanian well |
| A flisni anglisht? | Do you speak English? |
| Çfarë kohë është? | What time is it? |
| Ku është restoranti më i afërt? | Where is the nearest restaurant? |
| Unë jam i/e humbur | I am lost |
| Mund të më ndihmoni? | Can you help me? |
| Sa është larg? | How far is it? |
| Çfarë rekomandoni? | What do you recommend? |
| Kjo është e mrekullueshme! | This is wonderful! |
30 Common Phrases
References:
Katicic, Radoslav (2012). Ancient Languages of the Balkans. Walter de Gruyter. ISBN978-3111568874.
Huld, Martin E. (1986). "Accentual Stratification of Ancient Greek Loanwords in Albanian". Zeitschrift für vergleichende Sprachforschung. 99 (2): 245–253.
Mallory, J.P.; Adams, D. Q. (1997). "Albanian language". Encyclopedia of Indo-European Culture. London: Fitzroy Dearborn. pp. 8–11.