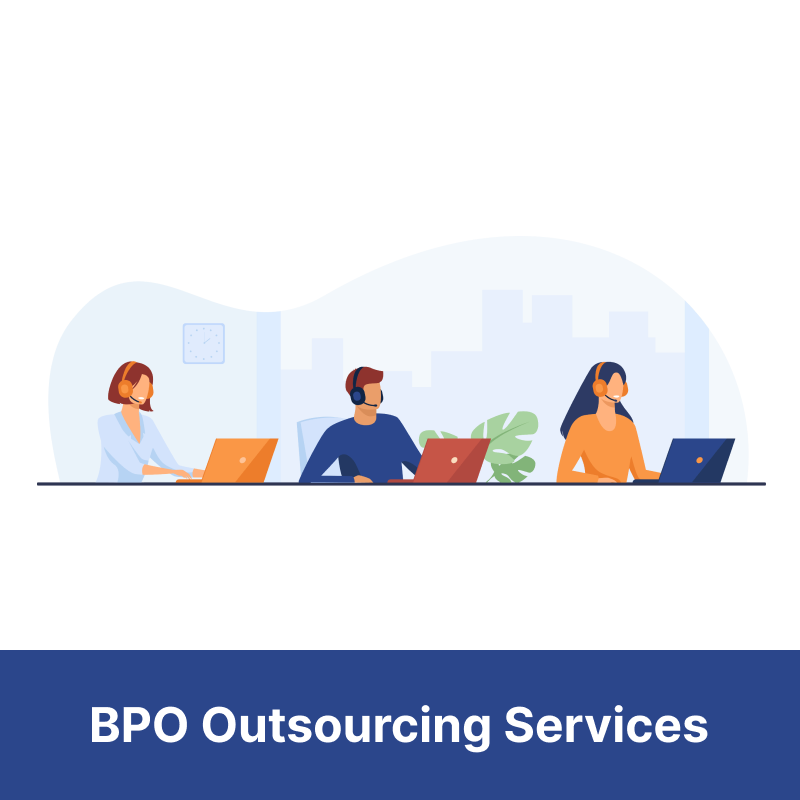 What is BPO Outsourcing?
Outsourcing is an agreement in which one company hires another company to be responsible for a planned or existing activity that is or could be done internally, and sometimes involves transferring employees and assets from one firm to another.
With businesses going global, it became necessary to request services from the professionals who can do their job from their locations, expanding the business, grossing more revenues, and improving the company's performance. This is the place where the outsourcing companies come in, they basically lend their expertise and skills to your company by offering services, which make the work efficient and easier.
Outsourcing services could be done onshore (within your own country), nearshore (to neighboring country), or offshore (to a distant country). Many companies are drawing up plans to outsource work to offshore locations, as a way of cutting costs. Many businesses nowadays base their business plan and their income solely on their external service providers, sometimes requiring large volumes of work. According to some experts, outsourcing is not only a way of cutting down the costs but a successful business model.
List of all services
Call Center Outsourcing is when you hire an external company, to take over as your call center provider in the hosting country. The external company will train and hire the employees who will be providing different customer service over the phone (such as banking operations, credit cards, buying tickets, technical help desks, etc.) as well as provide the software and infrastructure to manage the day-to-day operations. It is considered one of the most successful outsourcing services worldwide.
Transcription is the process of converting audio or video into text. Though it sounds simple, it can be a tedious and time-consuming process, especially when it comes to transcribing hours-long files. Low-quality audio and video can also be challenging to convert to text, particularly if you're not used to the process.
Outsourcing transcription services to a skilled and experienced service provider not only gets the job done as quickly as possible but also saves you the headache of going through audio and video files over and over. It also lets you make better use of your time and energy. It is the most common way of outsourcing used by law firms, real estate firms, and different businesses in general.
Human resources outsourcing is when businesses hire companies to manage personnel functions. That includes the administration of health benefits plans, retirement plans, and workers' compensation insurance.
It also includes hiring, training, and legal expertise. Smaller companies hire them to administer payroll, pay employment taxes, and manage risk. Using an external Human Resource or employment service to manage your employee benefits is a smart way since they have to stay up to date on the newest employment standards and governing laws.
Most businesses are structured to offer their products and services but are not often formed to be content marketing publishers. In this case, a strong marketing strategy is important for a business in order to succeed. However, it can be a daunting task for someone who runs a company and has to execute marketing strategies at the same time. Seeking the help of marketing outsourcing providers can aid the business to reach its marketing goal. They can help create the best marketing plan that fits a certain business while eliminating errors, and saving time and money.
Data entry tasks (such as order processing, cataloging, scanning, and indexing) are perfectly well-suited for outsourcing. A company will easily hire an outsourced team to execute just about every data entry task conceivable and also get the job well done with adequate accuracy.
The only time a firm should hesitate a bit when it comes to outsourcing their data entry projects is when the information involved is somewhat sensitive. Firms are reasonably wary of passing off client data such as ID numbers and credit cards to outsourced teams. However, ethical concerns such as the leak of confidential information are addressed before the companies decide to outsource their work. Both the seller and vendor sign non-disclosure agreements, that restrict them from unveiling information to third parties.
Software development outsourcing essentially describes a situation in which an organization chooses to hire a third-party programmer to offer services related to software development. By handing out essential business processes over to a specialized service provider, companies are then able to manage even the most complex tasks.
Web development defines an activity that develops the online website of a firm or company. Since the mid-90's when the explosion of the worldwide web (internet) began, website development has become the fastest growing industry in the world. For small, medium, and especially international big corporations it became necessary to develop their websites, in order to be in touch with their customers 24/7, and vice versa, clients who want to keep up to date with the companies' information and products. This is why businesses need an outsourcing firm or programmers for taking care of their websites and software's, who not only maintain the website but update it regularly. It saves time, and it is cost-effective.
IT outsourcing is a phrase used to describe the practice of contracting outside resources for all or part IT (Information Technology) function of an organization. A company would use IT outsourcing for all kinds of functions, ranging from infrastructure, maintenance, and IT support. For example, an enterprise might outsource its IT management because it is cheaper to contract a third party than it would be to build its own in-house IT management team.
Outsourced IT support can be a time and cost-effective solution to the digital needs of a business. Depending on the size of the company, they could outsource partially or fully IT support. Small companies usually gain the most from fully outsourcing their IT support. This usually involves hiring an external agency to manage their IT systems, ensuring that all updates are made, security measures are implemented and all data is stored and backed up safely. Companies also have the option of partial outsourcing, which involves hiring a single specialist or a small team while also employing a professional IT support service. Partial outsourcing can also take the form of distributing IT duties. In-house teams are given responsibility for certain aspects of system maintenance while other tasks are allocated to the IT support service.
A virtual assistant (or VA) is usually a self-employed professional who provides administrative, technical, or social assistance to clients remotely from a home office. Hiring a virtual assistant is inexpensive because they are independent contractors who don't require office space as would a local employee i.e., equipment or supplies. They get paid only for their productive work, thus cutting down the costs of the hiring firm. They can work as far as the technology allows, as long as they have means of communication to keep in touch with their business partners and their jobs vary from executive assistants for CEO's with a very busy schedule to legal secretaries, office managers, supervisors, real estate assistants, etc.
The integral part of the success of a business is its customers, the bigger the number, the better for the company. Customer Service (or Customer Support) helps to resolve questions or concerns that a customer might have regarding a product or service that a business offers. Supporting customers takes time, that is why hiring a customer service outsourcing can help a company to grow while fulfilling the needs and requests of the increasing number of customers. At the same time, if you attempt to cover customer support on your own, you may find yourself neglecting other essential areas of your business, like sales, marketing, and core company tasks. An excellent customer service provider understands the value of a good customer-business relationship. They specialize in handling a large customer base anytime and through multiple channels.