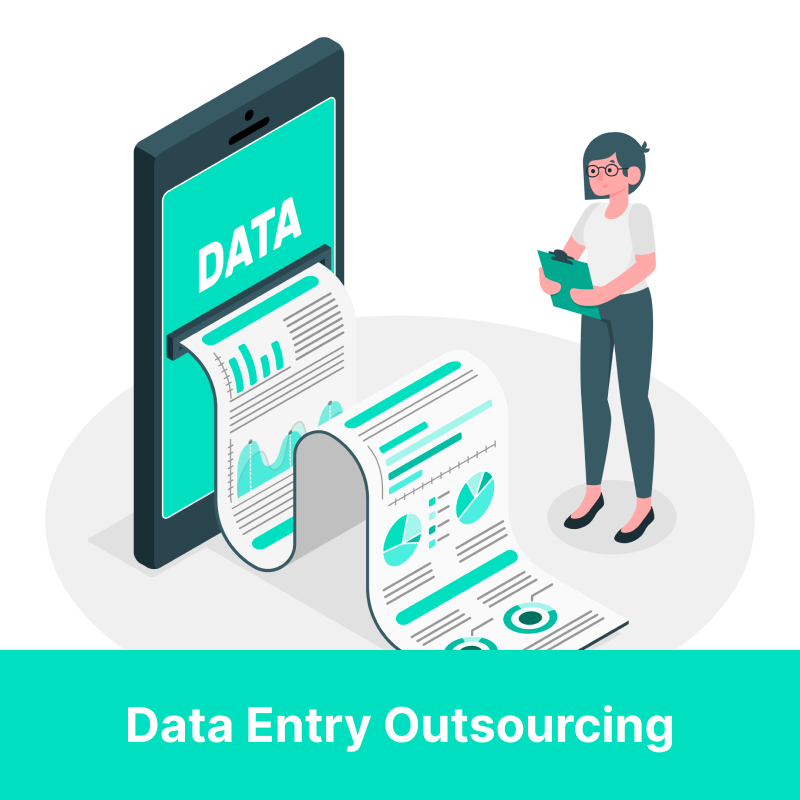 The power of data
Data is essential for business operations and every successful business person knows this. Even a one-person startup can generate valuable data. It helps not only to run various operations but also to understand markets and customers and to make decisions. Therefore, data has to be precise and obtainable. Every business that has been active for more than a year, that has an online presence through a website or social media or has information from its customers can use the data to boost business growth.
Given that it is a process that contains vital documentation for any firm and maintaining them is critical for executing transactions, decision making, and customer support, small and large businesses decide to partner with companies that provide professional data entry services.
Data entry tasks mostly include:
Transfers of information from paper such as scanned documents, images, catalogs into computer files or databases;
Typing data collected directly from customers;
Creating accurate spreadsheets with a large volume of figures
Getting all these processes done through manual typing requires professional manpower. Data entry is an excellent job for remote workers while companies looking for workforce capacities that exceed that of a single person workforce, outsourcing companies are the best option.
Online and Offline Data Entry
Data entry is dived into two main categories, online and offline data entry. Internet connection is the element that makes the difference between these two. It is necessary to access the database or the archive where the information is stored.
The information can be compiled from online sources or hard/soft copy and stored in a database or archive that needs an internet connection to be accessed. The people working in these jobs can handle various processes such as typing, data extraction, cleansing, data mining, and online research. In Albania, the main usages of online data entry include inserting product information on e-commerce websites, filling online forms, annotating and tagging data online, tagging images, updating CRM, etc.
Online data entry was used for the first time in the United States in 1960, mostly for governmental and military purposes. The advantages of online data entry are related to low costs both for businesses and customers, easy to find information, better database management, and it's technology-driven.
Offline data entry
Offline data entry services are necessary for every business that needs to update information in offline forms or databases or capturing data from different sources such as forms, reports, various documents and enter in offline file formats. The most common offline data entry services include:
Business cards entry
Form filling and processing
Data capture
Entry of insurance claims, labels, e-books
Tax forms
Surveys
Invoice and receipts
Some of the most outsourced services in online and offline data entry are:
Medical Billing
Excel Data Entry
Insurance Claim Entry
PDF Data Entry
Excel Data Entry
MS Access Entry
Survey Data Entry
Handwritten Entry
Catalog Data Entry
Order processing
Image Data Entry
Companies that require a lot of paperwork have the necessity to deliver some of their data entry through their third-party partners. The entire process takes a long time and hard work to cope with, so what companies have decided to do is going outside their company administrative limits and transferring responsibility to their data entry specific sector. Accounting, economics, statistics, abstracting and indexing, data extraction and digitalization of documents.
Why Companies Decide to Outsource Data Entry
Giving emphasis to the most important benefits of outsourcing here are some of them. Of course, these are not all of the benefits:
Access through large labor skilled pool, processes, technology
Reduces your capital costs of infrastructure
Leaving time for concentration on your core business activities
Guaranteeing the highest accuracy and high-quality services
Fast turnaround time for each data entry
Lucrative pricing scheme which minimizes your budget costs
Save 60% on your operating costs
Proceed fast regulations and consumer satisfaction
Back-up and emergency
Know-how and support
Accuracy
Use of advanced technology and software
Data security
Outsourcing Data Entry is not the same everywhere
Outsourcing data entry will not be the same for every company you will hire offshore because they all give different directions and process management tips for their job. In other words, different companies implement different policies on maintaining the course of their job, they also provide various services based on the capacity of the company asking. By giving credit to the outsourcing companies for sharing some of the jobs in the organization, there will be space and productivity for the entire organization.
Speaking in real terms, there is no need for staff and also there is no need for additional organized departments to take care of huge 'mountains' of paperwork, calculations, data management every day, but in place of it businesses have to outsource to the experts and dedicated working force.
Data Entry is a process that requires a lot of responsibility and confidence for relation like consumer-product and vise-versa, so as a matter of this it has to be sharply added to the important lists. It is a precious opportunity, a helpful gift from this new millennium, for businesses and organizations, to have the possibility of multiple chances in choosing their group-works outside their administration buildings.
In this way, the world market is becoming hugely 'wireless' to the resources you want to explore for your own benefits, for the benefits of the world society. Nowadays, it is short-minded to think and act locally, whereas the entire society is going globally.
Where to Outsource Data Entry?
The answer to this question is subjective as everything depends on the specific needs of the seller. Location, time-zones, cost-effectiveness, the experience of the vendor, certifications, infrastructure, and know-how can be among the main considerations when looking for a professional data entry service provider. On the other hand, these services don't often require a highly-qualified workforce. The key skills for a data entry clerk include basic software knowledge, good written and communication, patience and concentration, and good typing skills.
If you're looking for a reliable outsourcing partner for data entry services, Albanian companies can be an optimal choice for you. They guarantee high-quality service at the best price compared to other countries in Europe. If you need more information, fill the form below.
Read also: Real Estate Data Entry
Data Conversion Outsourcing
The Big Role of Data and why to Outsource It?
Data Processing Outsourcing