TIRANA, November 18
The textile and footwear industry, also known as the clothing or apparel and allied industries are the sectors that ranked Albania among top global exporters of soft-good industries during the latest decade.
According to Statista, the global online fashion in 2018 was worth $533 billion. The same data confirmed that apparel, footwear, and accessories, accounted respectively 65 percent, 25 percent, and 10 percent. The industry is expected to grow further even though it is has come under heavy criticism, especially luxury fashion brands, over ethical and environmental concerns.
In Albania, official data consider the apparel and footwear industry as one single sector while information about specific products is missing. On their part companies in the sector tend to neglect online presence while most existing websites are outdated or not updated.
Although the exports of textile and footwear exports in 2017 were worth over $ 1 billion, not all products are labeled Made in Albania. Large brands or contractors source specific processes of the production chain to Albania, while the finishing work as per the brand request is completed somewhere else. Some manufacturers offer customized white and private label manufacturing.
If you're looking for a manufacturer to subcontract business processes in the garment and footwear industry Albania can a great option to take into consideration.

Based on requests for business information received by Invest in Albania, the textile and footwear industry, there is a high interest in subcontracting domestic companies for the production of various goods, including sustainable apparel and footwear. In order to provide more details on what specific products the Albanian apparel and footwear industry manufactures we took into account the official exports of 2017 according to the Observatory of Economic Complexity (OEC).
Textile goods exported in 2017 worth was $521 million
Footwear goods exported in 2017 worth was $581 million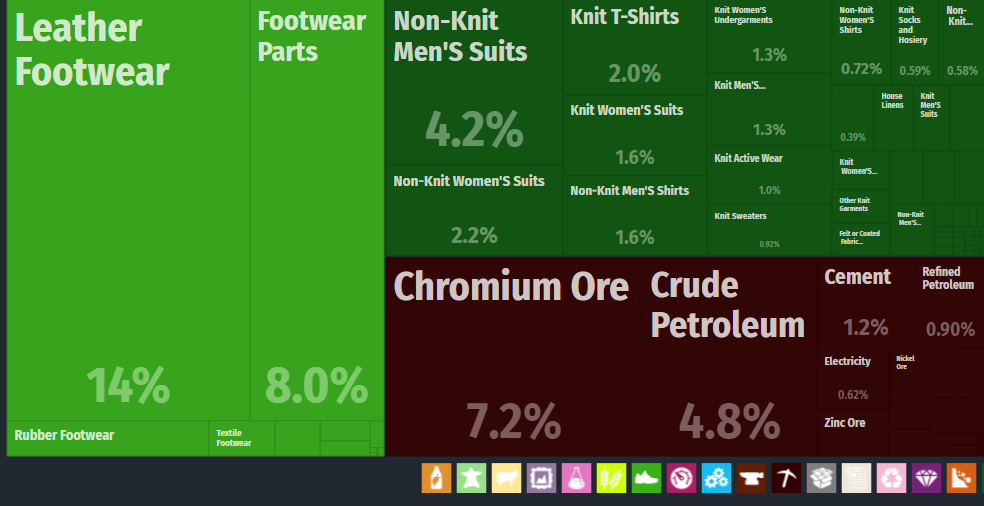 Product and export value of each product in US dollars $
Leather footwear: 345 million
Footwear parts: 191 million
Non-knit men's suits: 99.7ml
Non-knit women's suits: 53.7 ml
Knit t-shirts: 47ml
Knit women's suits: 39.2 ml
Non-knit men's shirts: 38.7 ml
Knit women's undergarments: 31.5ml
Knit men's undergarments: 30.7ml
Knit activewear: 24.2 ml
Rubber footwear: 24ml
Knit sweaters: 21.9 ml
Non-knit women's shirts: 17.2ml
Knit socks and hosiery: 14ml
Non-knit activewear: 13.8ml
Non-knit women's coats: 9.31ml
House linens: 8.71ml
Knit men's suits: 8.27ml
Textile footwear: 7.87 ml
Packing bags: 7.8ml
Knit women's shirts: 7.52ml
Other knit garments: 6.53ml
Felt or coated fabric garments: 6.49ml
Other non-knit clothing accessories: 5.92ml
Knit babies' garments: 5.73ml
Other women's undergarments: 5.51 ml
Headbands and linings: 5.36ml
Non-knit men's coats: 5.34ml
Knitted hats: 3.35ml
Other footwear: 2.59 ml
Knit men's shirts: 2.41 ml
Knit women's coats: 1.4ml
Waterproof footwear: 1.27ml
Knit men's coats: 1.24 ml
Light rubberized knitted fabric: 700k
Scarves: 691k
Other knit clothing accessories: 663k
Plastic coated textile fabric: 635k
Embroidery: 599k
Wool: 444k
Non-knit babies garments: 358k
Garments of impregnated fabric: 336k
Other cloth articles: 276k
Non-knit women's undergarments: 192k
Heavy pure woven cotton: 138k
Handkerchiefs: 132k
Synthetic filament yarn woven fabric: 131k
Light pure woven cotton: 109k
Other headwear: 107k
Synthetic fabrics: 106k
Umbrellas: 93.3k
Wadding: 78k
Textile scraps: 75.7k
Neck ties: 70.3k
Felt: 65.3k
Textile wicks: 60.5k
Conveyor belt textiles: 59.8k
Tulles and net fabric: 54k
Awnings, tents, and sails: 53.6k
Non-woven textiles: 48.7k
Labels: 43.3k
Knit gloves: 36.5k
Used clothing: 33.7k
Tufted carpets: 33.4k
Blankets: 29.2k
Pile fabric: 29.2k
Other synthetic fabrics: 25.8k
Other synthetic fabrics: 25.8k
Artificial filament yarn woven fabric: 23k
Ornamental trimmings: 22.1k
Other carpets: 21.8k
Gum coated textile fabric: 21.1k
Light mixed woven cotton: 20.6k
Artificial filament sewing thread: 19.1 k
Knotted carpets: 15.2k
Non-retail synthetic filament yarn: 14.8k
Woven fabric of synthetic staple fibers: 12.5k
Heavy mixed woven cotton: 8.47k
Light synthetic cotton fabrics: 8.34K
Bedspreads: 7.9k
Technical use textiles: 1.33k
In 2017 leather footwear accounted for 59 percent of all footwear exports.
The main markets where leather footwear was exported
By country:
Italy: $196ml
Germany: 32.9ml
Hungary: 20.4ml
France: 18.8ml
Spain: 17ml
Russia: 6.32ml
Austria: 4.91ml
Romania: 4.6ml
Serbia: 3.7ml
Switzerland: 3.46ml
By Continent:
Europe: 326ml
North America: 12.1ml
Asia: 5.5ml
Africa: 834k
South America: 549k
Oceania: 501k
New potential options:
Given the long experience in the clothing and footwear sectors, Albanian manufacturers could start their own sustainable clossed-loop production chain for hemp fiber and textiles. So far, the hemp cultivated in Albania served mostly to the textile industry.
Read more on hemp in Albania: Would You Support the Cousin of Marijuana for the Sake of Agriculture?
Fashion Made in Albania
Veerle Luiting is an innovative Dutch business strategist working in the fashion industry, and advocating for a sustainable, clean & value-based future of fashion.
She has hands-on knowledge of the manufacturing process in Albania and has shared her time in researching the garment industry in Albania in the presentation below. (55:34 minutes)
See also
Manufacturing companies in Albania
If you need more specific information e.g. if Albania produces a specific textile, or you´re looking to get in contact with an Albanian manufacturing company for clothes, please use the contact form below and send us your requirements.