TIRANA, January 6
Albania in 2018 Albania ranked seventh in Europe for the production of fresh oranges with 10,800 tons, Eurostat confirmed its annual publication on EU production and trade in oranges. Albania jumped one spot in 2018 compared to 2017 thus leaving France eighth.
Based on the report, the cultivation area in 2018 was approximately 300 hectares. Production of fresh oranges in 2018 increased by 20 percent compared to 2017.
Only a handful of European countries produce oranges and citrus fruit due to the favorable climate, and the top producers are members of the European Union (EU).
According to Eurostat, EU members harvested 6.5 million tons of oranges in 2018. Spain remains the leading producer of fresh oranges with 3.6 million tons of oranges, or 56% of the EU total. The list continues with Italy second 1.6 million tons, or 24 percent of the EU total, and Greece with 0.9 million tons, or 14 percent of the EU total.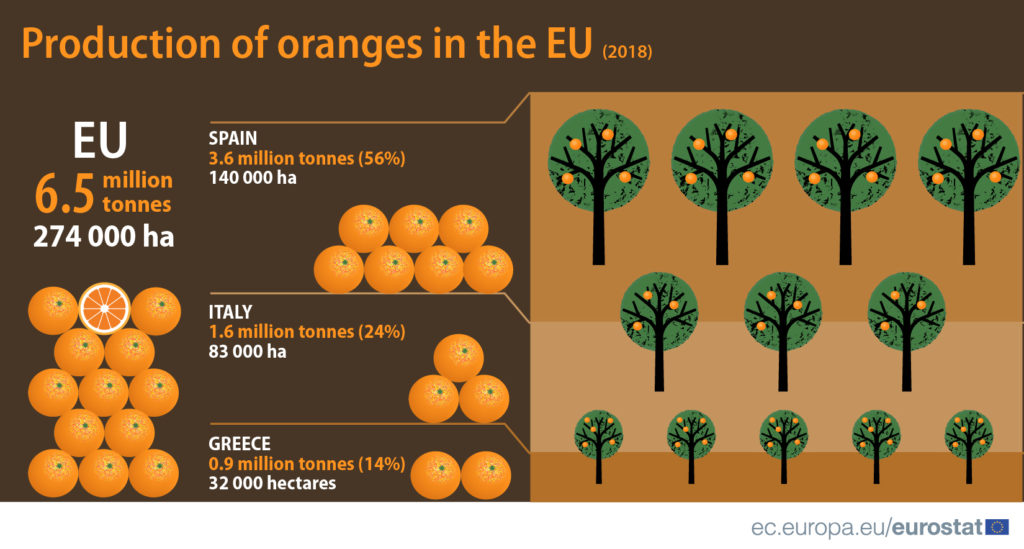 Top orange producers in 2018
Spain – 3.6 million tons
Turkey – 1.9 million tons
Italy – 1.6 million tons
Greece – 0.9 million tons
Portugal – 340,000 tons
Cyprus – 20,000 tons
Albania – 10,800 tons
France – 10,000 tons
Croatia – 3,700 tons
Orange cultivation in Albania increased from less than 7,000 tons in 2010 to 10,800 tons in 2018. On the other hand, mandarin production has increased faster than other citrus fruit during recent years, with more than 30,000 tons in 2017.
According to FAOSTAT, Albania's yield of mandarin production (36 ton/ha) was higher when compared to the world average as well as EU average yield – demonstrating a highly performing subsector.
The region of Vlora produces over 59 percent of all citrus fruits in Albania.
Read also:
Olive Oil Wholesale in Albania – Info and Suppliers
From Tropoja to Korca: Where to Find Chestnuts
Top Regional Albanian Products: Traditional Products by Region
Things You Can Only Buy in Albania
Source/Photo Credit: ec.europa.eu