TIRANA, November 18
November is the peak time for the chestnut season in Albania, as these delicious fruits are found almost all over the country, from the Albanian Alps in the north to Delvina in the south.
According to SARED data, the number of chestnut trees in Albania in 2014 was 336,514.
Chestnuts are the most important nut product in Albania especially in terms of international trade. Albania is the ninth top exporter of chestnuts in the world.
About 75 percent of the product is exported, while the remaining product covers domestic consumption.
The most popular area is Tropoja in Kukes Region and Reci area in Shkodra Region.
The chestnuts and chestnut honey from these two areas are four out of a total of eight registered GIs (geographical indication). The list of GI products includes Tropoja Alps Blueberry, Kuksi Blueberry, Korabi Water, and the Kid goat of Hasi.
Moreover, chestnuts make the most important agro-food sector due to their role in improving the socio-economic conditions of rural and mountainous communities.
This economy is based on existing forest massifs such as Tropoja massif that spans over an area of 2,000 hectares. The advantage of such massifs is that they are organic. This results in a certified organic crop with higher export potential. Organic certification allows producers to sell at satisfying prices.
Currently, most of the crop is exported raw for the processing industry. Albania has no chestnut processing industry. Almost all of the exports are to the Italian market.
Chestnut production is an increasing trend in Albania, yet slower compared to the world trend. See below for the challenges in the chestnut production sector.
Albania in 2016 produced 6,040 tons
The European Union produced 135,000 tons
Europe produced 143,000 tons
The global production was 2,262,000 tons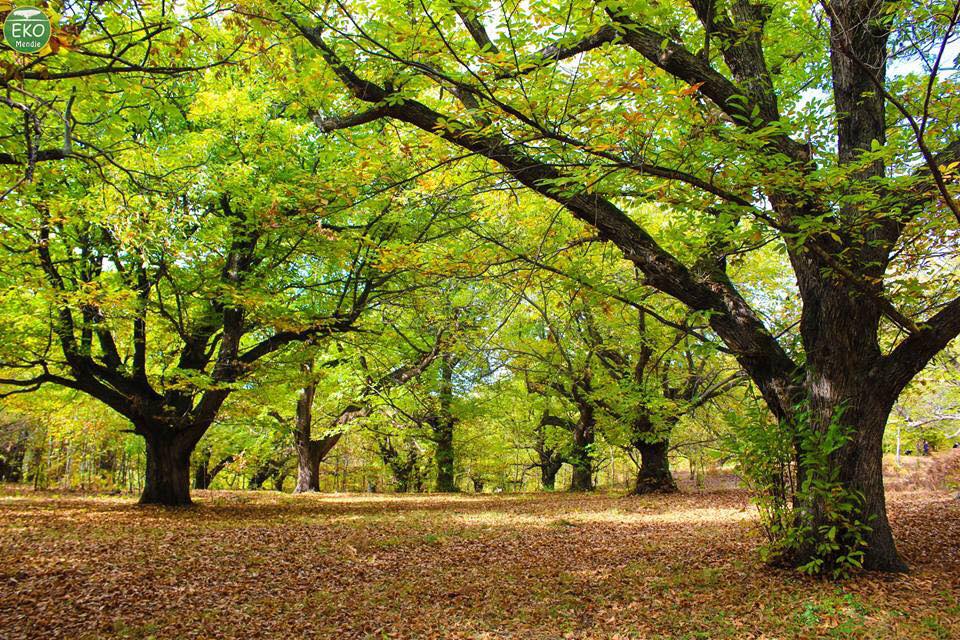 Where to find chestnuts in Albania?
Tropoja, Reci, Puka, Dibra, Bulqiza, Shkodra, Mati are known for high-quality chestnuts. In terms of annual production, these are the areas with the highest number of trees in Albania
Tropoja: 190,000
Dibra: 24,688
Malesi e Madhe: 22,990
Puka: 16,000
Shkodra: 10,070
Bulqiza: 9,726
Librazhd: 8,000
Mat: 6,365
Devoll: 3,960
Pogradec: 3,750
Elbasan: 3,298
Kukes: 2,017
Korca: 1,488
Kolonja: 640
Total no. trees: 336,514
The main actors in the chestnut production sector are:
Farmers, who harvest chestnuts from forests, mostly on public property where they have customary rights. Besides chestnut harvesting, most of the farmers are involved in activities such as storage and selection.
Traders
There are over 30 traders in Albania who compete to collects chestnuts from farmers.
Wholesalers
The number of chestnut wholesalers is limited, one is the chestnut cooperative of Reci, in general, the first quality of the product is sold in the domestic market at a high price, while the second and third quality is sold to export markets.
There are a limited number of wholesalers/exporters in the chestnuts sector and no marketing
Challenges:
Difficult access to credit
Diseases
Ownership issues
Insufficient or lack of cold/storage facilities and processing lines
Low yields in natural forests due to lack of maintenance
Lack of marketing operations
Source: aasf