TIRANA, February 28
Albania is a fast-emerging tourist destination. It is home to ancient sites, beautiful beaches, natural settings, and old traditions. All these elements are often included in handmade souvenirs that you can buy only in the old bazaars or gift shops. While most of the souvenirs are standard tourist kitsch, such as lighters, mugs, and fridge magnets, here's a list of things that you can buy only in Albania.
Skenderbeu paintings, statues, engravings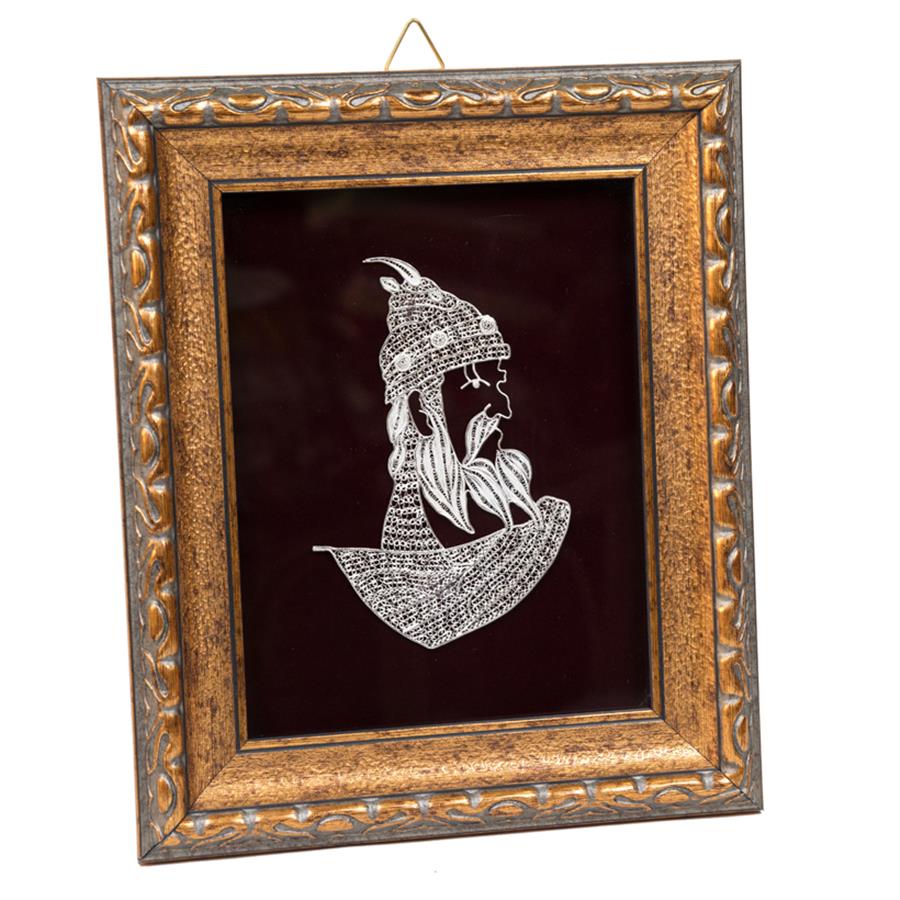 Skenderbeu Filigree fine artwork, Photo credit Kruja Souvenir 
The image of the Albanian National hero is a crucial motif in numerous artworks from statues to paintings. Statues include Skenderbe on horse, standing, and bust while paintings are a reproduction of famous old paintings depicting war scenes and other moments. Wood engravings are valuable artworks. Their size and price vary from €10 to €200 for filigree artworks.
Mother Teresa paintings and statues
The second most important personality that Albanians take pride in is Mother Teresa. Small statues and paintings of Saint Teresa of Calcutta are available in souvenir markets. Price €10
Bunker ashtray
Albania has so many concrete bunkers that Albanians lost count. There have been cases of foreign citizens that purchased a real size bunker during the 90s like the one in Tirana Viti Zero movie. Nowadays, the only bunker you can buy in Albania is in the shape of an ashtray.
Cifteli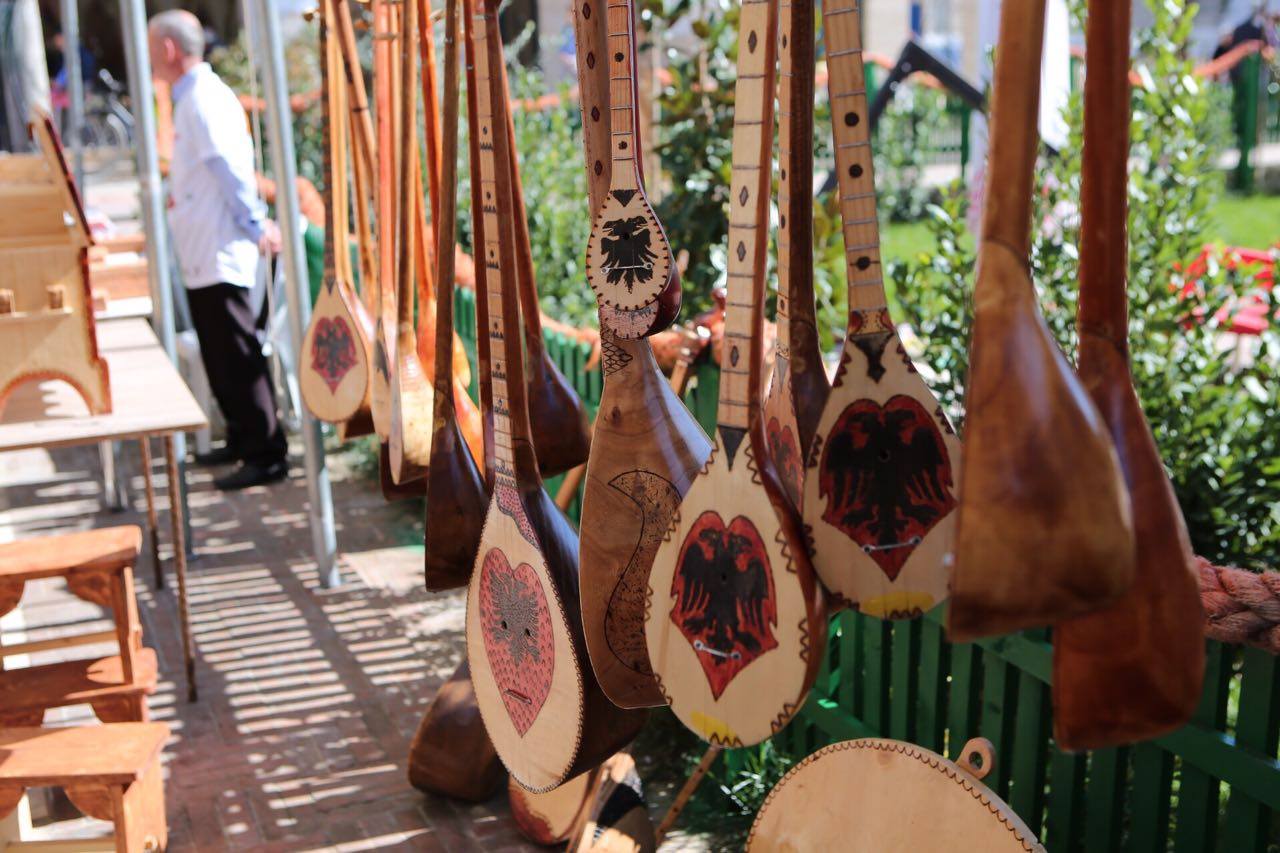 Traditional Cifteli instruments, Photo Credits: Kruja Infopoint
This traditional plucked instrument with two strings used in northern Albania and Kosovo. The name cifteli means even and it is related to the two strings. The instrument is available in various sizes and the smaller ones are used as ornaments. Price €89
Feste
Qeleshe, feste, plis are the words used in Albanian for the white wool hat that Albanians used to wear. Modern versions have a black two-headed eagle. Different regions of Albania have different models. The hat should always be white. Price €6
Wooden Wine/Grappa Flask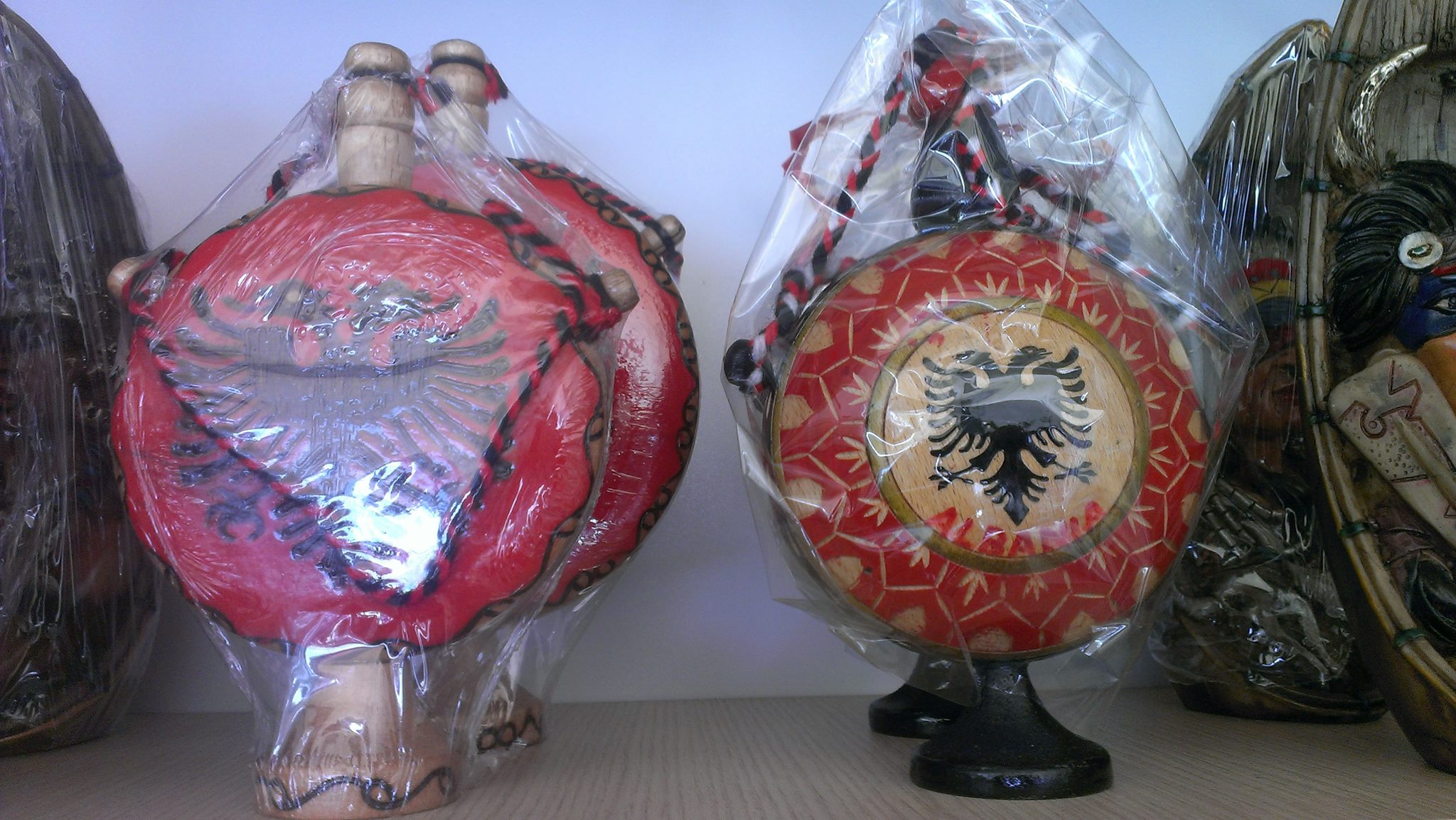 Photo credit: Pit Stop Saranda
This wooden bottle that can't fit in your pocket is used as an ornament. They include different traditional motifs like the Albanian flag. Price €15
Handmade rugs and kilims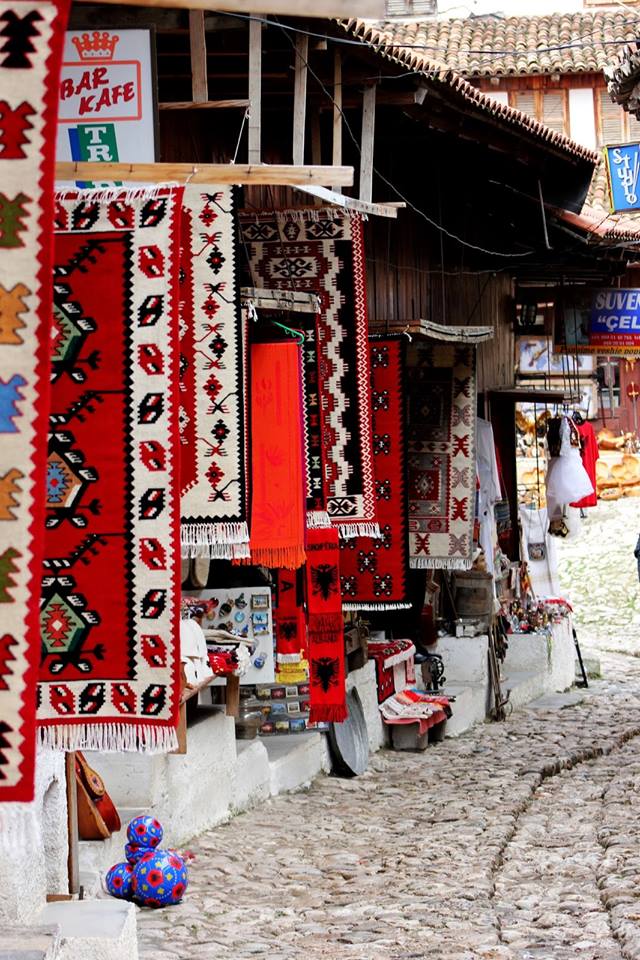 Handmade carpets and Kilims at Kruja Old Bazaar, Photo by Rozafa Shpuza
If you love handmade rugs and kilims, the old bazaar of Kruja is the place for you. With the exception of filigree artwork and traditional clothes, rugs and kilims are the most expensive souvenirs you can buy in Albania. They have beautiful colors and motifs and can be used also as wall art. Most have a red color, which is similar to Tibetan rugs. The color goes best on a white room or table as the main attraction. Wool is the main used material and it makes the rug durable and soft at the same time. A small 30×60 rug costs around €15, up to €25. Carpets are also available in the bookmark version.
Traditional bags, wool socks
Photo by Sualdo Dino
Traditional bags and socks are used for ornamental purposes. They are handwoven and have the same motifs and patterns seen in traditional carpets and kilims. Bag price €5, wool sock price €14.
Traditional costumes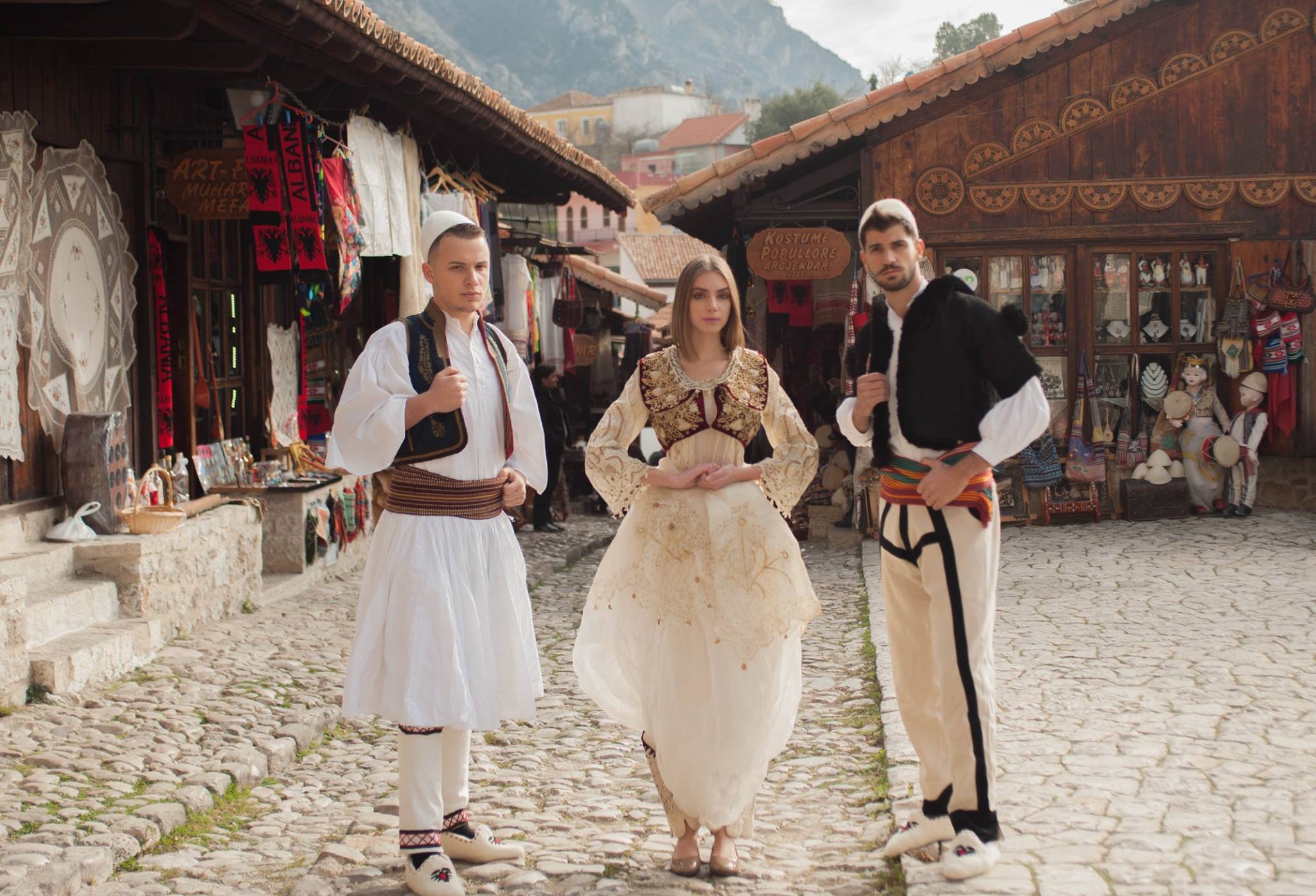 Traditional Albanian costumes, Photo Credit: Kruja Infopoint
Traditional Albanian articles of clothing are rare artworks as they are handmade and include many details. There are more than 200 various types of traditional clothing and they vary depending on the region where they are used. Lord Byron wrote in his memories about the beauty of traditional Albanian clothes. It shows Byron wearing an Albanian dress, 'the most magnificent in the world,' Byron thought, which he had acquired while on a Grand Tour of the Mediterranean in 1809. Price €150-250
Skenderbeu Cognac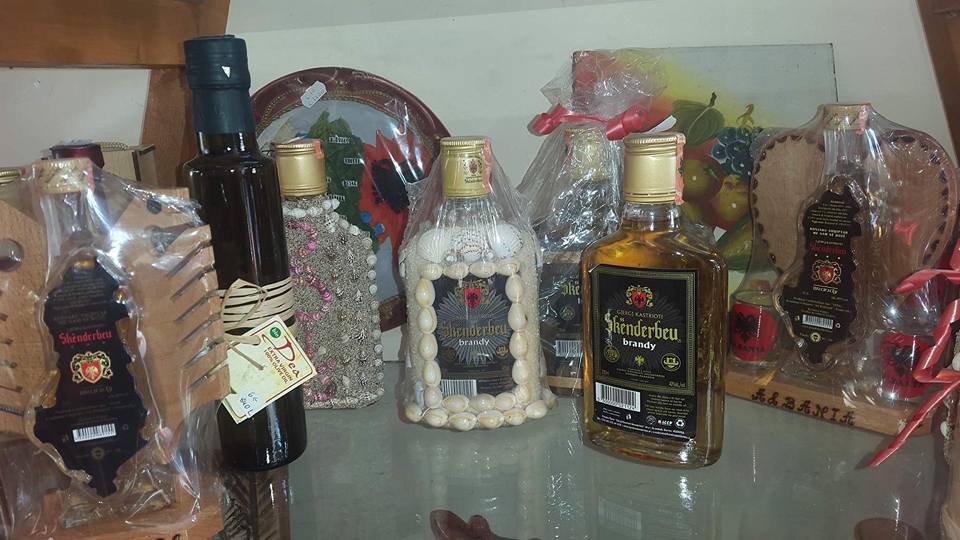 Skenderbeu Cognac, Photo By Souvenir Saranda Antique 
A tourist cannot leave Albania without a bottle of Skenderbeu cognac on his bag. This is an original Albanian beverage and worldwide known brand. Price varies depending on the bottle size.
Raki Skrapari
Photo credit: Kantina e Pijeve Skrapar
Grape from Skrapari is another famous product of Albania. This grape is distilled by using the old tradition of Zeberzan village. It has the right alcohol content and everyone over the legal drinking age can have it.
Filigree fine artworks
Filigree and silver processing is an ancient artwork among Albanians. You can notice them in souvenir shops. Filigree and silver processing includes jewelry and replicas of other artworks. Prices vary from €10- €200.
Special souvenirs
If you collect coins or postcards, here's the chance to add something new to your collections.
Send a postcard from every city you visit
Buy Albanian books translated into the English, Italian, French or German languages.
Don't miss the opportunity to have Marubi Photo Collections
Buy a handmade Venetian mask in Shkodra
Buy Albanian wine, olive oil, cheese, honey, tea, and aromatic herbs.
Reading suggestion: Albanian Entrepreneur Turns Brilliant Sustainable Business Idea into Reality
Advice!
Check the products for authenticity and be sure that they are made in Albania and always negotiate for a cheaper price.
Invest in Albania
Photo credit: Rozafa Shpuza, Kruja Infopoint
Read Also:
Best Cities to Live in Albania for Expats & Nomads
Best Useful Souvenirs to Buy in Albania
Top Regional Albanian Products: Traditional Products by Region
How to Spend One Day in Kruja
Five historical and touristic spots to visit in Kruja city
Guni Family, Where the Craftwork for Qeleshe is Inherited in 5 Generations
Shkodra Factory Supplies Venice Carnival with Handmade Venetian Masks
Albanian Products – Overview