TIRANA, August 5
 In recent weeks, where a heatwave has affected all Europe, a cold beer is a choice for many people. Whereas the traditional drink in Albania is raki or wine, Albanians are not known as big drinkers of beer, compared to other European countries.
How much beer did Albanians consume per inhabitant in 2018?
Data from the Customs for import and the Ministry of Finances, for the national production of beer, show that in 2018, in Albania were consumed 85million liters of beer, a rise of 2% compared to last year. The national production took 49% of the total (41.7% million litters) in 2018, from 55% in 2013, as a result of stagnation of local entrepreneurs, and the fast increase of the imports. The consumption of beer per capita in Albania in 2018 was 30 litters, based on the total imports/exports in the country.
Compared to the other countries, in the Balkans region, Romanians and Croatians, are the top consumers of beer, 82 and 79 litters per capita respectively in a year, followed by Serbia (60 litters), North Macedonia (40 litters), Greece (35 litters). The consumption of beer per inhabitant in Albania is little less than half of the European average, and one of the lowest in Europe.
The top producer of beer in the EU is Germany
According to data by Eurostat, in the occasion of International Beer Day on Friday, August 2,  in 2016 the top producer of beer in the European Union was Germany, with a production of 8.3 billion litters (or 21% of the EU total production). In other words, about one in every five beers containing alcohol produced in the EU originated from Germany. Germany was followed by the United Kingdom (5.1 billion litres produced, or 13%), Poland (4.0 bn litres, or 10%), Spain (3.7 bn litres, or 9%), the Netherlands (2.6 bn litres, or 7%) and Belgium (2.3 bn litres or 6%). Whereas, in 2018, 39 billion liters of beer containing alcohol were produced in the European Union (EU). EU beer production was equivalent to 76 liters per inhabitant.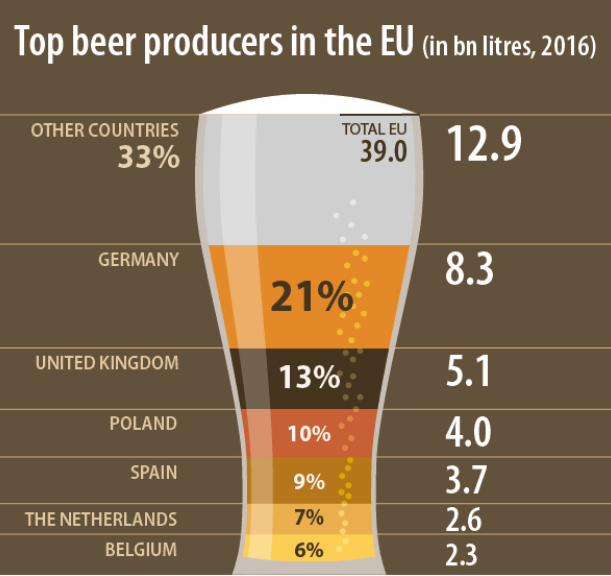 When it comes to importing from non EU-countries, member states of European Union favored Mexican beer (179.5 million litres, or nearly half of all extra-EU imports of beer in 2016), followed by Serbian beer (46.9 million litres, 13%), US beer (36.5 million litres, 10%), Belarusian beer (20.6 million litres, 6%), Chinese beer (16.4 million litres, 4%) and Russian beer (11.6 million litres, 3%).
The top consumer of beer in Europe is the Czech Republic
According to the publication by the organization the Brewers of Europe titled 'Beer Statistics 2018', the top consumer of beer in Europe in 2017 were the Czech Republic, with 138 liters of beer per inhabitant, followed by Austria (105 litters), Germany (101 litters), Poland (97 litters) and Estonia (82 litters). Germans, Polish and Czech people have started in recent years to prefer Albania as a tourist destination, increasing the request for beer in the country, according to local beer producers and tourist agencies in the country. Whereas, the country in Europe with the lowest consumption of beer is Turkey, with 11 liters of beer per inhabitant.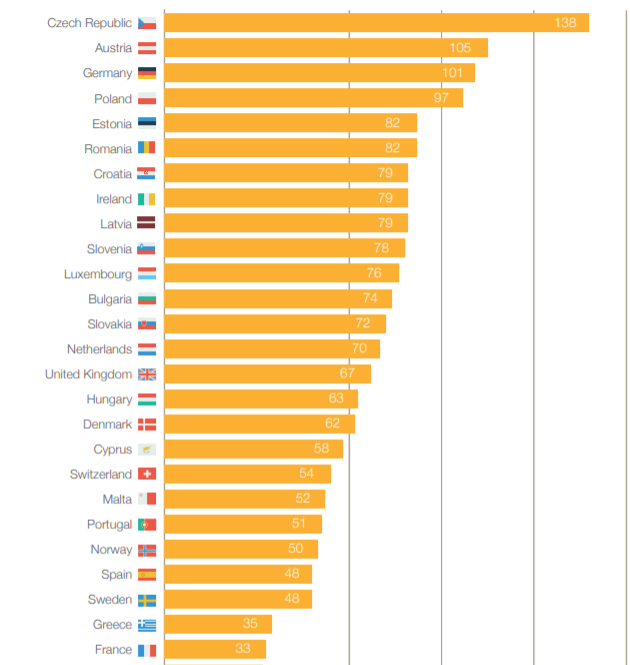 Source/ Monitor.al, Eurostat, the BrewersofEurope
Read also: These are the Best Farm-to-Table Restaurants in Tirana