TIRANA, November 6
Where to invest now?
While the Netherlands saw a fivefold increase in British investment as the UK was expecting the Brexit date on Halloween day (postponed to January 31), other less expensive countries offer a bigger bang for the buck, and not only for British investors.
Six for one
Six of them are the Western Balkans. Albania, Bosnia and Herzegovina, Kosovo, North Macedonia, Montenegro, and Serbia make an attractive region for investment.
Why investing in WB6?
Strategic Location
Prospective EU membership
Macroeconomic stability
Favorable cost and taxes
Well-educated workforce
Diverse economies
Various growth drivers
In terms of GDP growth, the WB6 is estimated at 3.2 percent in 2019 while growth in the EU28 in 2019 is estimated at 1.4 percent, according to the latest Western Balkans Regular Economic Report, Rising Uncertainties by the World Bank.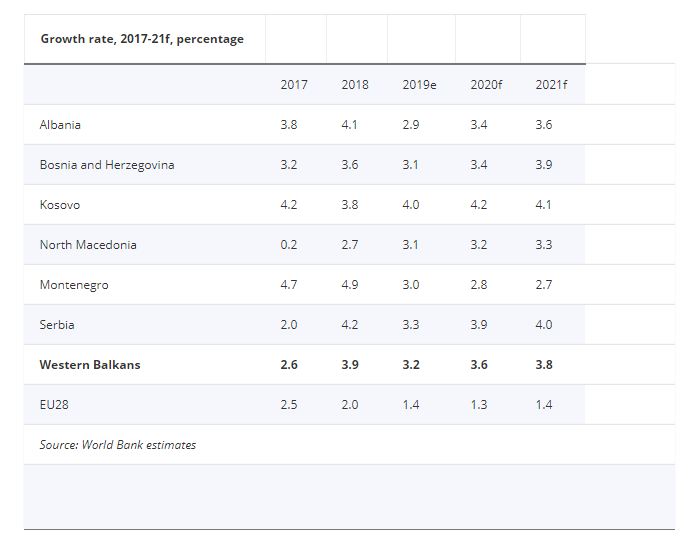 The report highlights that although the region faces rising uncertainty as economic growth slows globally, including in the EU, the Western Balkans' major trading partner and source of financial flows, positive trends were noticed.
Thus, by June 2019, 150,000 additional jobs have been created in the Western Balkans compared to a year earlier.
"Some 43,000 young people have found jobs, especially in Albania, as youth unemployment in the region has fallen supported by the growing business-process outsourcing sector," the report highlights.
Read more on Business Process Outsourcing to Albania
"In general, continuing growth in the region is helping to create jobs for people, bringing more women into the workforce and helping to curb emigration," says Linda Van Gelder, World Bank Director for the Western Balkans.
Meanwhile, the latest report by Deloitte Albania says that the unemployment rate in Albania decreased significantly in the 2015-2018 period and it is projected to reach a rate of 5.3 percent in 2023.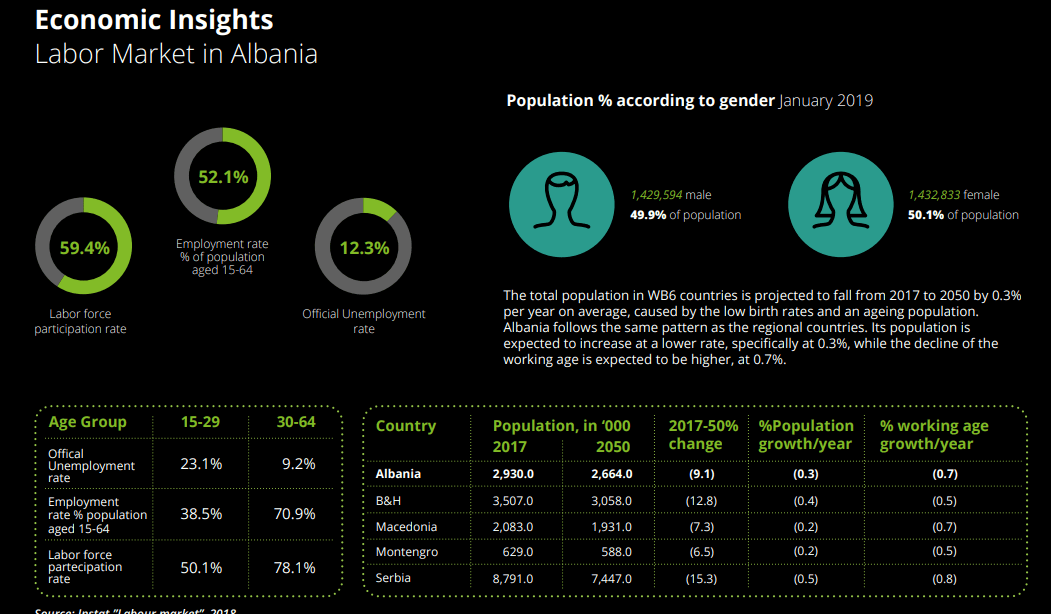 Moreover, the report points out a positive correlation between the degree area chosen and the average wage of occupation.
"Thus, the highest number of graduates preferred business and law studies which are associated with chief executives, legislators, and business managers' occupations," Deloitte's report highlights.
Official data confirm that besides business and law, Albanian youth opt for career paths in engineering and construction, health and well-being, arts, social sciences, education and information, and technology (ICT). The latest saw a higher number of students enrolled during the current academic year.
Further on, the report says that agriculture remains one of the main sectors of the Albanian economy contributing 18.4% to national GDP (2018). This rate is a much higher share than in the United States, the European Union, and even the other Western Balkan countries.
Even though the services sector accounts for almost half of the GDP, from 2015 to 2018, on average, industry reflected a higher growth rate, at 4.8%, compared to 4.1% for services. Agriculture, on the other hand, reflected growth at an average rate of 1.2%.
Due to its weight to aggregate supply structure, services are expected to contribute significantly more than the other sectors in the GDP growth for the forecasted period 2019-2023.
Albania offers untapped potential in many sectors. Like the European Bank for Reconstruction and Development (EBRD) likes to point out, Albania's Patos-Marinza is the biggest onshore oil-field in Europe.
Read more on Invest in Oil and Gas – Why Albania's Fiscal Regime is Attractive?
On the other hand, EBRD "loved" to highlight the hydropower potential of WB6, which is strongly opposed by local and international organizations. More specifically, the European Parliament urged the Albanian authorities to review the strategy on renewable energy especially HPPs plans in protected areas in Valbona and Vjosa river. At the same time, the EP urged EBRD to review their support for hydropower plant projects should they lack sound ex-ante strategic environmental assessments and environmental impact assessments.
In a nutshell, responsible investors that consider environmental, social and governance (ESG) factors and their impact are needed.
What to consider?
Potential sectors to consider for investment include:
Renewable energy
Sustainable tourism
Sustainable agriculture/aquaculture
Textile and Footwear Manufacturing
Information and communications technology (ICT)
Oil and gas
Industry
Real estate
Based on Deloitte's report, the GDP growth forecast expects Kosovo to have the best performance in 2020. Albania can be the entry point to the WB market and especially to an approximately 5 million Albanian speaking market.

It is important to mention that the new Kosovan government led by the Self-Determination movement (Vetevendosje) will aim at strengthening economic cooperation with Albania.
Source: Deloitte Albania, the WB
If you need more details on specific sectors of the economy don't hesitate to contact us. Fill out a request information below.