TIRANA, July 31
Hot and attractive, that the most explicit term for the oil and gas industry as it fits the stances of both oil investors and green activists. Even though the global oil and gas have been through different stages during the recent years, one thing is sure (said by the Economist) the demand for oil is rising and the industry will satiate it with multi-trillion-dollar investments.
While the oil and gas investors are preparing for the future and navigating through uncertainty, why not explore new attractive options in the interim. Nothing more than taxes and fiscal policies determines investment decisions in this industry and here's the case of Albania.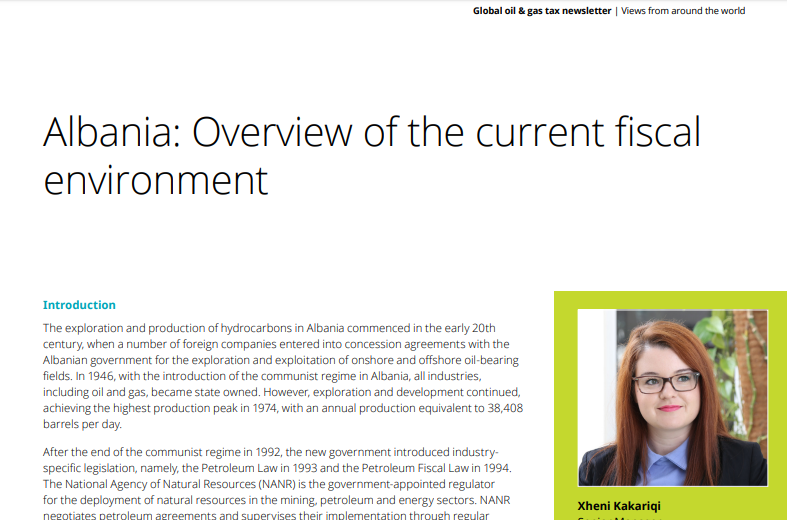 A very accurate overview of the fiscal environment in this industry in Albania was featured by Deloitte's Global Oil and Gas Tax Newsletter, July edition. The detailed rundown made by Xheni Kakariqi from Deloitte Albania includes a handful of information and numbers that investors want to see. From an introduction to the development of the oil and gas industry in Albania to future prospects of the sector, this is a comprehensive summing-up.
The overview provides many details on the Petroleum Law, which dot's the i's and cross the t's, or about the petroleum fiscal regime and other tax aspects.
According to the Albanian Petroleum Law, foreign investors may negotiate fiscal stability terms to mitigate the negative effect of future changes in the applicable tax legislation, although the implementation period of the stability terms has been limited to 12 years from the date production commences.
"In summary, Albania offers opportunities for investment by multinational oil and gas companies," the article concludes.
The complete overview is available Here
Albania offers many advantages to foreign investors interested in various sectors, but oil and gas can be your greatest investment.
"We usually find gas in new places with old ideas. Sometimes, also, we find gas in an old place with a new idea, but we seldom find much gas in an old place with an old idea. Several times in the past we have thought that we were running out of gas, whereas actually, we were only running out of ideas."
Parke Dickey, geologist (1909–95), quoted in Encyclopedia of Petroleum Science and Engineering
Source: Deloitte Albania and Kosovo