TIRANA, October 8
The latest monthly report on air transport released by the Civil Aviation Authority (AAC) confirms that the air traffic grew 13 percent in August. Among other findings, AAC reports that 425,162 passengers few during August and that charter flights had the largest share in passenger traffic at a total of 20 percent (Pegasus Airlines with 2%). (Please note that AAC did not specify that 425,162 single individuals flew in August)
The list of companies with the highest passenger traffic continues with Blue Panorama (15%) and Ernest Airlines (14%). Both airlines operate direct routes to and from Italian destinations.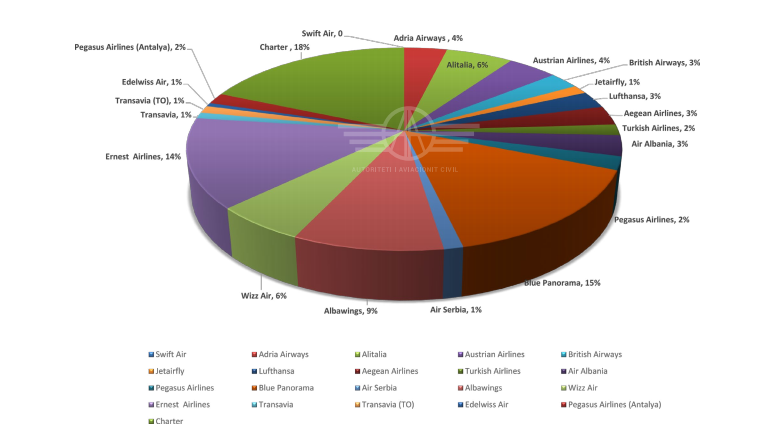 In the meantime, Albawings that besides Italian cities operates directs routes to Dusseldorf and London had a 9% share in traffic passengers during August. Alitalia closed the month of August with 6 percent of the total passengers' volume. Air transport to Italy is expected to increase further as Air Albania launched its direct routes to Italian destinations following Tirana – Istanbul route. Increased competition will have an impact on more affordable airfares between Tirana and Italy considering the short distance.
What's hot? Low-cost carriers growing at a rapid pace
In terms of passenger growth, Hungarian low-cost carrier Wizz Air saw a 167% growth in a y-o-y comparison. The second airline that witnessed growth in passengers during August was Lufthansa at 89 percent compared to the same month of 2018. Wizz Air currently operates four direct routes between Tirana and Budapest, London, Dortmund, and Memmingen, while tickets are for sale for Tirana – Vienna's new route starting December 19th.
In the meantime, British low-cost EasyJet will launch two direct routes Tirana – Milan, and Tirana – Geneva on November 28th.
Read more on:  Airlines that fly from and Tirana 
EasyJet to Start Two New Routes to Tirana in November
WizzAir, to Add a New Route in December, Tirana-Vienna
Cheap Flights to Tirana, Tips and Travel Hacks
Source: AAC