TIRANA, October 25
Nature, animals, and birds know no borders. Feel this type of freedom in Prespa transboundary area
Good things are better shared! The top destination in Albania for a quiet mystical holiday, silent but starry night skies, and a little inner peace where to reconnect with nature, and self is shared with North Macedonia and Greece.
Prespa region, located 45 minutes away from Korca, is a transboundary protected area (first in the Balkans) shared between Albania, North Macedonia, and Greece. It holds untapped potential for sustainable tourism and socio-economic growth. The area witnessed growth in the number of visitors, yet more efforts are needed to develop and implement the right strategies and consider it a single tourist destination. The three countries can share experiences and learn from each other, especially from Greece, which significantly outperforms countries of Southern Europe regarding the hospitality and travel industry.
The area has the potential for alternative tourism such as a rural, lake, mountain, spiritual/religious, cultural, birdwatching and wildlife observation, culinary, and sport/recreational tourism.
Biodiversity
The Prespa Lakes make one of the oldest freshwater ecosystems on Earth and responsible tourism would help to restore the freshwater ecosystem and at the same time strengthen the local economy. They are the only lakes in the Balkan region that have islands.
Prespa National Park, one of the largest protected areas in Albania, spans Korca and Devolli Districts and includes both Prespa Lakes, coastal villages, and Mali i Thate. There are three RAMSAR Sites within the region, the Albanian Prespa Lakes, the Small/Mikri Prespa in Greece, and Prespa Lake in North Macedonia. The area is home to threatened or near-threatened species such as Pygmy Cormorant, the Eurasian otter, the horseshoe bat, the long-fingered bat, the Dalmatian Pelican, etc.
In Prespa Lakes, Transboundary area visitors can find the largest Dalmatian Pelican colony in the world, over 170 species of butterflies, and outstanding natural land and waterscapes. The area is an excellent destination for outdoor enthusiasts, wildlife photographers, and filmmakers.
What Else?
Byzantine art
Hermitages and rock paintings
Traditional farming and how traditional practices help to sustain nature
Alfresco dining
Wine tours and wine tasting
Hiking trails and donkey tours for children
Boat tours
Sightseeing tours
Local cuisine in lake-side taverns
Watersports
Birdwatching
Skiing and winter sports
Hot to get to Prespa
From Tirana
Follow Tirana – Elbasan – Librazhd – Qafe Thane – Podgorie – Burimas – Prespa National Park
Driving time: 3 hours
From Skopje
The fastest route via A3, the route has tolls
Driving time: around 3 hours
From Thessaloniki
The fastest route is Via Egnatia/A2/E90 for three hours. This is a toll road
This beautiful short documentary by Francisco Marquez explores Prespa during the four seasons of the year:
PRESPA from Francisco Márquez on Vimeo.
Albania
Maligrad Island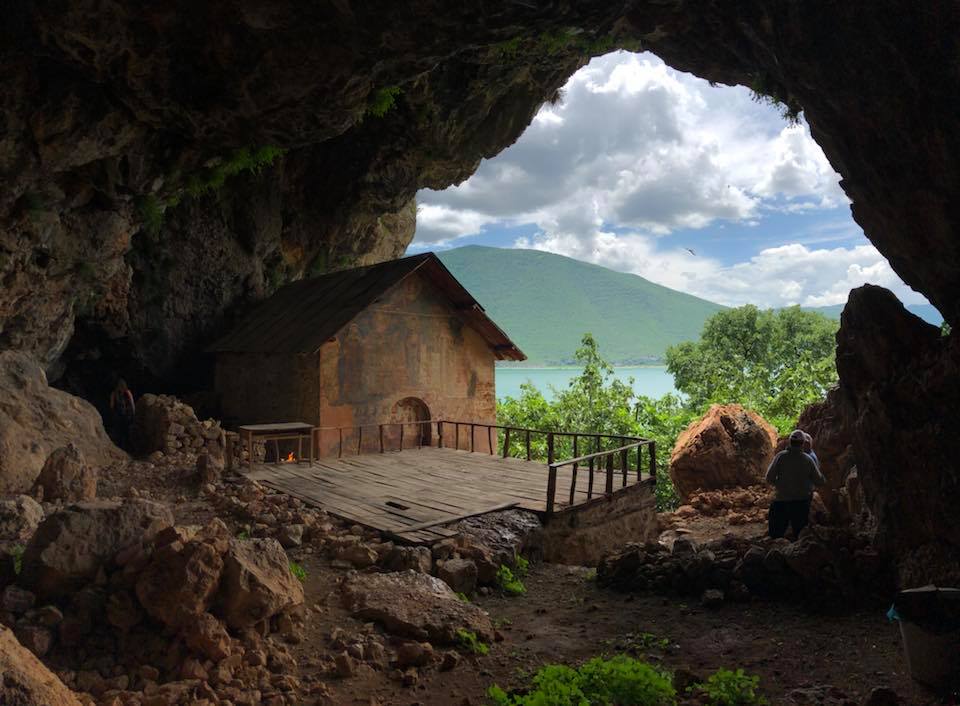 The number of visitors is higher during the summer season when they go and explore Maligradi Island also known as the island of snakes. Saint Mary church dates back to the 14th century is found inside the rocks and it is one of the biggest attractions in the entire area. Two important frescos, Saint Mary and the Kiss of Judas are painted on the walls of the church. Tourists take a boat ride from the local fishermen and sail to the rocky island. On their part, the inhabitants of the area, say that tourism is helping them to sell their products and to generate revenues. Therefore they are investing more in traditional architecture and agrotourism. But there is more than this. There are several legends about a monster that lives in the lake. However, legends lure more tourists and visitors to come and explore the area.
Treni Cave also known as Wolf's Cave dates back to 6000 BC is a site of archeological and biological importance. It is known for the hunting scene cave painting and as a dwelling site for several bat colonies.
Zaroshka Village
Located in Liqenas area, Zaroshka is among the favorite destinations of Albanian and international visitors and travelers. Like the entire Prespa coast on the Albanian side, the tourism potential of Zaroshka is quite underdeveloped. However, the area offers something to every type of visitor. Hiking and trekking are the best ways to explore the nearby villages.
Hiking Trails on the Albanian coast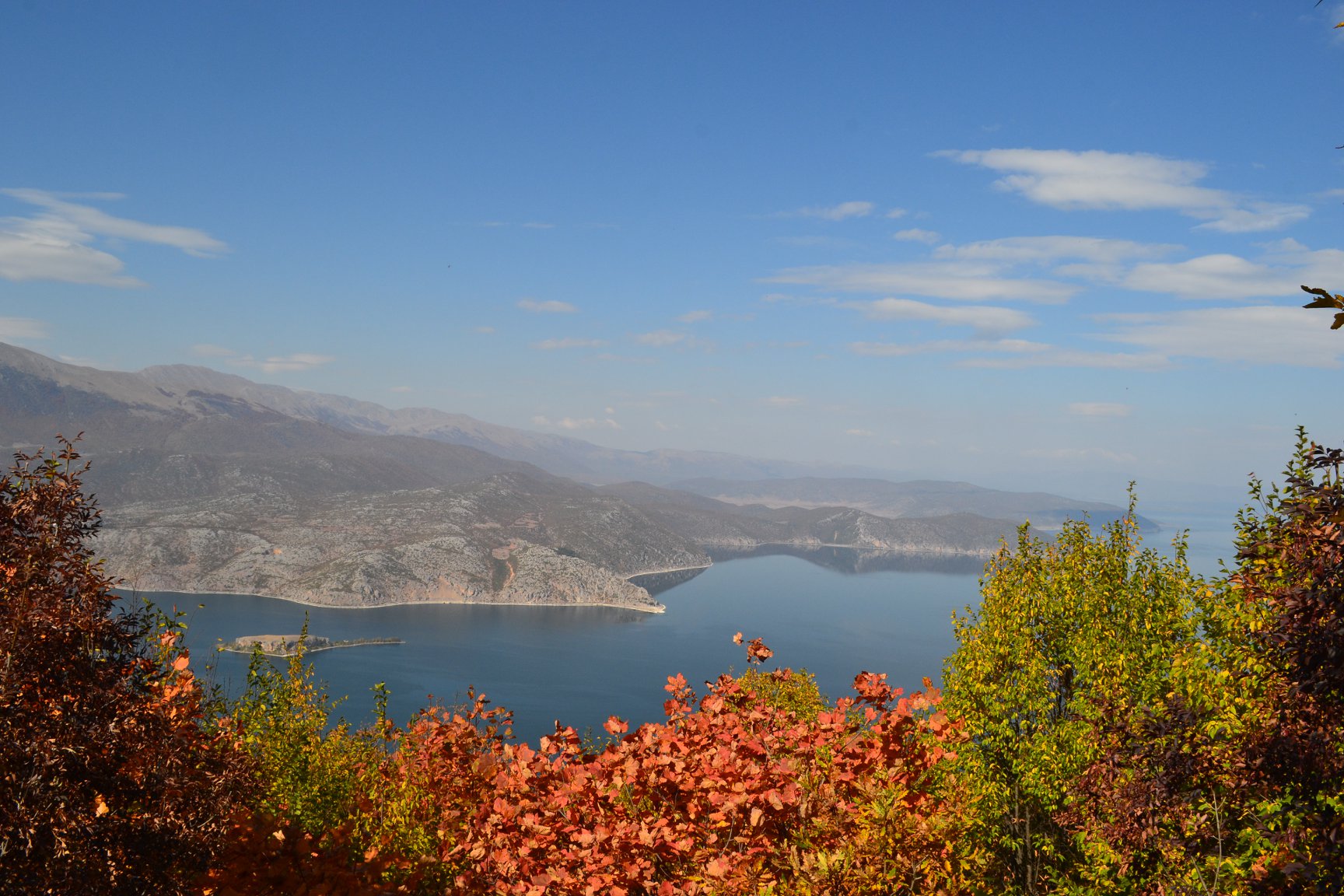 Kallamasi Trail
Distance: 11.5 km
Time: five hours
Difficulty: moderate
Gorice e Madhe – Alarup
Distance: 20km
Time: 9.5 hours
Difficulty: difficult
Gorice e Madhe – Korrita
Distance: 17.9 km
Time: 9.5 hours
Difficulty: moderate
Gollomboc – Gorica
Distance: 11.2km
Time: 5.5 hours
Difficulty: easy
Gorice e Vogel – Diellas
Distance: 11.2
Time: 5.5 hours
Difficulty: moderate
Shueci trail
Distance: 3.5 km
Time: 2.5 hours
Difficulty: easy
Diellas – Gollomboc
Distance: 9 km
Time: 4.5 hours
Difficulty: moderate
The Tortoise trail
Distance: 2.6 km
Time: 1.5 hours
Difficulty: moderate
Big Prespa – Small Prespa hiking/mountain biking trail
Distance: 24.2 km
Time: 4.5 hours
Difficulty: moderate
Zagradec – Small Prespa
Distance: 3.1km
Time: 2 hours
Difficulty: easy
North Macedonia
In North Macedonia, the Great Prespa Lake is the second largest lake after Ohrid Lake. North Macedonia is humbly promoting its tourism potential by saying that it doesn't offer the world's best ski resorts or the most spectacular hiking trails. Despite this, it succeeds to impress with one single lake even those that come from lake-lands such as Finland or Norway. Macedonia is one of the countries with the most mountain summits in the world and in the Prespa region is possible to climb to Galicica Mountain and explore Galicica National Park, an hour away from Ohrid Town.
The North Macedonian coast of Prespa has many small villages and towns such as Otesevo, Pretor, Stenje, Konjsko, Dolno Dupeni, and Resen.
Eat: Tavce Gravce, Polenti Piperki, Pindjur, Zelnik, Selsko Meso, Kacamak
Drink: Lozova Rakija, Mastika, Skopsko beer, Macedonian wine
Read: Cousins by Meto Jovanovski and Contemporary Macedonian Poetry
Watch: Before the Rain by Milcho Manchevski and To the Hilt by Stole Popov
Listen: Calgija music, Blla Blla Blla, Vaska Ilieva, Toni Kitanovski, Elita 5, Vlatko Stefanovski
Greece

The Small Prespa is shared between Albania and mostly Greece. The lake has two inhabited islets, Agios Achillios in Florina and Vidronisi. Agios Achillios is one of the most picturesque destinations in Northern Greece. It can be reached by boat or normally on foot via a 650 meters long pontoon bridge. The island is home to the ruins of the Basilica of Agios Achillios which dates back to the tenth century. Other places to explore on the Greek side are the Traditional Village of Psarades, Agios Germanos, Cape Roti, Pylos, Pyxos, Vrontero, Laimos, Miliona, Plati, Kallithea, Lefkonas, Karyes, Oxia, and Mikrolimni and the hermit cells along the lake coast.
Four observatories for birdwatching on the Greek coast of the Small Prespa at Koula, Palaia Pyli, Mikrolimni, and Vromolimni.
Remember this:
Albania and North Macedonia share a time zone (GMT+2) while the Time Zone in Greece is (GMT+3).
Currency: Euro is accepted in Albania (Lek) and North Macedonia (MKD
Read also: Spiritual Albania, Top Destinations You Shouldn't Miss
IIA