TIRANA, August 16
The Albania Investment Council (AIC) has invited all of the businesses in Albania, to fill out a questionnaire regarding different issues that are related to their activities, such as: the tax control, the refund of value-added tax, informality and the interaction with the units of the local self-governances.
The survey titled "Assessment of the impact of some fiscal changes and the measures against informality in the investments' climate" is anonymous, and the data will be processed by the Secretariat of the Albania Investment Council (an independent platform) to facilitate the communication between the government and the private businesses. The results of the analysis and the recommendations will be presented in the next meeting of the AIC and will be published online. All of the businesses are welcomed to contact AIC for any additional information in the email address: [email protected].
You could find the link to fill out the survey here.
Below is the announcement on AIC's FB page: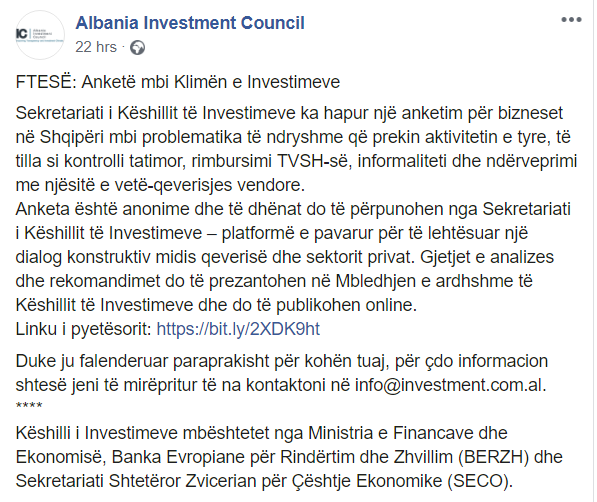 Source/AIC FB
Read also: AIDA Invites Food Businesses to Warsaw Expo & B2B 2019
Draft Law Predicts Businesses to Use Electronic Bills by 2021
BA: Trust of Businesses Increased by 2.8% in the Second Q1 of 2019