TIRANA, August 6
Albanian Development Investment Agency (AIDA) has invited all of the Albanian companies from the food sector to become part of the fair taking place in Poland, called Warsaw Food Expo 2019, to grow the possibility of the expansion in the European market. The international fair of food, this year it is on its third edition and will happen between 12-14 September 2019.
This is the most important and biggest event in Poland, in the food and drinks sector. Warsaw Food Expo 2019, is the perfect place for the companies to build new cooperation bridges, to promote the new products, to develop the relations with the existing and new consumers, and the creation of valid trade connections.
AIDA says that in this event, the companies will have the possibility to develop international cooperation, with the participation of importers, from different countries all over the world. During the event, are programmed around 600 business appointments (B2B), between the Polish companies and the companies from the 15 participating countries.
Companies which will display their products at the fair will be:
Producers from the agro-food sector
Wholesale traders and the distributors of food
Polish and international importers and exporters of food
Service providers for the food industry
Below is the full statement from AIDA on its FB page: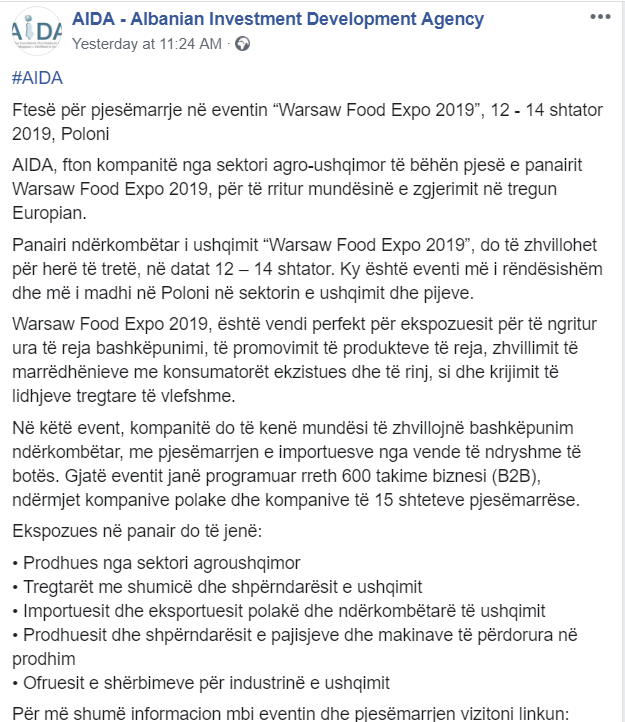 Source/ AIDA FB
Photo Credit/Warsaw Food Expo 2019 FB
Read also: Albania Will Export Its Food Products to China
Albanian Products Showcased at VIII Diplomatic Fair in Budapest