TIRANA, December 5
The number of international arrivals during January-October increased from 5.3 million in 2018 to 5.8 million in 2019, the Institute of Statistics (INSTAT). While it is known that Albania attracts most of its international visitors from neighboring Kosovo, North Macedonia, and Montenegro, arrivals from other countries increased compared to the same period in 2018. The data provided by INSTAT international arrivals from Switzerland, Germany, and Spain increased respectively by 19.9 percent, 17.1 percent, and 15.4 percent.
The increase in arrivals from Switzerland and Germany can be explained by the improved connection through direct air routes from Albania to Germany and Switzerland.
Low-cost carriers Albanwings, Wizz Air and Edelweiss operate weakly routes from Tirana to Dusseldorf, Dortmund, Memmingen, and Zurich. Meanwhile, British low-cost EasyJet inaugurated its direct route Tirana – Geneva one week ago, on November 28th.
Read more on Airlines that Fly to Albania
Back to international arrivals to Albania in Jan-Oct 2019,
over two million arrivals were from Kosovo
690.758 from North Macedonia
498.482 from Greece
412.256 from Italy
308.016 from Montenegro
117.508 from England
109.923 from the US
157.142 from Germany
131.035 from Poland
60.816 from Switzerland
27.245 from Spain
The data confirm a decline in the number of international arrivals from Poland by 14.2 percent.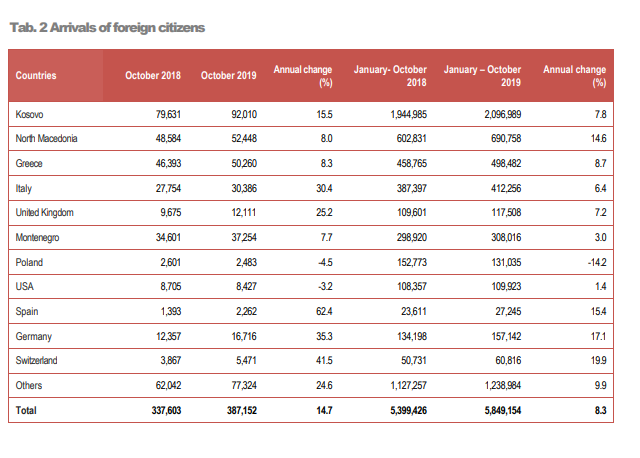 Further on, the stats show a 162 percent increase in the number of arrivals for medical treatment.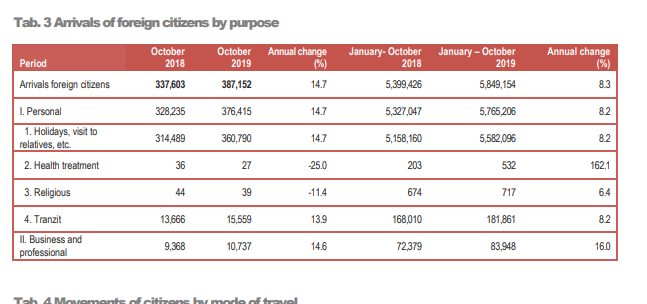 Source/Photo Credit: INSTAT