TIRANA, May 7
Over 212,000 passengers traveled from and to Tirana International Airport during March 2019, the Civil Aviation Authority (AAC) confirmed on Tuesday. Overall, passenger traffic increased by 10.34 percent compared to March 2018.
Based on AAC's data, Italy remains the top destination of Albanian and international citizens traveling from and to TIA. Flight routes to Italian cities are operated by Blue Panorama, Ernest Airlines, Albawings, and Alitalia. They respectively consist of 23 percent, 18 percent, 10 percent, and seven percent of the passengers that passed through Albania's airport in March. Blue Panorama and Ernest airlines also have the highest number of complaints by passengers.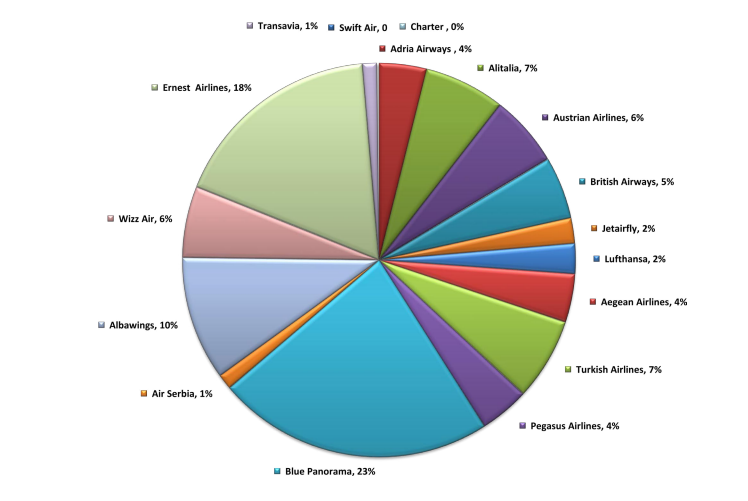 In terms of destinations, Italian cities consist of 58 percent of the passengers' traffic followed by Turkey with 11 percent, and Hungary and Austria with six percent each.
The largest growth in international passenger traffic during the third month of 2019 was recorded by Wizz Air. Passenger traffic for the Hungarian airline that operates direct routes to Budapest, Dortmund, and London increased by 149 percent compared to the same month in 2018.
Ernest came in second with a 54 percent growth of passenger traffic, and Pegasus held third place with 39 percent growth.
On the other hand, Transavia and Alitalia recorded a decline in passenger numbers respectively by 29 percent and 12 percent compared to March 2018.
If you need more information about the airlines that fly to Albania, go to this page:
A guide of the airlines with flights to and from Albania to Europe
Source: AAC