TIRANA, July 5
The Regional Cooperation Council (RCC) for South East Europe has published yesterday, June 4th the Balkan Barometer for 2019, where it shows the latest data collected regarding the life satisfaction and problems that the people list in their daily life. The report about Albania, says that 39% of individuals asked, think that they are completely dissatisfied with their lives at the moment, whereas 12% are mostly satisfied.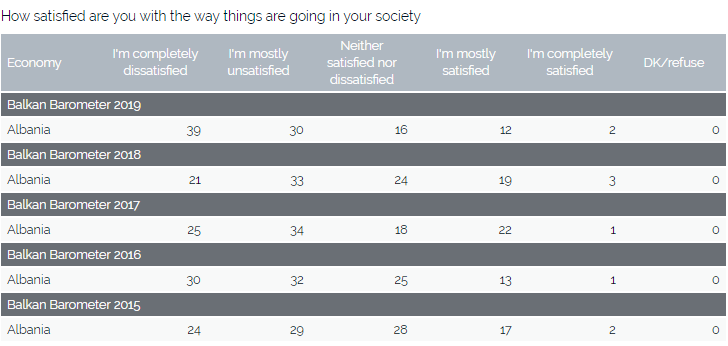 The data shows that the dissatisfaction has increased with the passing of the years, compared to the year 2015, where only 24% of Albanians expressed utter dissatisfaction with their lives. The dissatisfaction of Albanians in the Balkan region is the highest, whereas Montenegro seems is the happiest country in the region (10% of Montenegrins are currently unsatisfied with their lives) and Croatia doesn't give any data. Albanians' dissatisfaction is almost double the dissatisfaction of the people of Kosovo, the report shows.

To the question of what are the most two main issues in the economy, 50% of Albanians answered the current economic situation and 66% of them said the unemployment rate. Regarding the socio-economic status, 58% of Albanians said they consider it average (as a majority) and only 4% of them said it is above average.
On the contrary to the individuals, the businesses expressed that they are satisfied with the economic situation, better than the years before. Balkan Barometer is an annual survey of public opinion and businesses in six Western Balkan countries, published by RCC which examines aspirations and expectations on life and work, prevalent socio-economic and political trends, but also the issues that each country in the region faces.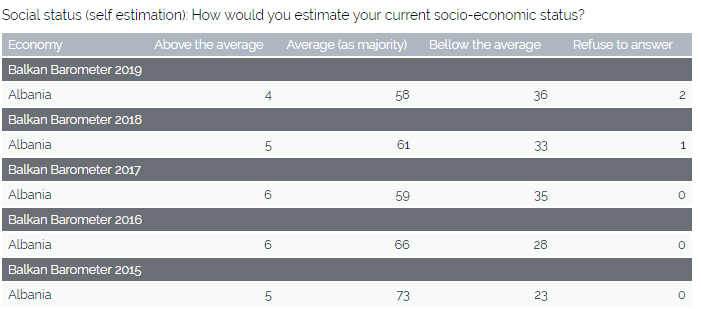 Source and Photo Credit/ RCC
Read also: Remittances Generated €1.25 Billion Income for the Economy
Key Findings of the EC Report on Albania's Economy