TIRANA, June 19
Last year, in 2018 the Albanian economy has earned remittances worth €1.25 billion, says the Bank of Albania on its latest report posted on Monday, June 17. Here are included the money transfer from emigrants to their families in Albania, but as well the income of the residents of Albania from their seasonal jobs or working abroad.
The yield from work is a source seeing a fast increase and only last year, had the worth of €310 million or a quarter of the total remittances. These data show that the remittances are the biggest flux of money source in Albania, surpassing the foreign direct investments and exports.
A study from Bank of Albania, in collaboration with the World Bank has shown that remittances are an income source for 26% of Albanian households. They contribute to education, health, investments, but especially in the reduction of poverty.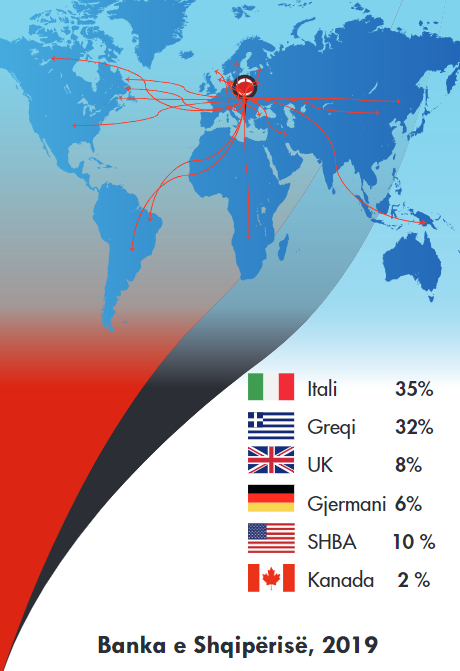 A problem for those who send money to Albania is the high cost of the shipment. This cost is approximately 8.9% of the value of the shipment, compared with 6.9% with the global average. The high cost is a result of the fact that still many Albanians send money through the money transfer companies, almost 57% of them, and only 4% of the money is sent through banks. Usually the money transfer companies have higher interests per shipments, compared to the banks.
Some figures:
Albanian emigrants worldwide are 1.19 million individuals, from which 90% live in Europe
The permanent emigrants are 80% of total emigrants
52% of the money is sent through the money transfer companies, 39% in person and 4% through banks
52% of emigrants who sent money back home are between 30-44 year old
71% of senders are men and 60% of them are permanent emigrants
One-third of Albanian families use this money for daily basic costs and 40% of them saves the money sent from their family members
Source/ Bank of Albania
Read also: Why Do Commercial Banks Air-Ship Cash Abroad