The well-known German magazine "Bild" has published an article for Albania by which it invited its readers to visit Albania's touristic spots. Written by Oliver Abraham the article opens with two short questions: "Albania? Yes, why not? The small country which is bordered by Adriatic and Ionian seas has wonderful beaches, a rich culture, natural treasuries and friendly people, but above all – cheap prices."
The journey of Abraham in Albania started with "an unforgettable dinner" in a restaurant's terrace in Durres coastal city, overlooking the sea. Durres is the city where the international and traditional culinary interlink and Abraham's suggestion for all food lovers. After enjoying the delicious food served in restaurants in Durres, do not miss a walk in the central boulevard, under the shade of palms and along coffee shops and shops which offer a lot.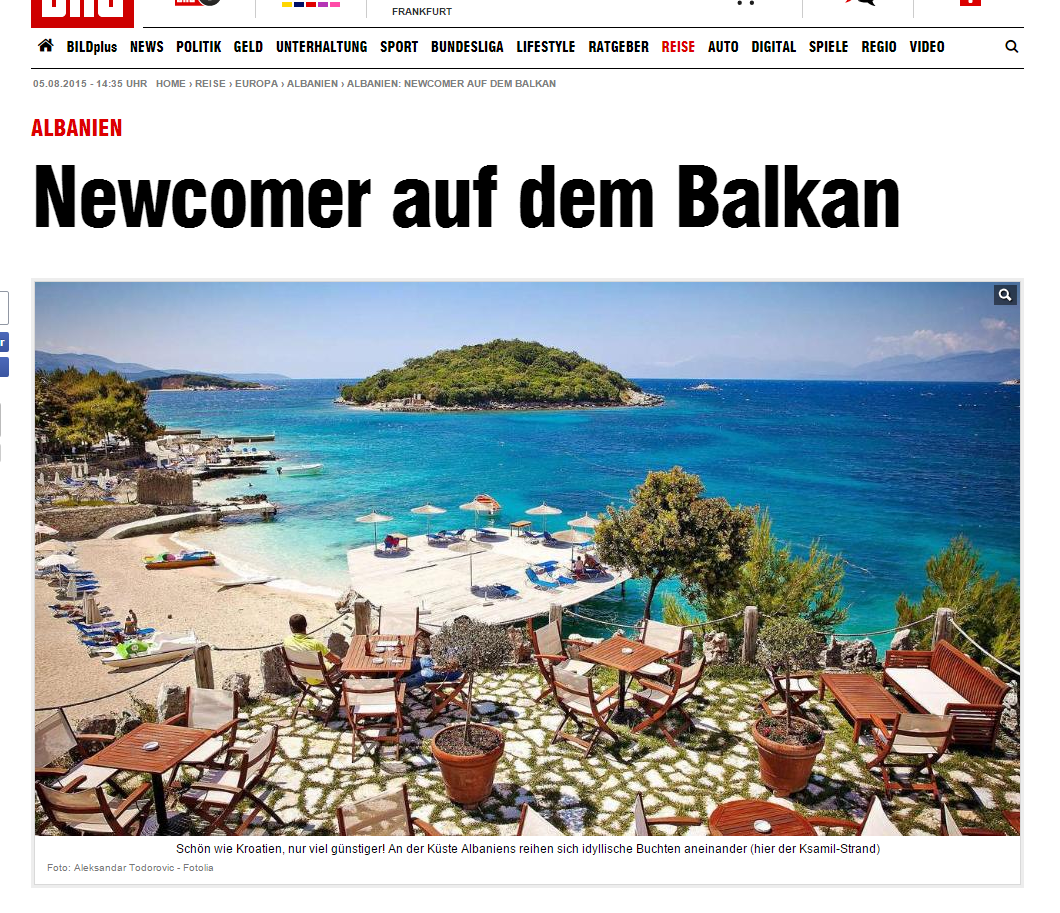 After finishing the tour in Durres, Bild suggests to pay a visit to Kruja city (Kruja Castle). The castle is a place which offers a mystic atmosphere for the visitors. Take yourself back in time in the medieval ages by visiting Kruja's old bazaar and the Museum of the city. At the old bazaar you can buy different souvenirs and traditional handmade Albanian symbols, costumes and other handicrafts with national motives, while it is worth visiting the museum to learn more about the history of Albania.
It is now the time to explore the Albanian Riviera, the wonderful and most precious treasury of the Albanian nature which blessed the country with crystal-clear skyey beaches. Apart of that, Bild suggest a visit to Gjirokastra mountain areas and at the "Blue Eye" spring in Delvina.
"Saranda is a five star hotel or a hostel location, it depends what you are looking for." Bild considers it as the most important touristic destination in Albania since it is the homeland of Butrint ancient national park. "Do not miss the secret small beaches, fairytale bays and the Llogara national park on the road to Vlora from Saranda city".
News source/photo credits: Top Channel