TIRANA, October 21
The Albanian Institute of Statistics (INSTAT) reported a 5.5 percent drop in export during September 2019 compared to the same month of 2018. Meanwhile, the same stats confirm a 2.8 percent drop in export during the first nine months of 2019.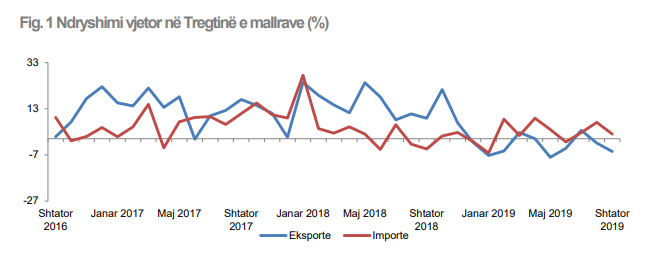 The negative reading was affected by two important categories respectively Textile and Footwear and Minerals, fuels, and electricity.
While the slump in the power generation sector is related to the prolonged drought, representatives from other sectors highlight the lack of support policies for producers. According to them, those policies would mitigate the impact of the exchange rate on one hand, while on the other hand, they would cut bureaucracy.
The data show a 16 percent growth in exports to the Kosovan market, due to the 100 percent customs fees imposed to the Serbian products. BesidesKosovo, during the above-mentioned period Albania saw a growth in exports to Germany by 6 percent and to China by 16.3 percent.
The European Union (EU) accounted for 64 percent of Albania's trade exchange during January – September 2019. Italy, Greece, Turkey, and Germany were the main trade partners during this period.
The drop in export and the growth in imports by 3 percent over the nine-month period compared to the same period of 2018 widened Albania's trade deficit by 8.8 percent.
Read also: How to Export Processed Fruit and Vegetables to the EU from Albania
Tomatoes, a Rising Star in Made in Albania Exports
Source: INSTAT/TCh