Tirana, December 14, 2015
In order to find new options that can make the Albanian coastline attractive to tourists that have never visited the country, the National Agency of Coastline held the first Conference on Cultural Entertainment.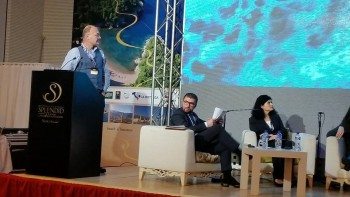 At the conference, 12 panelists shared success stories, models and creative ways of how a country can transform the coastline into important, entertaining and attractive destinations for tourists.
The head of the National Agency of Coastline, Auron Tare, presented the options the Albanian Riviera and coastline offers to tourists in terms of cultural entertainment.
Albania has huge tourism potential and tourists are increasing each year. This urges the state institutions to find new ways to entertain and welcome tourists and attract new tourists, since the tourism sector plays a crucial role to country's economy. This is the first conference of its kind held in Albania.
News source/photo credits: ATA, Arton Krasniqi