TIRANA, September 2
General Directorate of Road Transport Services (GDRTS) has announced on its official FB page, on Sunday, September 1st, that starting from today the people who consider buying a used vehicle, could verify if that is stolen, had previous accidents, its mileage, etc. 
The announcement adds, that for the first time, GDRTS offers a page, with links to official websites and referrals, from which you could find accurate answers for questions and data, such as:
What are the technical data of the vehicle?

What are the data about its mileage?

What environmental category does the vehicle belong to?

Has the vehicle ever had damage?

What was the previous use of the vehicle?

Is the vehicle registered in the database of stolen vehicles?

How many owners did the vehicle have? 
If you prefer to buy an imported and used car, you could go to www.dpshtrr.gov.al, and verify online its category, origin and other technical indicators, based on the license plate or undercarriage.
Below is the statement on GDRTS official FB page: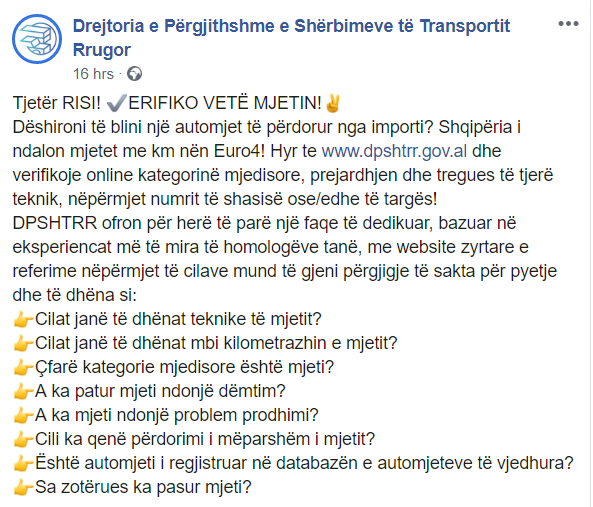 Source/GDTRS FB
Read also: Concessionary Firm says no New Tax, only Scaling Heavy-duty Vehicles
Control of Gas Pumps Passes from State to Private Sector
Higher Taxes for High-Emitting Vehicles, New Measure to Be Approved