TIRANA, June 17
Are you excited about your family vacation at the beach this summer? Don't allow the challenges of holiday planning to hit your pre-trip happiness. Despite the excitement of planning a family trip or summer holidays to a beach destination, challenges appear when you try to find activities for the entire family. It gets even more overwhelming when you have a wide age-range of children. Toddlers and children up to 10 will need constant monitoring, while pre-teens or teenagers can easily get bored. Hence, make sure to ask everyone what activities they would like to see and you'll get a hand on travel planning. When you know what everybody wants the choices can be narrowed down a bit.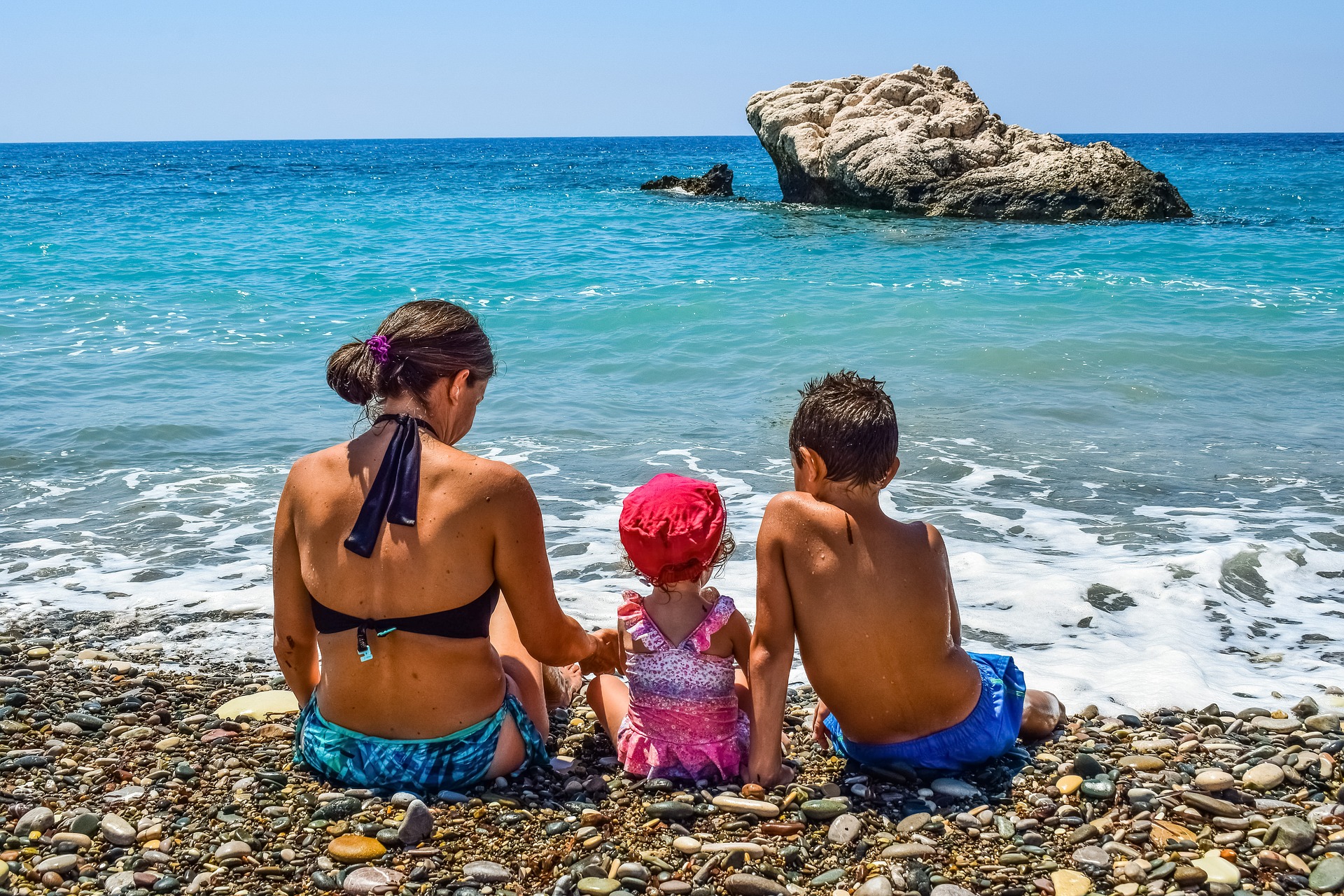 Here's our guide of family-friendly beach vacations in Albania
Finding the best beach for your family depends on many factors the most important being means of travel and transport, age, budget, and special interests. Our selection of family-friendly summer destinations focusses mostly on beaches located close to mid-sized or big cities that can provide all the necessary facilities to a family traveling with kids or senior family members.
What to pack?
(Most of these items can be purchased everywhere in Albania, but if you bring your own it means less plastic around)
Life vests for kids and even for your pet
Arm rings, swim rings, sand building kit, beach toys, kites and Frisbees, beach ball
Sun protection, sunscreen, hats, beach tent or umbrellas
Full face snorkel mask or goggles
Quick dry towels
Beach blanket
Mosquito repellents
First aid kit
Medicine for kids and a thermometer
A telescope for amazing dark skies and stargazing nights
Water shoes, they are necessary on the Ionian coast.
Depending on your mean of travel and transport
By air. You will enter the country through Mother Teresa International Airport (TIA). Transport options to get from the airport to your hotel or accommodation facility include public transport, taxi, or car rental.
Holidays in Durres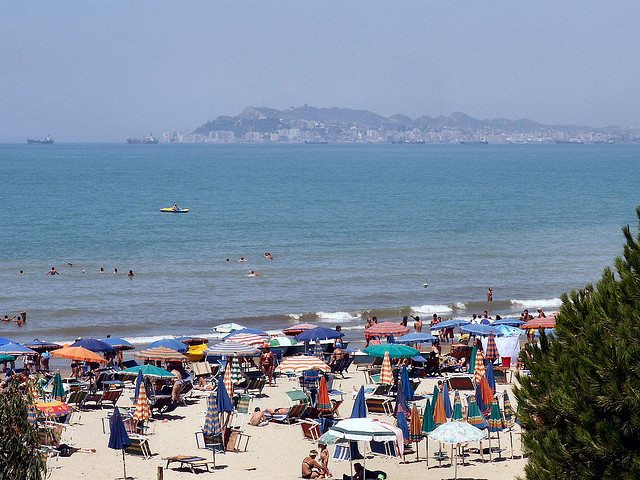 Durres is the closest coastal destination to TIA, just 32 km away.
Durres can spoil families with an excellent combination of sandy beaches, historical and cultural sights, excellent selection of seafood and traditional dishes and many fun activities. Moreover, the shallow water beaches make the Adriatic coast a great and safe option for active kids. Every beach has a lifeguard unit and in most of the cases a playground. Seasonal healthcare center operates during the summer months in beach areas.
In the meantime, the city gets pretty lively during the summer months. Beach bars, foam parties, summer clubs, water sports and much more can keep teenagers busy.
The city's beaches are also a popular destination for many foreign and local tourists, with an estimated 800,000 tourists visiting annually. Many Albanians from Tirana and elsewhere spend their summer vacations on the beaches of Durres. In contrast, the northern coastal stretch is mostly unspoiled and set to become an elite tourism destination as a number of beach resorts are being built since 2009. Neighboring districts are known for the production of good wine and a variety of foodstuffs.
The beach of Durres gets thousands of visitors during the summer season from different nationalities, mostly Albanians, Kosovans, Montenegrins, and Macedonians.
The Port of Durres is the most important port in Albania, only 300 km distant from the Italian Port of Bari. The beach might get crowded on peak season and especially during weekends, but due to the long coastal area, it's not difficult to find a quiet place along the bay especially in Golem, Mali i Robit, and Qeret area.
Other beaches in the northern part of Durres are Kallmi, Portez, Lazi't Bay, and the beaches in Rodoni Cape.
If you travel by car or camper, you can enter Albania by sea through the seaports of Durres, Vlora, and Saranda, or by land through cross-borders with Kosovo, Montenegro, North Macedonia, and Greece.
For campsite locations in Albania go HERE
Hotels and accommodation facilities in Albania don't have large capacities, but they are very clean, campsites included.
Velipoja Beach

Shallow water
Maybe your teen will approve
The small town of Velipoja located in northwestern Albania between Lezha and Montenegro, 100 km away from Tirana, is home to a 14km long beach in the Adriatic Sea. It is a great option for kids and elder people, but not that great for teenagers. The beach is famous for its curative sands and for a wide range of family-friendly outdoor activities such as biking tours and birdwatching.
Velipoja is excellent for laid-back holidays.
Read here about Velipoja Beach and its Curative Sand
Shengjini beach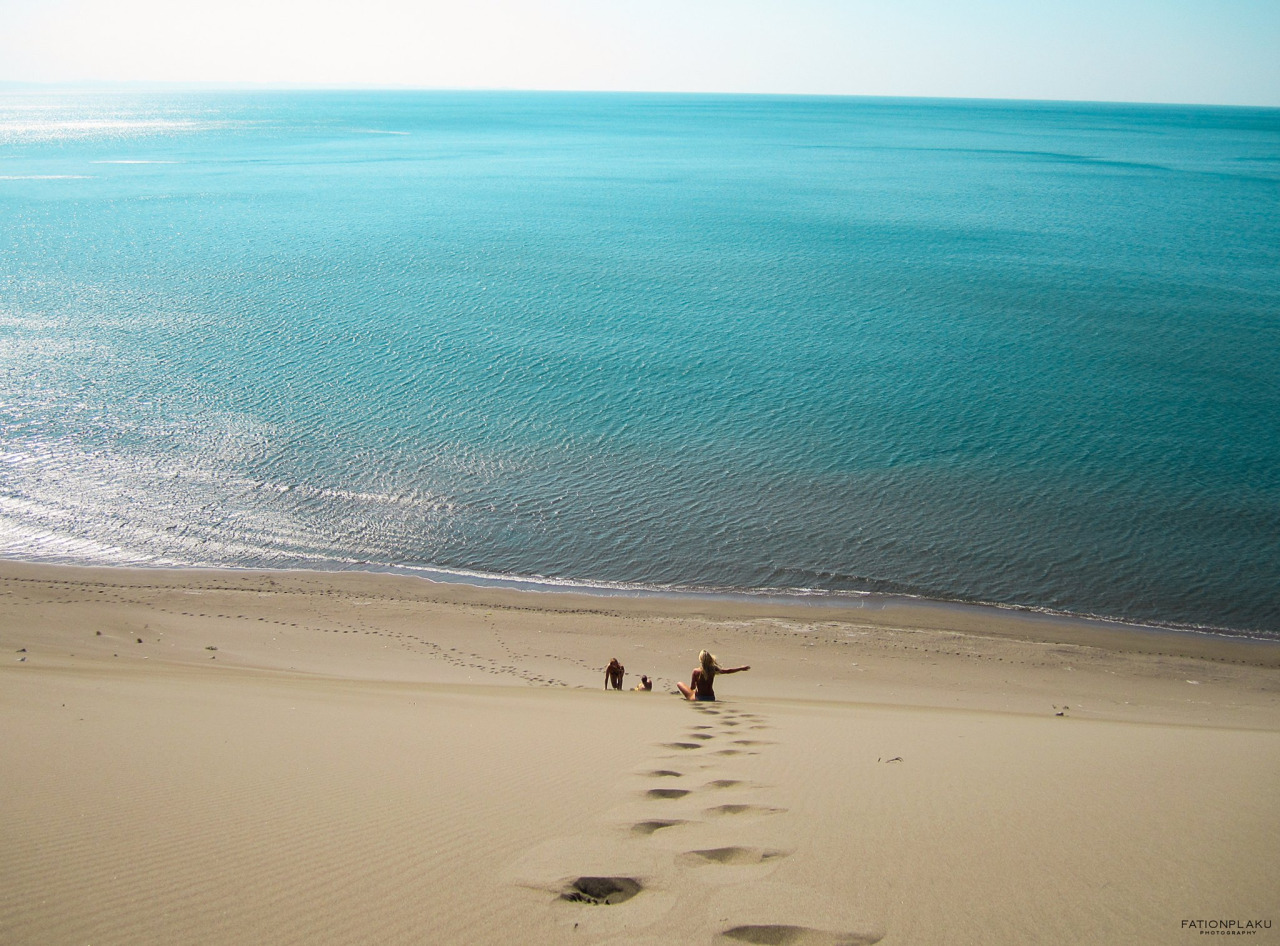 Shallow water
Teen-friendly
The small tourist's destination of Shengjin, 63 km away from Tirana, has a seen a booming in infrastructure and property development. The area is highly affordable and the main beach destination in northern Albania. It is a nice option for people of different ages as it offers a lot more than only the sea. Tourists can indulge in nature, history, culinary, and archeological tours in the nearby Lezha and villages. Visit the Memorial Museum of Skanderbeg and Gjergj Fishta house, explore the vineyards of Kallmet and try local delicacies at Mrizi i Zanave in Fishta area. Don't miss Rana e Hedhun, Kune-Vain Lagoon, Tale, and Kune Island.
Rana e Hedhun is a rare location due to sand dunes on the slopes of the mountainside. No photo can do justice to the beauty of this place.
Vlora holidays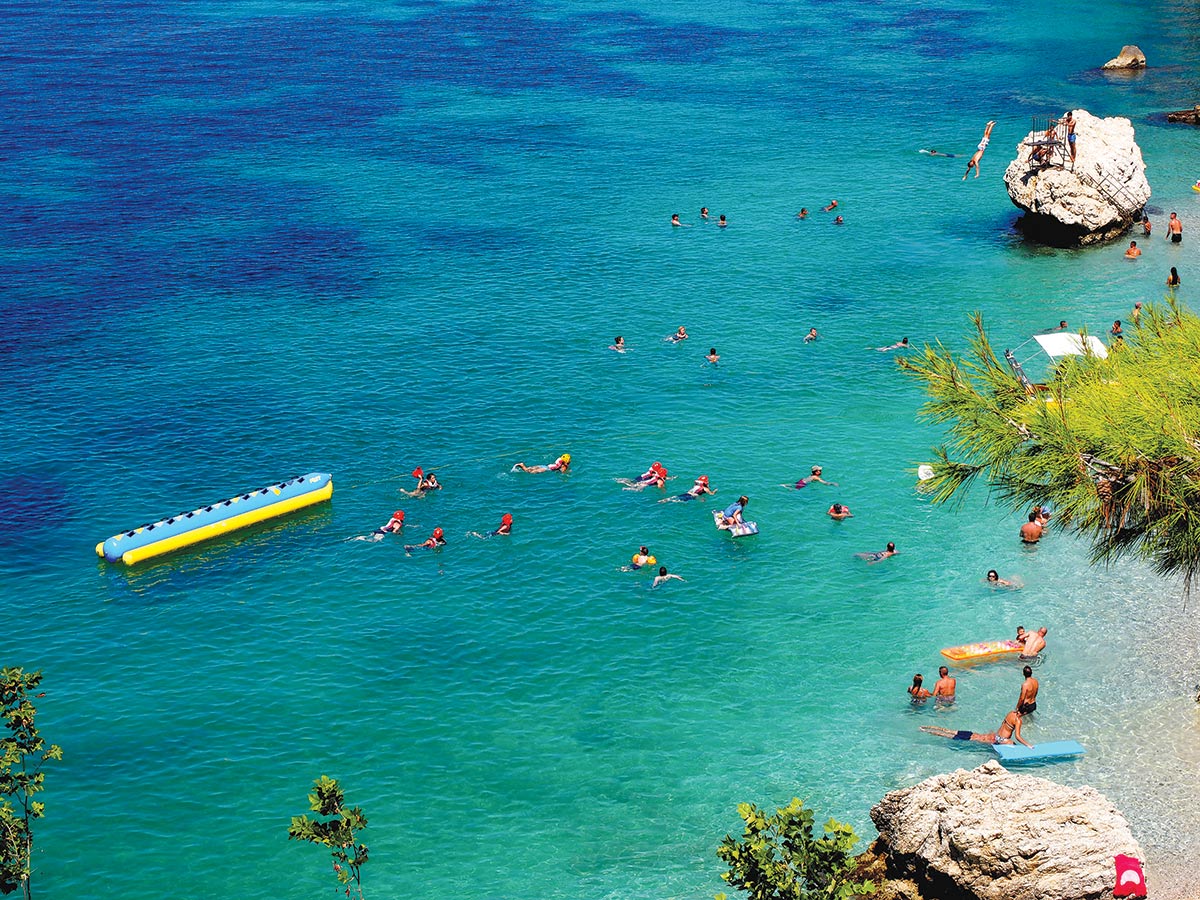 Water: Shallow in the Adriatic part, deep in the Ionian part
Teen-friendly
Luxury vacations but surprisingly affordable
Vlora is a major seaport and commercial center. The city offers high-quality style for its citizens and to foreigners. VIP vacations, multicultural and multilingual population give us a plus to enjoy the city and it's beautiful beachside, furthermore a great Mediterranean diet food, with olive oil, organic food and a rich variety of seafood.
Vlora is known for its vibrant nightlife. Because of the development of tourism in recent years, pubs, nightclubs, restaurants, and bars have sprung up, especially in Uji i Ftohte area.
If you're looking for a great resort for your children but you don't want to scarify relax and luxury part, Vlora is the right place for you.
You can choose between numerous beaches, including boat rips to Karaburun Peninsula and Sazani Island. If you choose Vlora family holidays,
The Albanian Riviera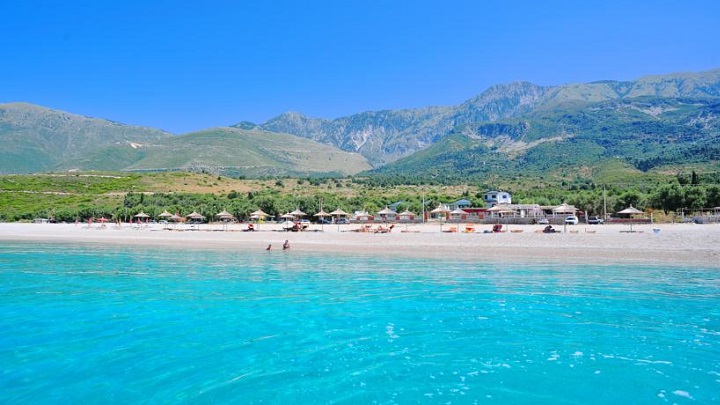 Pebble beaches
Dhermi to Himara, teen-friendly
Qeparo-Borsh-Lukova not great for teens
Saranda-Ksamil, teen-friendly
The Albanian Riviera is an excellent summer destination for first-rate beaches with a bit of a party, with Dhermi, Jali, and Saranda being the top sites for great nightlife. Yet there is possible to choose between locations that offer both quiet beaches and a decent nightlife.
The bathing site water quality is excellent. Keep in mind that the Ionian coast is deeper than the Adriatic and the pebble beaches give a crystal clear turquoise color to the water.
You can find shallow water beaches on the Ionian coast in Qeparo and Pema e Thate. The latter is six km away from Ksamil. It faces Corfu Island and it's also the closest point between Albania and the Island. Qeparo is beautiful, but the only downside are the frequent water springs by the coast. There is a healthcare unit on the promenade.
Borshi is often regarded as the best beach in the country due to its length and picturesque setting. Besides the beach, the olive groves, citrus and quince fruit trees, Borsh village has a lot to offer to visitors, but not a lot for teenagers.
Saranda-Pema e Thate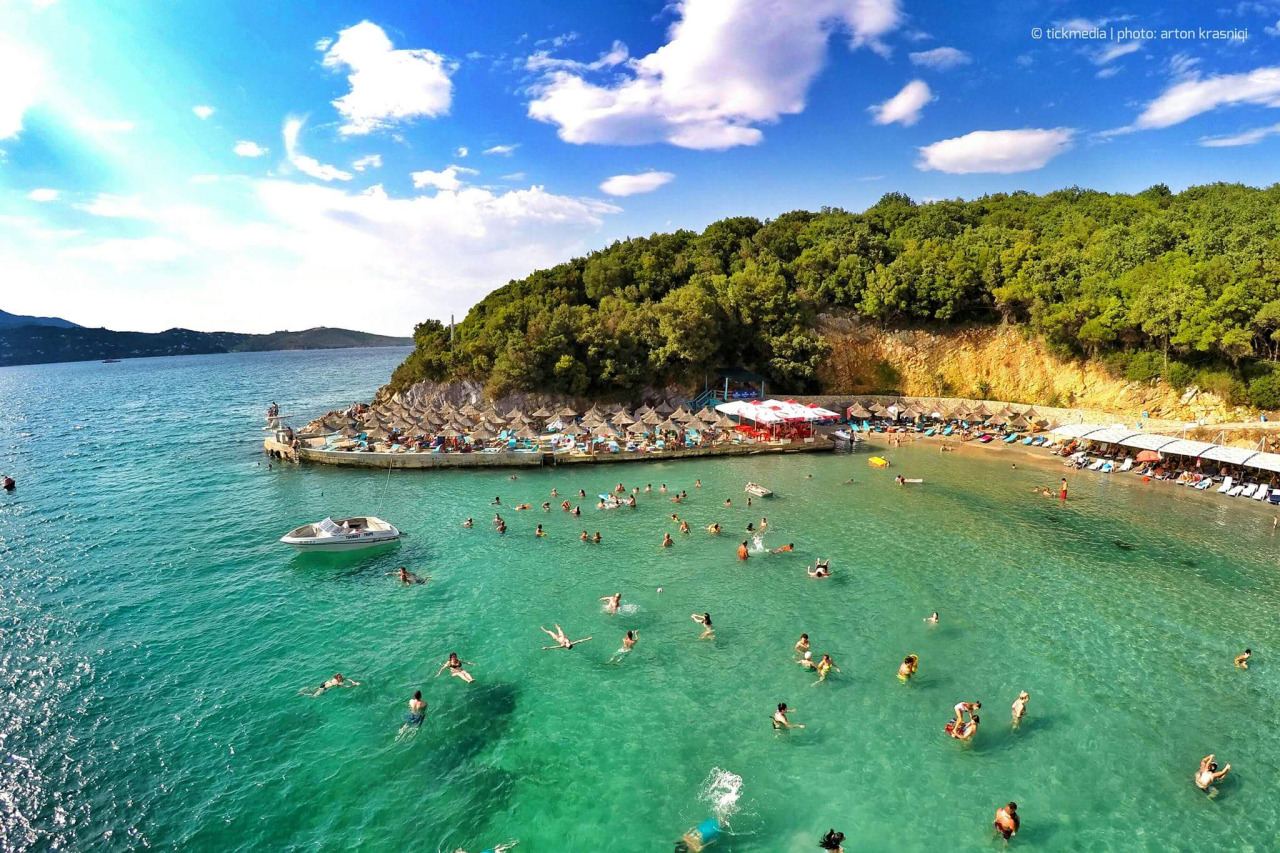 Teen-friendly
Excellent range of beaches for all types of vacationers. Ksamil gets too overcrowded on peak-season, but there is always Pema e Thate. Saranda is great for staying, sighting, and rich in restaurant and bar choices. There are playgrounds for children and various family activities.
Don't miss a tour to Butrinti National Park, to the Blue Eye Spring, and Lekuresi Castle.
Read also: Albania's Best Secluded Beaches