TIRANA, April 17
March data point to early signs of exports' revival following a decline for two consecutive months. The Institute of Statistics (INSTAT) confirms that March's export value was Lek 28 billion, up to 2.7 percent year-over-year and topping the previous set of February 2019 by 23 percent.
In the meantime, Albania's import values in March stood at Lek 56 billion, a 1.1 percent increase compared to March 2018.
The monthly trade balance was a deficit of Lek 28 billion, 0.5 percent lower than March 2018, but it widened by 3.1 percent compared to February 2019.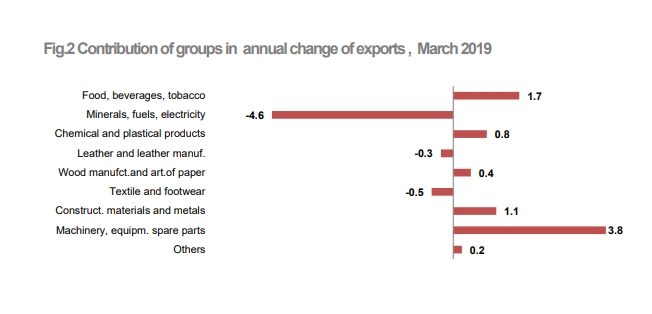 According to INSTAT, machinery, equipment, and spare parts had the greatest impact on the increase of exports. Other categories of goods with a positive impact were:
Food, beverages, and tobacco
Construction materials and metals
Chemical and plastic products
Wood manufacturing and paper
On the other hands, the main groups that had the greatest impact on the decline of exports compared to March 2018 were:
Mineral, fuels, and electricity
Textile and footwear
The automotive and machinery industry has been expanding in Albania
PSZ Albania GmbH was founded in 2012. The company is part of German Group PSZElectronic GmbH. It specializes in cable assembly, leading elements, electronic and electromechanical components for or heating systems and medical engineering systems.
Moreover, Forschner Albania, part of Forschner GmbH a company that specializes in cabling systems, SCR systems, precision turned parts, electromechanical systems, and sustainable own developments is expected to open its third plant in Albania.
In the meantime, the French automotive supplier Delmon Group inaugurated its production plant, a $1.7 million investment, in Elbasan in March. The unit manufactures rubber parts for the automotive business, including exhaust hangers, stabilizer bar bushing, seals and dumpers.
Meanwhile, South Korea's Yura announced that it finally will open its production unit in Fier.
Read also: Korean-Based Auto Supplier Yura to Open €6.5 mln Plant in Fier
On the other hand, the textile and footwear manufacturing sector was affected by the Euro devaluation.
Source/Photo Credit: INSTAT