TIRANA, February 14
The South Korean YURA Corporation will enter the Albanian market following an official agreement signed on Wednesday. The company that has been planning to invest in Albania since September 2017 managed to overcome insecurities and will continue its plans for the establishment of a manufacturing plant in the city of Fier, south-central Albania. The initial investment is estimated at Euro 6.5 million.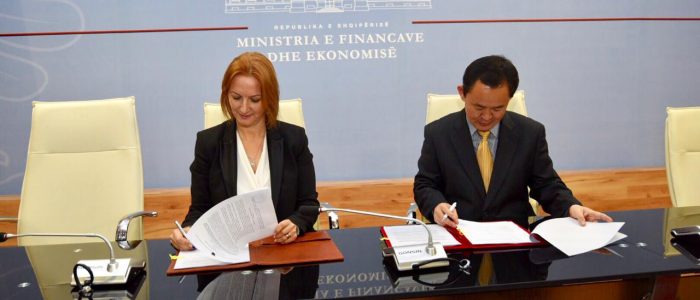 Albanian Minister of Finance and Economy Anila Denaj and Yura's official representative Lucas Nam signing the investment decision, Credit MFE 
YURA Corporation produces and supplies electric, electronic, and ignition components for automobile manufacturers in South Korea and internationally. It offers wiring harnesses, high voltage connectors, safety plugs, spark plugs, stick coils, fast and slow charging interfaces, and high voltage shield assemblies; applicators and circuit testers; and applicators and circuit testers. The company provides components, such as shielded, heat resistant and high voltage, charger, and aluminum conductor cables; and flexible printed circuit harnesses, printed circuit boards, protector grommets, optical cables, FET-relays, accident data records, wire connection products, clips, wires, and smart junction boxes.
YURA's business plan aims the development of an area with a total surface of 4.9 hectares known as the pipe basis in Zhupan, Fier. The area has been designated in 2018 as a priority zone for the automobile manufacturing industry.
The company is expected to begin its activity within the ongoing year and it will create over 600 jobs. The second stage of the project foresees an investment of Euro 13 million and some 1,100 jobs. In the long term, the company plans to open two other manufacturing plants in Albania.
News Source: MFE
Photo credit: Yura Corp