This is not an original article of invest-in-albania.org. The original article (and photos) were written and published  by Voyagerinfo.com. 
---
In this small Mediterranean country, virgin nature and cultural mysteries combine to create a unique sense of place. From the snow-capped mountains in the winter to the fields covered in spring by red poppies, Albania's landscape is ever-changing with the seasons, offering visitors the opportunity to enjoy a warm summer beach holiday or a mountain trek in the crisp and cool air of the fall. In Albania, visitors are welcomed as guests as part of the country's rich cultural traditions and heritage. The warm hospitality of the Albanians, known worldwide, will make every traveler feel at home in this small wonderful land. There are many clean and pristine beaches, spectacular mountains, scenic river valleys, and many other natural surprises for visitors. Several of country's main cities are situated along the pristine seashores of the Adriatic and Ionian Seas. An important gateway to the Balkan Peninsula, Albania's ever-growing road network provides juncture to reach its neighbors in north south, east, and west. Albania is within close proximity to all the major European capitals with short two or three hour flights that are available daily. Tourists can see and experience Albania's ancient past and traditional culture.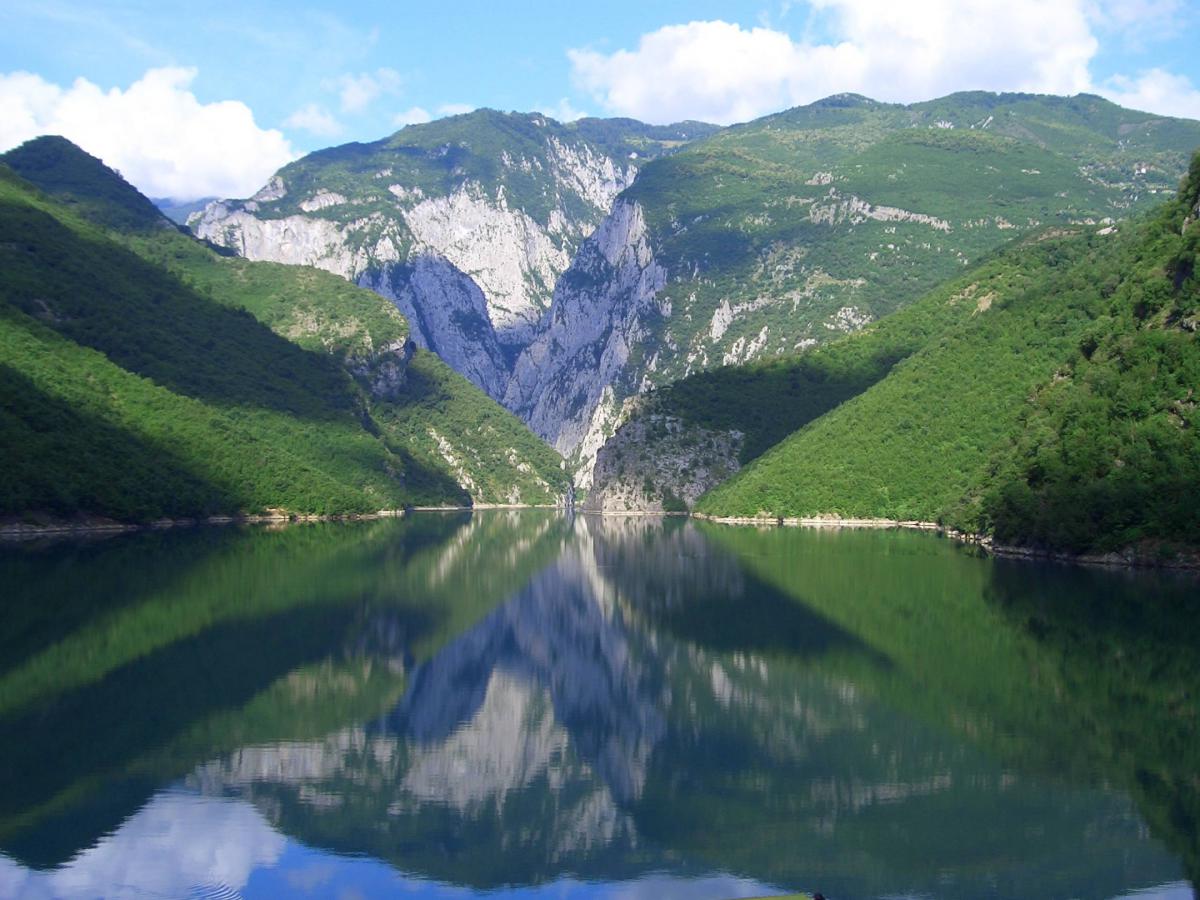 Komani Lake
The Albanian language is one of the oldest living languages in the world. Throughout the country there are newly discovered and exciting archaeological sites, preserved Illyrian and medieval castles, as well as Byzantine churches and monasteries which contains rich collection of frescoes and icons. Albanian cuisine offers a truly unique blend of Mediterranean flavors. "East meets West" in many discernible ways throughout Albanian culture, but this is nowhere more evident than in the cuisine. Representing a rich historical past, the food of modern Albania has been developed over millennium and reflects a variety of influences. Among the many typical dishes, visitors should not miss byrek, minced meat, vegetables, eggs and cheese in flaky pastry; tavëkosi, (traditional Albanian meal) – mutton baked in a dish with yogurt and eggs; tavë korani,-a unique kind of trout found only in Lake Ohrid baked with nuts, sauce and onions; and pasha qofte, – a hot soup with meatballs, rice and eggs. Albania is well known for its "Scanderbeg" cognac, mentioned for its unique flavor and aroma. But the most popular and traditional of Albanian beverages is Raki. It is usually made from grapes, though there are also other kinds of raki made from plums, mulberries, and walnuts.
Visiting Albania is an enriching and rewarding experience, and we look forward to introducing you to a new Mediterranean love. That's why we seek to ensure your stay is as healthy and comfortable as possible. Albanians have a long tradition of hospitality, and you will find the people of our country quick to respond to any request for assistance. Thus, if you have any questions, please feel free to ask!Since this region is warm in the summer months, remember to drink plenty of fluids while you are here.  Bottled water is widely available and is offered at a low price.
Driving in Albania presents a unique set of challenges for visitors. Infrastructure development is in full swing since the country's emergence from communism, but drivers may still find it difficult to navigate our roads. As a result, we recommend taking a taxi or a bus. Local transportation offers a stress-free way for you to enjoy the scenery while listening to our professional drivers regales you with tales of life in Albania. This is if you want to experience the country with calm and mix with locals, because public transport is quite slow. While if you want to see more in a few days hire a local guide and driver from the online travel agencies prior to  your arrival.
Gjirokastra
Gjirokastra, the so-called "City of stone". Stated as a "Museum City " by the Albanian state in 1961. Proclaimed as a world heritage in 2005. Gjirokastra is a unique testimony of a cultural tradition of life during the XIV – XIX centuries.It is the main city of the southern part of the country. This city impresses everyone who visits it, as a result of the architecture, the surprising images of Drinos valley, and the spectacular crown ridge of calcareous Bureto and Lunxhëria.
Berati
Registered as a world heritage in 2005 and ratified in 2008 by UNESCO. Berati is the city where can be found traces of the Illyrian, Byzantine and Ottoman periods, rich in old churches with wonderful wall paintings, icons and wood engraving. In 1961 the city was put under the protection of the Albanian state and was declared a "Museum City ".
ISO polyphony Albanian
Albanian Folk Iso-polyphony is proclaimed "masterpiece of the oral heritage of humanity" protected by UNESCO. Obviously, the date November 25, 2005 is a historic day for all the Albanian cultural heritage but also for Albania itself. In this day "Albanian folk iso-polyphony" was added to the list of "Masterpieces of the oral heritage of humanity" protected by UNESCO , a fact that was heralded in the all world media by Dr. Koichiro Matscura, General Director of UNESCO, the UNESCO headquarters in Paris. To come up with this decision, the International Jury meeting in Paris from 21-24 November 2005, examined 60 candidates proposed for inclusion in the list of "Masterpiece of Humanity", the proposals were made in an official way by different countries of the world and met the criteria stated files for this purpose.
National Parks
Valbona Valley National Park
Valbona Valley National Park is considered one of the most beautiful parks in Albania. Located 25 km from Bajram Curri, the park features impressive scenery comprised of high alpine ridges and the Valbona Valley. Diverse plants and animal species invite recreation, sightseeing, and scientific study. Alongside the valley there are several villages which provides accommodations in traditional houses.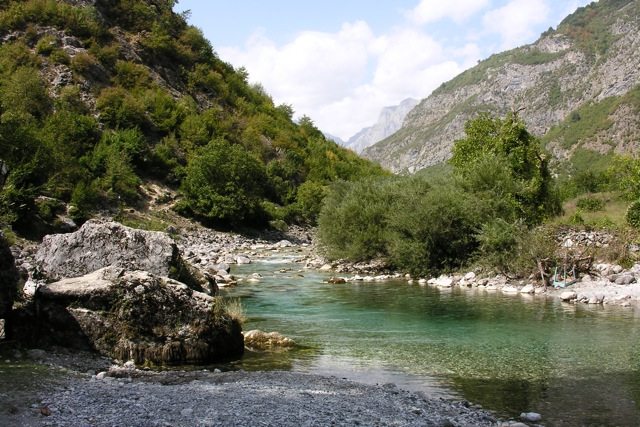 National Park of Lura
This park is situated  on the eastern slope of the majestic Kunora e Lurës (Crown of Lura). Natural beauty is everywhere, with ancient stands of pine and no fewer than fourteen picturesque glacial lakes. In summer and winter alike, recreational opportunities abound for outdoor enthusiasts. In this are there are 12 glacial lakes. the most beautiful is the Flower Lake. There are great opportunities for activities lice hiking, climbing, horse riding etc.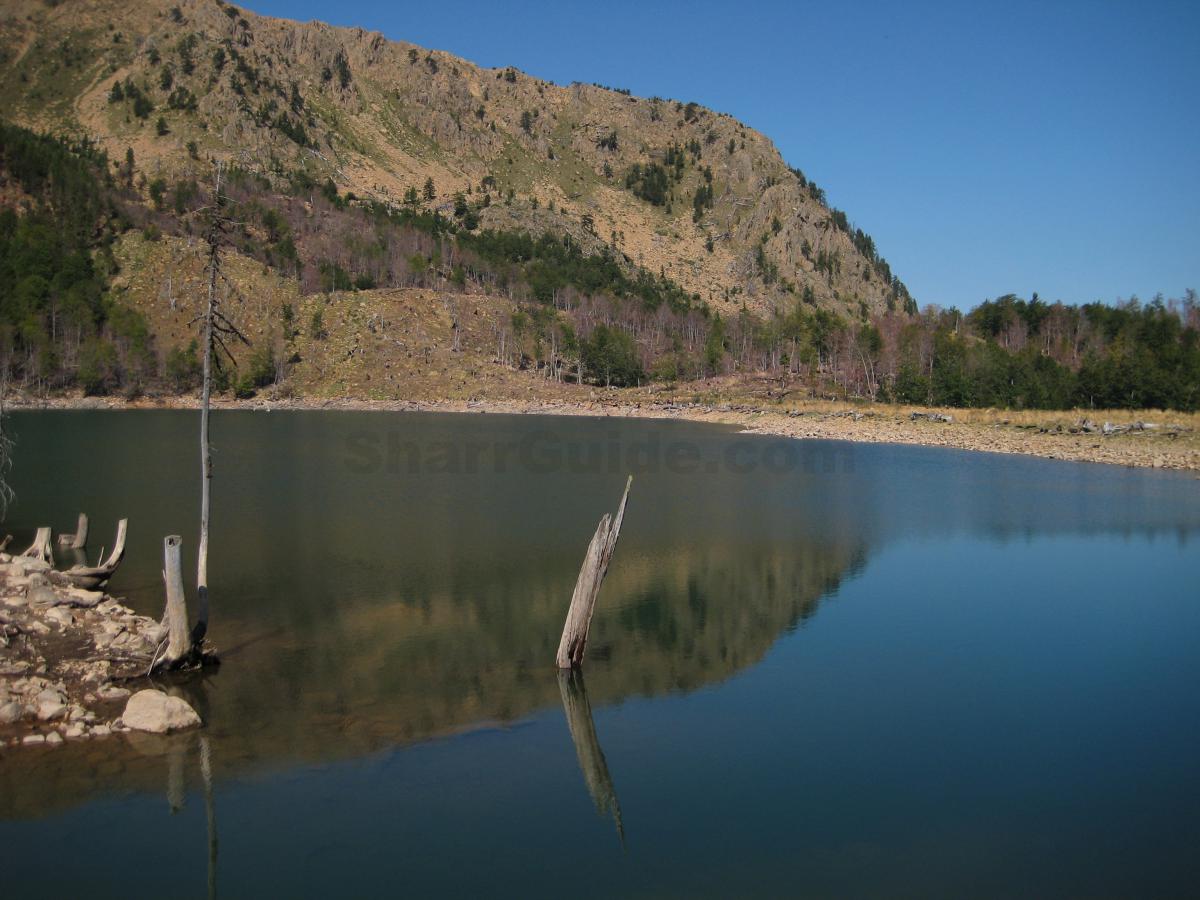 Biza
Biza mountain, is located in the district of Tirana, in the comune of Shën Gjergj. The distance from the capital is 85 kilometers. The field of Biza is located 1200 meters above the sea level. It is 4 kilometers long and 2 kilometers wide and has fresh air all year round. The fields are surrounded by the craggy mountain slopes, especially from the southeast and north western side. The field of Biza is crossed by the river with the same name, which then disappears within a cave near the village of Val.
Biza is rich with many forests, especially oak and beech. In this area wildlife finds a shelter such as Brown Bear, wolf, wild goats, fox, wild rabbit, wild boor ,etc. The area is characterized by significant snow fall during the cold season. However it provides very favorable natural conditions for organizing tourist activities where we can mention tourism in tents during the warm season, and skiing in natural track. Biza is a natural park, which has the status of the protected area with a surface of 1370 hectares.
The Fir of Hotova National Park
The Fir of Hotova National Park is located in the region of Frashëri, 35 km northeast of Përmeti. The "Hotova Fir" is a significant regional species and graces the countryside throughout the park. Nature lovers flock here and appreciate the park for its many recreational and camping opportunities.
Divjaka Pine National Park
Divjaka Pine National Park. This park is located in Karavasta lagoon and has been protected since 1994 by the Ramsar International Convention. Recognized for its ecological treasures, the park offers some truly unique spectacles.The park is home to many diverse and beautiful plant and animal species, including rare birds like the endangered Crispy Pelican. This park is the most western nesting point of this kind of bird in all Europe.
Karavasta Lagoon
Karavasta Lagoon is the biggest lagoon  along Albanian coast, with an area of 4,330 ha. It is one of  twelve National Parks of Albania, and it has many important values for bio-diversity. Karavasta Lagoon is the western point of Europe where nests curly pelican (pelicanus crispus). There is 5 % of its worldwide population. For these values Lagoon of Karavasta is under protection of International Convention of RAMSAR, since 1994. It is a very interesting experience the observation of these pelicans if you go by boat near the island where they usually perch. In this ecosystem there are 210 kinds of birds, 12 kinds of mammals and 16 kinds of reptiles. Lagoon waters which reach approximately 1.5 meters deepness are rich of fishes, especially mullet and eel, which are offered in many restaurants of Divjaka beach. The flora of National Park of Divjaka excels for its beauty and special freshness. There dominate confer areas of soft and wild pines, where stand out large crown pines. The multistory forest is very rich of herbals and high woods. There exels accompaniment with ash, fir etc.Divjaka's sea sand is rich of a considerably amount of iodine and the temperatures over 20 grade Celsius start since second half of  May and continue until the beginning of October. This is an area when are combined beach activities with eco-tourism. The embouchure of Vjosa, which lies in south, constitute in a natural protected area in both sides of river that  are called Pish Poro Fier and Vlora. This is a natural area with seaside pines,isolated sandy beaches and a convenient nesting place for seabirds.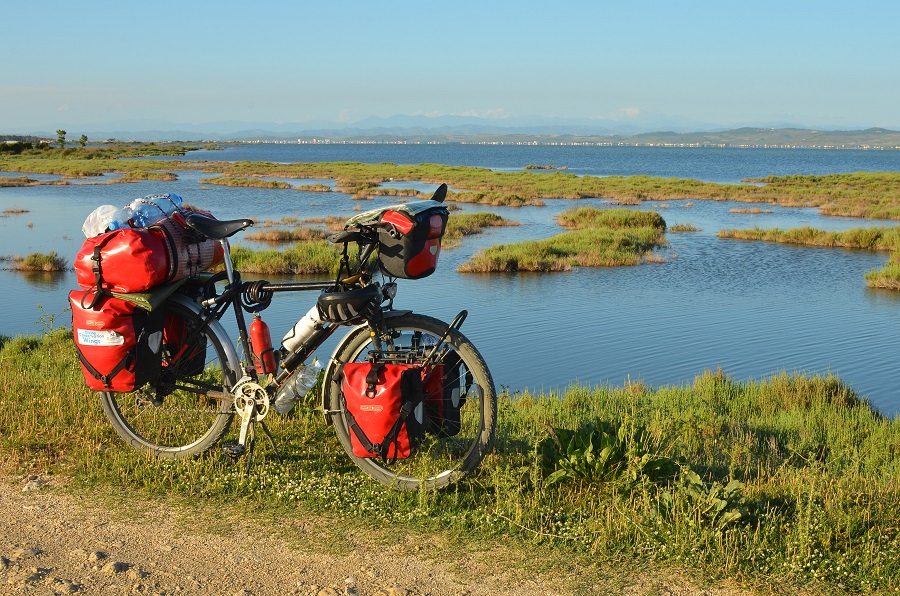 Gashi River Valley
This area is located in the district of Tropoja and includes the area on the northeastern edge of Albania, the highest point of the border between Albania, Kosovo and Montenegro. Gashi River Valley, which flows into Valbona, starts from the Dobërdol glacial areas. The flow of this valley is well known for its natural beauty, with a narrow range of enlargements creating very attractive features. In one of its segments, the valley narrows too much thus taking the form of a narrow canyon. Slopes of the valley are lined with oak forests, especially with coniferous and beech. This area is also home to wildlife such as brown bears, chamois, wolfs, squirrels, and mountain eagles. This area is also well known for frequent snowfalls.
Mountains
Approximately two-thirds of Albania's geography is either hilly or mountainous.These elevations offer myriad outdoor recreation possibilities, including everything from paddling sports to paragliding. These areas also host a variety of tourism ventures, including eco and agritourism. There is a renewed interest in alpine climbing and exploration as well, with the 2,018 m Çika Ridge being a highly desirable climb. Various destinations in the Northern Alps, with elevations as high as 2,700 m, beckon to the climber as well. Specifically,the towns of Vermosh, Thethi, Razëm, Bogë, and Valbona can all serve as starting points for an expedition.
Cultural experiences also abound in the mountains. Tomorri Mountain hosts the Baba Tomorri, Abaz Aliu celebration, a festival featuring aspects of Albanian and Bektashi cultural traditions.The catholic Saint Ndou gathering in the Laçi highlands represents a pilgrimage destination for many of Albania's religious. The highland areas near the Drenova, Dardha, and Voskopoja regions in Korça offer rich cultural experiences as well. Among other landmarks in Albania are Enrichment Rock, an outcropping southwest of Pogradeci, and Korabi Mountain in Dibra, Albania's highest peak is 2,750 m. Moving south, travelers will encounter the historic Kruja. Perched among mountainous peaks, this is the location where Skanderbeg united warring tribes and defended Albanian lands from Ottoman attacks.
Throughout Albania, intrepid explorers will also find many vast caves just waiting to be discovered. Professional and amateur spelunkers alike will find no shortage of underground chambers to conquer. Near Shkodra there are at least 35 significant caves. Pirogoshi, the largest cave in Albania, is 1,500 m long and is located in Skrapar. Other notable caves are Good Cave and Pëllumbas Cave, located near Tirana. Nestled in the beautiful Skorana Canyon on the Erzeni River, Pëllumbas is ripe for exploration and is Albania's second-largest cave. No fewer than 68 of Albania's caves are designated as natural national monuments.
Coastline
The Albanian coast begins in the northwest at the Buna River delta, which marks the Albania-Montenegro border, and extends southward until it reaches Cape Stillo at the Albanian-Greek border. Including various lagoons and harbors, the coast stretches for a total of 450 km and touches two seas: the Ionian in the south and the Adriatic in the north. Along its length, the coastline is dotted with beaches ranging from large and sandy to hidden and private. Beautiful rocky coastlines comprise portions of this landscape as well. The coastline of Albania is particularly picturesque because of its relative lack of development. This unspoiled coast has been preserved as a natural beauty and is ripe with outdoor recreation possibilities. Teeming with rich sea life, the water offers many treasures. Remnants of ancient civilizations dot the coastline and demonstrate the centuries-old relationship that this area shares with the sea.
Mediterranean Beaches

Albanian seaside has a considerable length of 450 km, including even the lagoon area which you find within. The seaside has a particular character because it is rich in varieties of sandy beaches, capes, coves, covered bays, lagoons small gravel beaches, sea caves etc. Some parts of this seaside are very clean ecologically, which represent in this prospective unexplored areas , very rare in Mediterranean area.
The Albanian coast offers visitors an escape to calm waters as almost the entire coast is sheltered from winds making it a paradise for swimmers. Tourists will find the 450 km of coast a wonderful place to enjoy many of Albania's unspoiled beaches.
The Albanian coast is composef of two distinct zones: the Adriatic and Ionian Seas. Beaches on the Northern Adriatic coast are shallow and excellent for children and family vacations. Much of the coastline is composed of pine forests and several lagoons for nature and wildlife lovers. The southern Ionian coastline is dramatically rugged, with steep mountainous landscapes to smooth pebble beaches. The coastal area offers many opportunities for water sports and diving.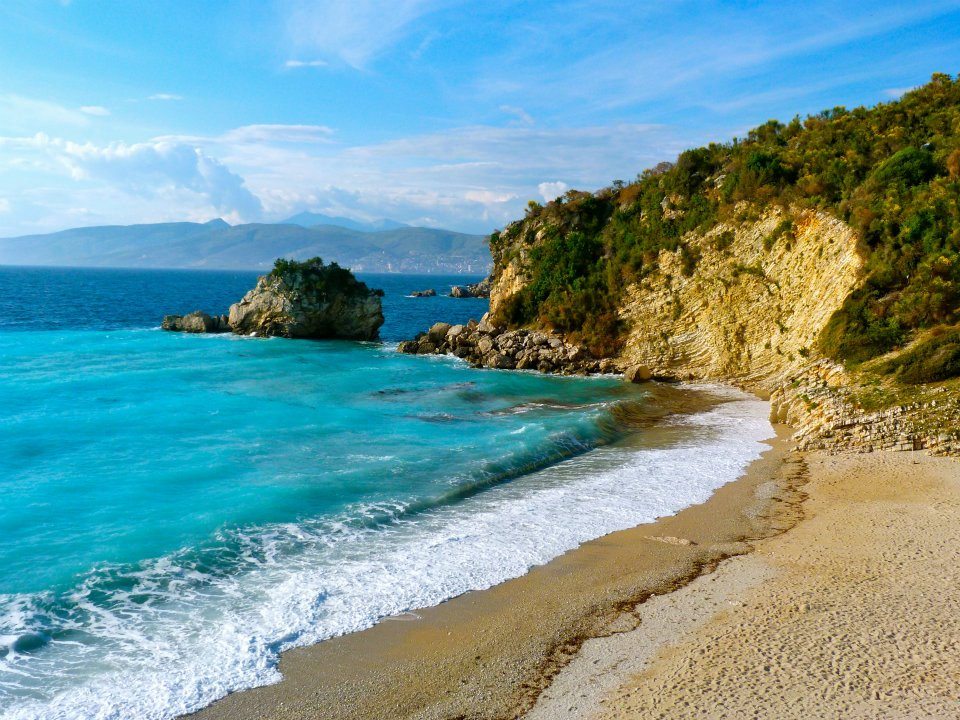 Gjipea beach has a beautiful form. After the beach, there is a stream that has made a canyon with 70 m high walls. Located near the beach of Dhërmiu is the Cave of Pirates, which tourists can access by ferry. There are also some hotels, restaurants, and summer discos located here. Throughout this entire area, "familiarity tourism" has been developed, where tourists can choose to rent a house as their accommodation instead of staying in a hotel.
8 km south of Dhërmiu is Vunoi, near Himara, which is the central area of the Albanian Riviera. It is a tourist place that comes to life during the summer season thanks to the younger generations that come here. In this area are the beaches of Spilea, Potami, Llamani, and Livadh. All of them stand out for their deep waters navigability. After Borshi is the beach of Qeparoi and the small tectonic gulf of Porto Palermo, which is located near Ali Pasha Castle. Borshi is one of the longer littoral zones of the  Albanian Riviera and girding this beach is a collection of massive Mediterranean vegetation, primarily citrus and olive plantations). Familiarity tourism has also become very popular in this area.
Rivers and Lakes
Lakes
Although relatively small, Albania is home to a large number of lakes. Three of the largest lakes are Shkodra, Ohrid and Prespa.
Shkodra is the largest lake in the Balkans at 368 km Ohrid is the deepest lake in the Balkans, and Prespa is the highest, at 850 m above sea level. There are many other small lakes throughout the country that provide beauty and enjoyment, as well. Shkodra Lake is located along Albania and Montenegro's shared border. The beautiful shore consists of marshes in the north and rocky shores in the south, with two notable beaches located at Shiroka and Zogaj. The southern part of the lake is called "the hither coast," while the northern part is called "waterfront." There are several villages nearby which are attractive to tourists, such as Kosani, Flaka, Kamenica, Jubica and Kalldrun. The lake is home to a tremendous variety of living creatures, including 45 species of fish and 281 species of birds.
Ohrid Lake is one of the most beautiful tectonic lakes in the Balkans, located on the shared border between Albania and Macedonia. It is 695 m above sea level and accordingly remains temperate and cool even in the warmest summers. At an estimated four million years old, it is also one of the oldest lakes in the world. It too boasts a tremendous variety of fish, some of which are unique to Ohrid. Notable among them is the Belushka Salmon, a delicious and highly prized fish, and Koran, which is the most famous and is exclusively found in this lake. Recreational opportunities abound, particularly near Pogradeci, Lini, Pojska, and Tushemishti.
Prespa lakes. Big Prespa Lake measures 285 km and straddles the borders of Albania, Macedonia, and Greece. Little Prespa Lake, located on the Albanian-Greek border, is significantly smaller, at 44 km² As with other Albanian lakes, the Prespas enjoy beautiful, clear water. The region surrounding them offers myriad opportunities for recreation, including sightseeing, wildlife observation, eco-tourism, and water sports. The area features some of the best Albania has to offer – a rare combination of resplendent natural beauty and warm, hospitable locals will make any visit to this region memorable.
The small lakes. Albania also features many small, beautiful glacial lakes. Most notable among them are Dobërdol and Sylbicë Lakes in Tropoja, Balgjai Lake in Bulqizë, and the beautiful and 60 m deep Black Lake in Martanesh. Other beautiful examples include Dushku Lake in Gramsh, the four Rajca Lakes in Librazhd, and Sheleguri Lake on Mount Gramozi (Kolonja District). Other lakes still worth visiting are the 69 wonderful lakes of Dumre Plateau, near the expansive 960 ha Merhoja Lake, and the 61 m deep Çestija Lake.
Artificial lakes (Man-made lakes). Artificial lakes and reservoirs are popular for fishing and recreation. Several large ones exist in Komani, Mati (Ulëza and Shkopet), Tirana (Farka reservoir and the artificial lake of the city), Lushnja (Thana reservoir), and Korça (Gjançi reservoir). These small, man-made lakes have a lot to offer. In addition to sporting opportunities they provide habitats for a rich variety of flora and fauna. The Komani Lake also functions as a traveling waterway.
The Rivers
The Albanian countryside is rich with springs, rivers, and streams. There are an estimated 200 springs, each of which bursts forth with over 200 liters of water per second. Some springs have been noted for their medicinal or curative powers and have thus been the site of spas since antiquity. These spas are located throughout the country, but several noteworthy ones exist in Leskoviku (Vronomero) Dibra, Elbasani, Bënja, and Fushë-Kruja (Bilaj).
Four springs which are remarkable for their natural beauty are the Blue Eye in Saranda, Cold Water in Tepelena, Viroi in Gjirokastra, and SyriiSheganit at Shkodra Lake. The network of inland Albanian waters consists of 11 major rivers and their 150 tributaries. Measuring 285 km, Black Drini River is the longest and it flows from Ohrid Lake to the Adriatic Sea. Other large rivers include Valbona, Buna, Fani,Mati, Erzeni, Shkumbini, Seman, Vjosa, Osumi, Shushica, Devolli, Langarica, Drino, and Bistrica rivers. Some valleys and canyons created by these ancient flows offer tremendous natural beauty as well. Among these are Valbona and Shala Valleys in the Northern Alps, Tomorica Valley, Këlcyra Outfall on the Vjosa River, and the Bënça and Osumi Canyons. The canyons, in particular, offer a beautiful backdrop for a variety of paddling sports. Waterfalls are also a part of this vast network, such as those located at Grunas and Thethi, Shoshan and Kurveleshi.
Speleology
The countryside of Albania is dotted with e great variety of caves. Some of them very accessible. In the region of Shkodra only there are more than thirty large caves. Many tourists have enjoyed exploring one of Albania's largest caves called Pellumbas or Back Cave Located southeast of Tirana , it ranges from ten to thirty-five  meters wide, fiveteen to forty meters high and is approximately three hundred meters long. In Tirana district there are other caves such as Vali ( Biza ), Shpella e Mirë ( Good Cave ) in Brair etc. Another attractive option for cave explorers is Albania's largest cave Pirrogoshi, located in the village of Radesh in Skrapar. Other intriguing spelunking opportunities exist in the following places: Juban, Zhyla, Murriqan, Pusi, Arapi in Shkodra and Alps region. The cave of Lekë Peta in Kurvelesh( south Albania) , Neziri Cave in Mat region, Kreshmoi in Konispol, Doshi in Mirdite   etc. There are also costal caves , the biggest of this kind in Haxhi Alia cave in Karaburun Peninsul.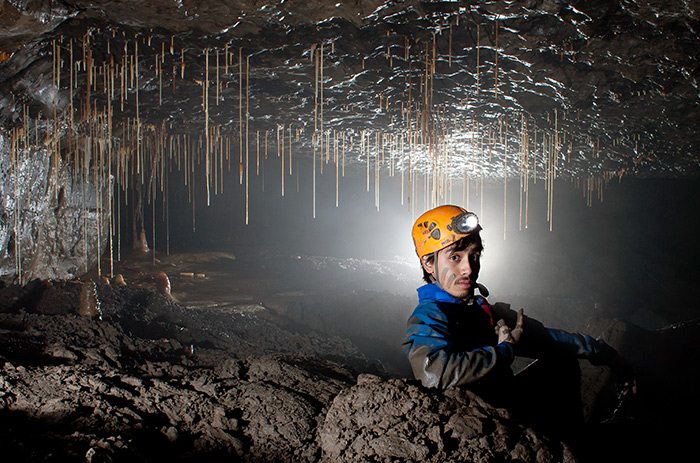 Transport
By road
There are about 18,000 km of road in Albania of which 7,450 km are considered to be "main roads. "Although the government continues to make substantial investments in road improvements, still some major roads are in poor condition and construction sites are often badly signaled. Disregard for traffic laws is widespread. If you choose to drive in Albania, please exercise caution and drive as defensively as possible. Better avoid travelling at night outside the main urban areas as road hazards are more difficult to see. It is illegal to drive under the influence of alcohol and to use a cell phone while driving, except when the driver utilizes a Bluetooth or other hands-free device. Traffic travels on the right side of the road, as in most other European countries. Unless posted signs indicate otherwise, there is a 50 km/h speed limit in urban centers and 90 km/h limit in rural areas.
Taxi Service
Taxis are readily available in most Albania cities, are recognizable by their yellow color, and most of them have a taxi meter. Fares are generally predetermined based on the distance traveled, but can sometimes be negotiated in advance. Taxis are plentiful in Tirana and can easily be hailed on the street or retained at one of many taxi stands throughout the city.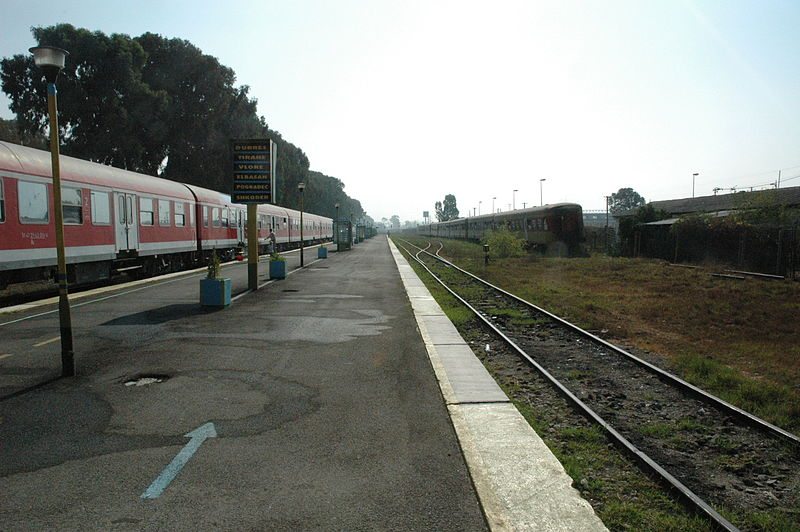 Interurban transport
Many buses are available for transport throughout the major cities of Albania. Travel by bus is economical and provides a unique view of the countryside. Buses travel almost exclusively during the day, but they do not always run according to regular schedules. The approximately fare costs are between 1000 and 1200 for long distances as Tirana-Saranda. Many travelers looking for public transport prefer to use privately owned vans, which function as an alternate system of bus routes and operate almost entirely without schedules or set fares. However, you should consider the condition of the van before choose to travel in one, as many operate as informal businesses.
From Tirana the main routes are:
– Southbound:
Tirana-Berati
Tirana-Vlora
Tirana-Gjirokastra
Tirana-Saranda
Southbound buses depart from Kavaja" Street;.at the Tirana Beer Factory
– Northbound:
Buses to Kukësi and Peshkopia depart from the Lapraka.
Buses to Shkodra depart near the railway station on "Karl Gega" Street.
Tirana-Shkodra,
Tirana-Kruja,
Tirana-Lezha,
Mini-buses to Bajram Curri depart from"Murat Toptani" Street. (near the Democratic Party headquarters).
– Southeast:
Tirana-Pogradec
Tirana-Korca
Southeast buses depart from "Qemal Stafa" stadium.
– West
Buses to Durres and the Golem beach area depart from the Railway Station.
Tirana-Durrës,
Tirana-Golem,
Trains
The rail network is comprised of approximately 470 km of single track and all of the trains in Albania are diesel powered. Rail travel is affordable, but generally considerably slower than other methods of transportation. Trains in Albania:
Tirana-Durrës; Durrës-Tirana
Tirana-Shkodra; Shkodra-Tirana
Tirana-Librazhd; Librazhd-Tirana
Tirana-Vlora; Vlora-Tirana
Tirana-Elbasan; Elbasan-Tirana
Elbasan-Vlora; Vlora-Librazhd
Tirana
Tirana, the heart and capital of Albania, like all other European metropolises has a never-ending movement and energy. With its clubs, pubs, cafes, and taverns, Tirana is worth  to discover, both day and night. The value and hospitality shown towards tourists is something that will mark your journey not only in Tirana but also all over the country. There are different thoughts regarding the origin of the name of the city. Some think that it relates to Tyrrenia (a name of Etruscan origins), while other believe that it relates to the word Theranda (harvest), or to the Tirkan (a castle at the the foot of Mount Dajti).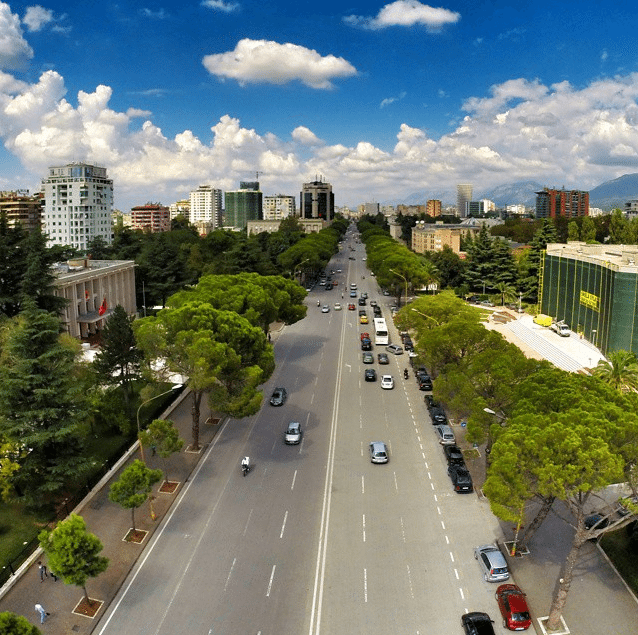 Your own journey might begin by visiting the museums and the key spots such as Sheshi Skënderbej, where you will be able to see the Mosque of Et'hem Bey (built between 1798 and 1812) and the 35 m high Kulla e Sahatit (the Watch Tower), built in 1822 with a San Marco style cupola. Moreover, you can visit the famous Mosaic uncovered on the floor of an old Roman lodge. Its center configures the walls of the castle of the Roman emperor Justinian (A.D. 520). The monumental Tomb of Kapllan Pasha and the Ura e Tabakëve (a bridge constructed in the beginning of the 19th century, located on Bulevardi Zhan D'Ark) are other interesting place to visit. As a capital, Tirana has the country's finest museums, theatres, and galleries representing the national arts. A visit to the National History Museum, the Archeological Museum,  the private "Mezuraj Museum," and the National Gallery of the Arts will leave wonderful memories. You can also pass a pleasant evening in the National Theatre or the Opera and Ballet Theatre.
For dining, Tirana will be glad to offer you both a rich traditional cuisine and a variety of foreign fares, from Italian to Chinese, . There are also several clubs and restaurants in Mount Dajti to discover and enjoy. There is the possibility to travel there by cable car, which is a very special experience. In the region of Tirana you may also visit the castles of Petrela and Preza, as well as some natural attractions, such as Pëllumbasi Cave, Shkalla e Tujanit, and much more….