TIRANA, November 12
Albania was the 10th largest remittance-receiving country in Europe in with migrant workers from the country sending home Euro 926 million in 2018, according to Eurostat.
In 2018, flows of money sent by residents and non-residents of the European Union (EU non-EU countries, referred to as personal transfers, amounted to €35.6 billion. The data were unveiled by Eurostat on Tuesday. Based on the official statistics, Albania ranks tenth in Europe. Remittances have supported the Albanian economy since the fall of communism due to the high rate of emigration. More specifically, the Bank of Albania (BoA) reported that the average remittances in 2017-2018 were Euro 1.15 billion or around 12 percent of the country's GDP.
In the meantime, remittances to Kosovo and North Macedonia were respectively Euro 800 million and Euro 200 million
The ten countries with the highest flow of remittances were:
Romania: €2.97 billion
Serbia: €2.95 billion
Poland: €2.92 billion
UK: €2.29 billion
Italy: €1.97 billion
Croatia: €1.74 billion
Bosnia and Herzegovina: €1.38 billion
Bulgaria: € 1.17 billion
Lithuania: €1.12 billion
Albania: € 926 million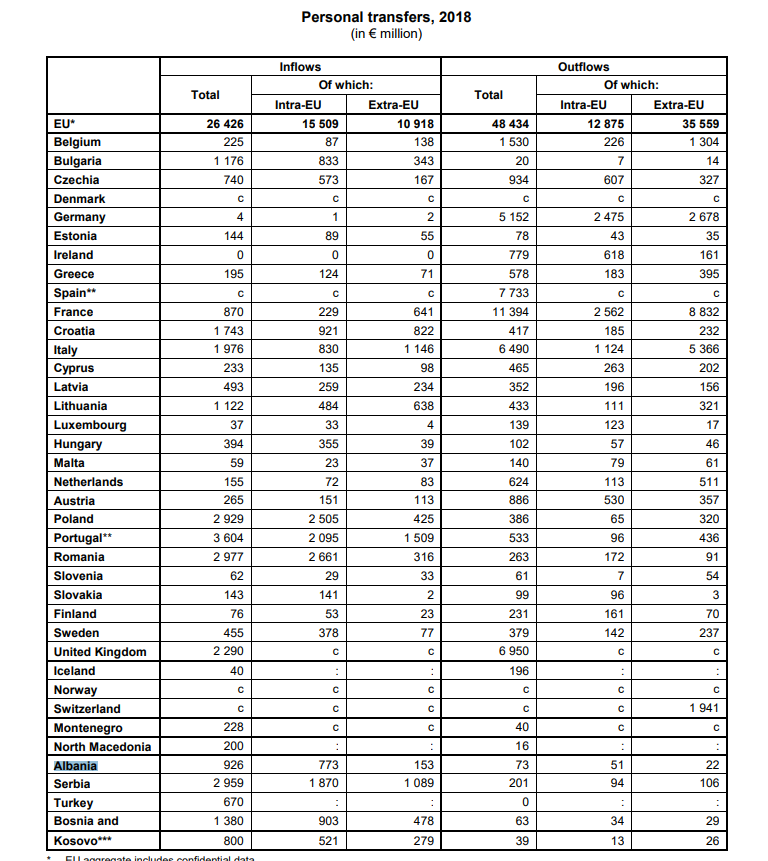 Currently, Albania has one of the world's highest emigration rates relative to its population.
According to the United Nations (2017), the number of Albanian migrants that currently live and work abroad is estimated at 1.15 million.
Around 90% of Albanian migrants live in Europe, the rest in the US;
99.5% (1,142,748 individuals) in more developed regions and only 0.5% (5,396 individuals) in less developed regions.
93.2% (1,069,693 individuals) in high-income countries, 6.8% (78,441 individuals) in medium-income countries and a rather low percentage in countries of below-average income.
Source: Eurostat