By the Swedish Nomad
This is not an original article by Invest in Albania. It was written by Alex, known as the Swedish Nomad and the original article can be found here. The author quit his regular job in Sweden and left the country for following his dream of travelling around the world.
Want to visit Albania? Good choice! I did it last year and I loved it. It's one of my favorite countries so far, and here are 15 reasons why everyone should visit Albania in 2017!
It's still a relatively unexplored country
How much do you really know about the Albanian country and culture? My guess, probably not that much. You might have heard things about the lovely Albanian Riviera and its beaches, but in general, it's largely unexplored. That's because it was having a bad reputation of being unsafe and unstable before, and the infrastructure isn't the best either.
That's because it was having a bad reputation of being unsafe and unstable before, and the infrastructure isn't the best either. However, things are changing for the better, and the future is bright for this lovely nation. While the infrastructure still are struggling, there is always someone who's willing to drive you anywhere you want for a couple of Euros.
They are also very friendly, so it's even possible to hitchhike and explore off the beaten path without having to worry.
Friendly Locals
The Albanian people are some of the most friendly locals I've met, and I've been to more than 40 countries, so that says quite a lot. You don't even have to search for their attention. They are curious and love to talk. It's a big plus if you can speak german, especially when speaking to elderly men because many of them have been working in Germany before.
The only "problem" is that most of them don't speak English, but it doesn't matter because they go out of their way to make you understand, and they always do it with a smile.
Some of the best beaches in Europe
The Albanian beaches are very nice, and there are something that suits everyone, no matter if you prefer sandy bays, stone or pebble beaches, secluded or lively beaches. Albania has them all. My personal favorites lie around the cozy little resort town Ksamil, and there you can find both pebble beaches and bays with the finest white sand you could ever find in Europe!
Ksamil in Albania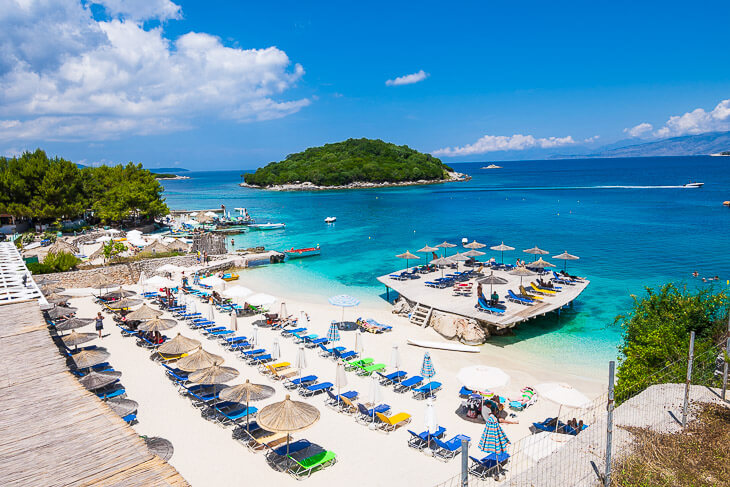 Cheap prices
You want to travel, but don't want to break the bank? I got news for you. When you visit Albania, you can splurge without breaking the bank. Prices are at least half of the rest of Europe, thus making it easy to get a good value for your money.
Lots of hidden gems
Are you getting excited about visiting Albania yet? GREAT! Because there are more perks and reasons to visit Albania. As if above reasons weren't enough, I can tell you that Albania is housing lots of hidden gems that you will find off the beaten path.
Just a 15 minutes drive from Ksamil we found a beautiful bay with the most turquoise water you can imagine and the best part? It was without people. Albania has some beautiful nature, and not just beaches, but also hiking trails and lakes.
Delicious food
Feta, Gyros, Souvlaki, sure all of those Greek dishes are available, and while they are delicious in Albania too, they also have their own cuisine along with some Italian specialties, such as Pizza, Ravioli, Lasagna and much more.
Some local Albanian dishes that you should try: Fegese, Tave Kosi, Perime Ne Zgare, Burek, and Speca me Gjize.
Best places to visit in Albania
Tirana
The Albanian capital is one of the least visited capitals in Europe. It's also one of the few capitals where Islam is the dominant religion. That's also why the culture is exciting and unique here. In Tirana, you can expect to find the best Baklava in Albania and a busy nightlife with some really cool clubs.
The residents of Tirana do know how to party!
Ksamil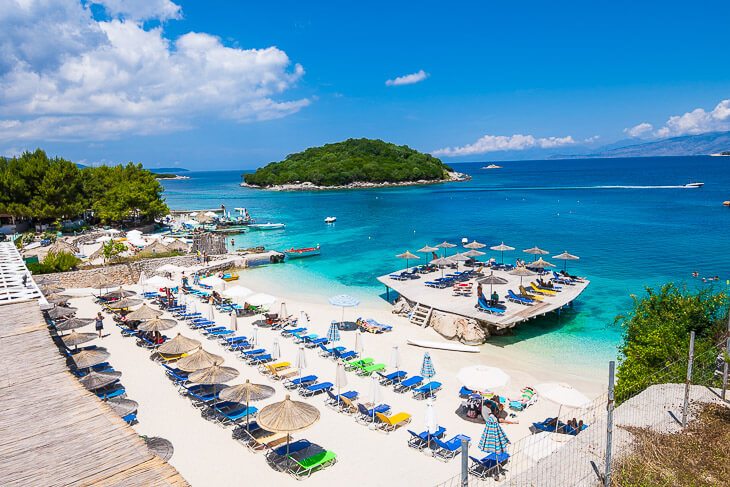 A pristine resort town that offers some of the most beautiful beaches in Europe. You can choose more lively spots or find your own paradise with just an umbrella, two sunbeds and two pedals. What could possibly be more romantic?
Albania's beaches
Saranda
A beautiful coastal town, and the main port for tourism in Albania and boats from abroad. It's here that you'll arrive with the boat from Corfu. Besides from being a great starting point for exploring the Albanian Riviera, it's a nice destination in itself with a lovely harbor, stores, many restaurants, and cafés.
Butrint
A historic place that even Julius Ceasar himself admired because of its strategic position. Here you can explore the Roman ruins with an old amphitheatre and much more. Getting to Butrint from both Saranda and Ksamil is easy.Syri I Kalter
Syri I Kalter
A natural gem that shouldn't be missed out when you're travelling to Albania. It's a short drive from Saranda, and here you can enjoy some mesmerizing scenery and one of the most turquoise waters I've ever seen. Syri i Kalter means "Blue Eye" translated into English.
And that's exactly what you'll see, not literally, but in the water, you'll see bubbles and where the water is most turquoise you there's a blueish dark color that reminds you of an iris.
Lake Ohrid
Another big reason to visit Albania is the magical Lake Ohrid, that makes up the natural border of Macedonia and Albania. While most people go to Macedonia to visit Lake Ohrid, it's definitely possibly to go here from the Albanian side, and it's cheap to get here by local furgons.
Shkodra
Another beautiful lake. Shkodra is however, located in the northern part, close to Montenegro. Here await hiking trails and beautiful scenery.
Gjirokastra
Fancy some more historic places? Then head to Gjirokaster, which lies halfway to Tirana from Saranda. Gjirokaster is on the UNESCO heritage list, and a quaint little town, mostly known for its fortress and stone houses.
Valbona Valley National Park
Love being outdoors? Albania won't disappoint you. Especially not if you're heading to the national park of Valbona.
My personal opinion on why you should visit Albania
First of all, why not? I mean, the major cities and destinations in Europe will probably stay the same year after year, but Albania is an upcoming destination, and it's now that you can really experience the authentic Albanian culture. Tourism in Albania was largely just for nationals, and it wasn't until recent years international tourists started to visit Albania.
Travel companies from the Nordic countries are now offering direct flights and packages to Ksamil and Saranda, which means more tourists are on their way to explore Albania and all of the hidden gems.
That's probably the main reason why you should visit Albania in 2017. But also, because it's such a lovely place to travel. It doesn't matter that the locals rarely speak English, it doesn't matter that Mastercard isn't accepted, and it doesn't matter if a local taxi driver hustles you on 1 or 2 Euros while driving you 1 hour away for just a couple of Euros.
Albania is dirt cheap and it's freaking awesome. I had the best Burek in my life for as little as 1 Euro and I had a really nice Frappucino for 1 euro down in the harbor of Saranda. We went on a 6 hours bus ride for 5 Euros where we even got ourselves a local old lady who was eager to show us all of the old castles, despite the fact that she didn't speak a single word in English.
It's one of the least explored countries in Europe, and that's why you should visit Albania. It's really beautiful, and cheap!