TIRANA, May 23
ndividuals and organizations in Albania can make online payments for 13 taxes. The General Directorate of Taxation informs that the payments can be made through e-Albania platform without additional costs. The list of services provided by the Taxation Directorate through this platform was recently updated with the Tax Residency Certificate.
Read more: Tax Residency Certificate Now Online
The advantages of online payment include reduced wait time and queue lines and faster and improved services for taxpayers.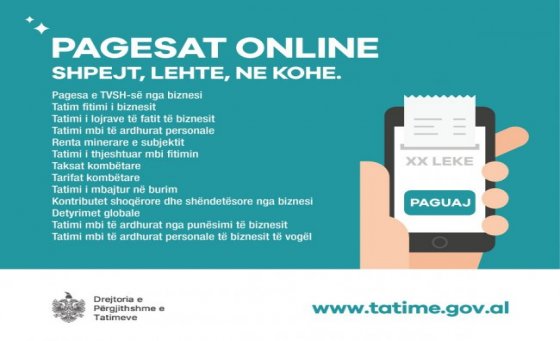 The General Directorate of Taxation highlights that taxpayers can make partial or full payments for the following list of taxes:
Personal income tax on small businesses
Gambling Tax
Personal Income Tax
Tax Deducted at Source
Value Added Tax (VAT)
Simplified Income Tax
Income Tax
Personal Income Tax
National Taxes
National Tariffs
Mining Rent
Social Security and Health Insurance benefits
International Obligations/Penalties
Source: DPT