TIRANA, May 17
The General Directorate of Taxation (DPT) will offer facilities for businesses, as from now on they can get their "Certificate of Tax Residency" online, on the website of e-Albania, anytime and for free.
This new service offers the document with its legal value, which proves the payment of the taxes for the global revenue of Albania, by the requesting subject. This Certificate that comes with a digital seal is recognized from all the countries that Albania has Agreement with,  in order to avoid the double taxes and the prevention of the Tax Evasion.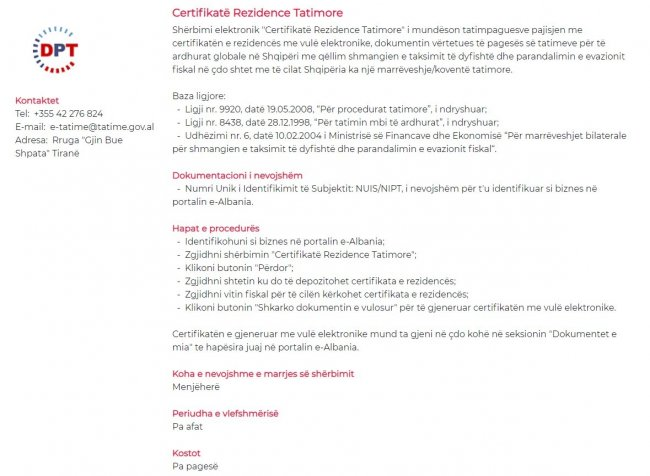 "Certificate of Tax Residency" Requirements (translated from Albanian to English)
The Necessary Documentation– The Unique Number of the Identification (Numri unik i identifikimit) of the Subject: NUIS/NIPT, necessary to identify as a business on the online platform e-Albania
Procedure – Identify as a business on the online platform e-Albania- Select the service "Certificate Tax Residency" (Certifikata e Residences Tatimore)-Click on the button "Use" (Perdor)- Select the tax year which is requested on the tax residency-Click on the button "Download the sealed document" (Shkarko dokumentin e vulosur) in order to receive the certificate with the electronic seal.
The certificate generated with the electronic seal you could find it any time in the section "My documents" (Dokumentet e mia) on e-Albania.
The amount of time to get the certificate– Immediately
The period of validity– Without a deadline
Cost– for free
If you have any question, concern or uncertainty regarding the service you can send an e-mail at the address: [email protected]
News Source/ DPT