TIRANA, February 8
Searching for nigh skies dark as coal? Albania is the right place. Even though there are no official Dark Sky Reserves and not much information available online, Albania is a perfect destination for the people looking for a milky filled sky, twinkling constellations, and shooting stars.
Astro-tourism is a rising trend in sustainable travel experiences. While plastic is polluting the ocean and other water bodies and destroying marine organisms that produce about 70 percent of the oxygen in the atmosphere, artificial light is polluting the sky.
Therefore, the International Dark-Sky Association IDA) is working hard to protect night-skies.
According to IDA's Strategic Plan 2019-2021, the negative impacts of light pollution, consistently confirmed by emerging evidence, affect the environment, wildlife and its habitat, human health and heritage, and our visual access to the cosmos.
Based on the darksitefinder.com Albania is one among the few countries in Europe for stargazers.
The sky color scale consists of 15 colors between bright and dark. Albania has large territories that fall under dark grey and dark including the Southern highland, a part of Karaburun Peninsula, a large area between Permet, Korca, and Berat, Shebenik-Jabllanica National Park, Klos, Fushe-Arrez, and a larger area from Mont Korabi to Mount Jezerca.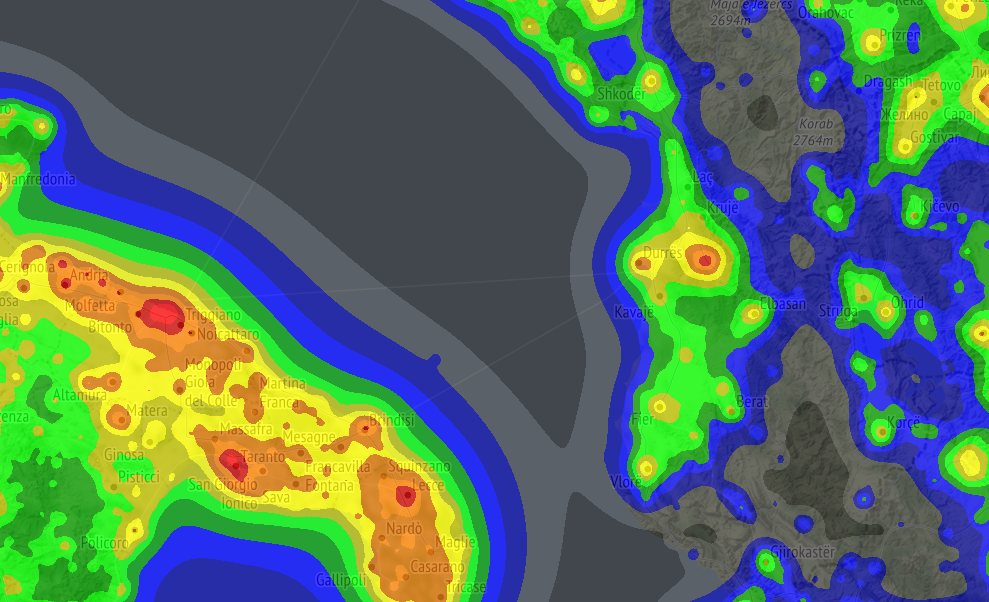 Photo Credit: darksitefinder.com
The preservation of dark-sky areas in Albania would lead to cross-border cooperation projects with Kosovo, Greece, Macedonia, and Montenegro given that most of the areas are shared with the neighbor countries.
Why Albania needs a Designated Dark Sky Park?
First, fortunately, Albania still has areas that would qualify for that.
Moreover, it would be a rare attraction in the entire region of the Balkans. Dark sky reserves are a unique way to draw visitor. This rings another benefit with it, responsible tourism and respect for natural resources. Communities and visitor get public education about friendly lighting and nature conservation benefits in the long term.
It would bring economic growth to surrounding communities
The increased number of visitors would translate into a revival of the local economy. People can invest in the appropriate infrastructure such as campsites, guesthouses, guided tours, farm days, agrotourism-related activities, more jobs for the youth and women, promotion of traditional crafts, cuisine, and other skills.
Continues implementation of environmentally friendly practices would raise awareness on sustainable tourism as a strong strategy for economic empowerment. At the same time, people, local businesses, and public authorities would promote a greater sense of accountability.
This time-lapse video by Lucie Debelkova shows what the night is like in some of the top-visited destinations in Albania, Dhermi beach and Butrinti Archeological Park, UNESCO World Heritage Site.

Article: IIA
Photo Credit: Mirsad Basha, Blini Park, Shala River
Invest in Albania supports the SDGs
GOAL 15
Protect, restore and promote sustainable use of terrestrial ecosystems, sustainably manage forests, combat desertification, and halt and reverse land degradation and halt biodiversity loss