TIRANA, November 1
Deadline for 2nd Call of Challenge Fund Extended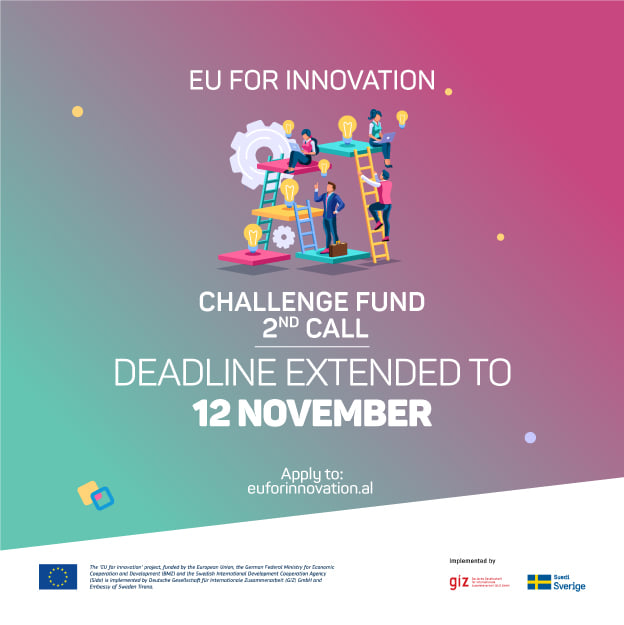 EU for Innovation shared good news for all the teams and individuals interested to be a part of the second call of the Challenge Fund. The deadline for submitting your application has been extended until Tuesday 12 November 2019.
The second call for the Challenge Fund was officially launched on Thursday, October 10. The second stage is welcoming proposals that are innovative, sustainable, and feasible. If you have an idea that meets these criteria or, you run a startup or represent an innovation support innovation organization such as a hub, accelerator, incubator, university, NGO, a private company, or entity that supports startups, you might be eligible.
Winning applications will be subject to funding based on their category. Therefore, idea stage proposals can apply for up to €7,000;
Early-stage startups (between 0 to 1 year) up to €15,000
Scale-up startup (between 1-3 years) up to €25,000
Innovation support organizations not younger than 1 year up to €100,000.
The Challenge Fund aims to boost the innovation ecosystem in Albania by encouraging and supporting startup creation through access to finance and funding.
Find out all the Details on the application process HERE.
Source/Photo Credit: challengefund.euforinnovation.al
Second Edition of INNFest Held in Tirana
"Albania has a great potential for innovation," Swiss Ambassador Adrain Maitre addressed the Innovation Nest Fest 2019 last week. He encouraged young people and authorities to work together in developing conditions for innovation. Swiss support is provided to this topic through the SWISS EP Albania and RISIAlbania.
Innovation Nest is a Balkan Business Angel Network based in Albania that aims in supporting, investing, incubating & helping new-technologies ideas on WB6, industries and enterprises in being innovative, competitive and internalized in sectors such as ICT and Multimedia, tourism/agriculture industry, MedTech, environment, creative industries, retail and services, etc.
Tirana hosted 41st International Conference of Data Protection and Privacy Commissioners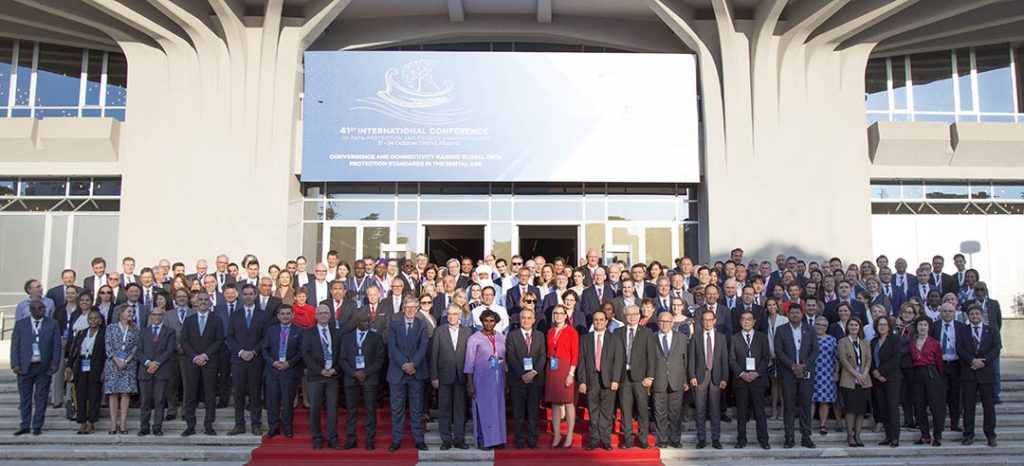 Historic progress towards regulatory cooperation and high data protection standards
The 41st International Conference of Data Protection and Privacy Commissioners (ICDPPC) in Tirana, Albania began with the closed session, where members agreed on a framework that continues to strengthen the group's position as an effective international forum.
Central to that is a policy strategy that sets out a clear vision for this organization for the next two years. The policy strategy builds on the ICDPPC's Madrid Declaration and last year's Roadmap on the Future of the Conference. It is the result of significant international collaboration.
The policy strategy is based on three pillars: evolution toward global frameworks and standards, greater enforcement cooperation and identifying priority policy themes. It confirms three strategic priorities:
Advancing global privacy in a digital age, confirming a move towards a global regulatory environment;
Maximizing the conference's voice and influence, notably in enhancing the conference's role in digital policy and strengthening relationships with other international bodies and networks;
Capacity building to support members sharing expertise year-round.
The diversity in support of the approach showed a global commitment to action. And the wealth of support in people committing their time and expertise in implementing the approach shows a group that is willing to take action.
The strategy will be reinforced by an outward-looking approach to engaging with stakeholders, in particular, civil society, in a new reference panel to be formed in 2020.
The policy strategy will be published on the ICDPPC website in due course.
This passion for privacy and data protection was reflected in the resolutions. Passed resolutions were:
Resolution on the promotion of new and long-term practical instruments and continued legal efforts for effective cooperation in cross-border enforcement;
Resolution on privacy as a fundamental human right and precondition for exercising other fundamental rights;
Resolution to support and facilitate regulatory co-operation between data protection authorities and consumer protection and competition authorities to achieve clear and consistently high standards of data protection in the Digital Economy;
Resolution to address the role of human error in personal data breaches;
Resolution on social media and violent extremist content online.
The resolutions will be published on the ICDPPC website this week.
The conference opened with a warm welcome in Tirana from Commissioner Besnik Dervishi, Albanian Information and Data Protection Commissioner's Office, and host authority of this year's conference.
The following new members were welcomed:
Chilean Transparency Council, Chile;
Commission Nationale pour la Protection des Données à Caractère Personnel, Gabon;
Data Protection Commissioner, OECD;
Autorità Garante per la Protezione dei dati personali, San Marino;
National Agency for the Protection of Personal Data, Sao Tome and Principe;
OECD Data Protection Commissioner (without voting rights).
Elizabeth Denham CBE, UK Information Commissioner, was confirmed as ICDPPC chair for a further two years. Marguerite Ouedraogo Bonane, President of the CIL, Burkina Faso was re-elected to the Executive Committee. Eduardo Bertoni, Director of Access to Public Information Agency, Argentina was elected to the Executive Committee.
A detailed session on artificial intelligence, building on last year's resolution, discussed the technology in the context of international regulation and ethics, followed by a session sharing practical experience from members of running effective data protection and privacy authority.
The session welcomed contributions from ICDPPC working groups, ICDPPC observers at international organizations and updates from regional, linguistic and topic-specific networks.
The second day included updates from Professor Joseph Cannataci, UN Special Rapporteur on the Right to Privacy, and Professor Colin Bennett, University of Victoria, who discussed his research on privacy and democratic engagement.
There was a presentation looking ahead to the 2020 conference in Mexico, and the announcement of New Zealand as 2021 host.
Closing the closed session, Commissioner Besnik Dervishi said: "As a result of this week, the conference will no longer be the same. I'm happy and excited that Tirana will remain a landmark in the history of the conference."
Source/Photo credit: privacyconference2019