TIRANA, November 11
Producers of services contributed to the highest turnover growth rate in 2018. According to the preliminary results of the structural survey of economic enterprises, published on Monday by the Albanian Institute of Statistics (INSTAT), the turnover generated by the producers of services in 2018 accounts for 66.1 percent of the total. At the same time, this sector had the highest contribution to the increase of employment, about 3.1 percent. In 2018, the turnover for producers of goods and services reached Lek 2.1 billion.
Service producers include trade, accommodation and restaurants, transport and communications, and other services.
Goods producers include mining and quarrying, manufacturing, electricity and water supply, and construction.
Besides the producers of services, the sectors with the highest contribution in turnover growth rate were:
Trade sector: percentage of turnover 45.3 percent
Goods producers: 33.9 percent
Construction: 11.7 percent
Manufacturing: 11.6 percent
Other services (private health and education, administrative services, professional, scientific and technical services): 10.9 percent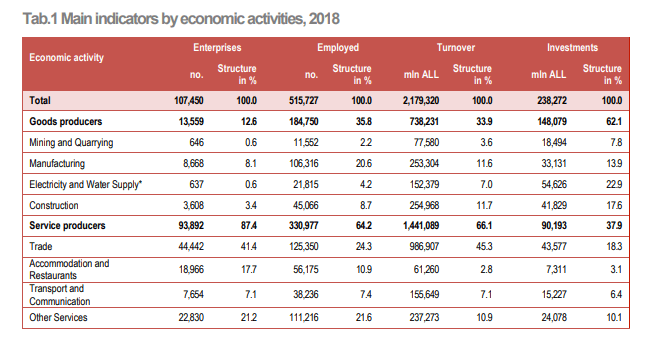 "In terms of the size of enterprises with the highest contribution in the turnover growth rate, enterprises with more than 50 employees made 48.5 percent of turnover, 42.2 percent of total employees and 60.5 percent of investments, although they account for only 1.2 % of active enterprises," the INSTAT confirms.
The publication provides insights into the situation of economic enterprises in Albania. Thus, the number of active enterprises in 2018 was 107,450 or 0.2 percent less than the previous year. Meanwhile, the total number of employees increased by 4.6 percent.
The sectors with the largest number of active enterprises were:
The trade sector: 41.4 percent of the total
Other services sector: 21.2 percent
Accommodation and restaurant sector: 17.7 percent
During 2018, the mining and quarrying sector had the lowest number of active enterprises, which constituted 0.6 % of the total.
Source: INSTAT