TIRANA, November 25
Tirana, Fieri, and surprisingly Kukes had the highest average wage per employee in 2018, the Institute of Statistics (INSTAT) unveiled.
According to the Statistical Yearbook 2019, the average wage in Albania in 2018 was Lek 50,589. Tirana region had the highest monthly average wage, Lek 57,533, while the regions with the lowest average monthly wage were Lezha and Shkodra about Lek 39,000.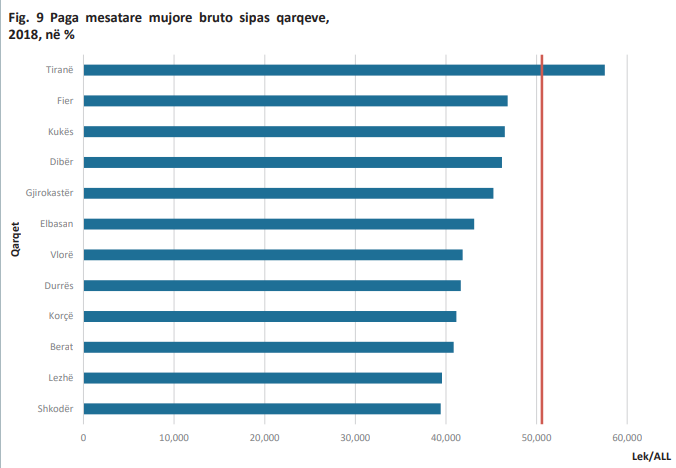 The findings confirm that the cities with the extractive industry offer average wages closers to the national average salary. Meanwhile, the average wage in those cities where most jobs are available in the footwear and textile manufacturing sector, like Korca and Shkodra, is lower than the national average salary.
Compared to 2017, the monthly average salary increased by 3.3 percent in 2018. Durresi region saw the highest growth by 5 percent while Kuksi had the lowest growth with only 1.6 percent.
In terms of sectors, arts and leisure were the sectors with the highest growth in the average monthly, 16.85 percent. Meanwhile, the average wage in the real-estate sector saw a decline of 2.13 percent.
In the meantime, the data confirm a higher wage compared to 2017 in the regions with a developed tourism sector.
Source: INSTAT