TIRANA, May 3
The legal system and property issues continue to affect the stock of Foreign Direct Investment (FDI) to Albania. This was confirmed by the recent index on Competitiveness in South Eastern Europe (SEE) by the Organization for Economic Co-operation and Development (OECD).
According to the index, the level of Foreign Direct Investment inflow to the SEE's economies increased during the recent decades and Albania and Montenegro have been the leading economies for FDI inflow measured as a percentage of GDP.
However, compared to the EU and to Croatia and Slovenia, Albania ranks last in terms of FDI as a portion of GDP. The report focuses on six economies of SEE Albania, Bosnia and Herzegovina, Macedonia, Kosovo, Montenegro, and Serbia. The index assessed 17 policy sub-dimensions grouped into four dimensions: business environment, skills and capacity, economic structure and governance.
"Throughout the region, weak implementation and inadequate monitoring continue to hamper structural reforms, while human capital and labor market deficits limit the capacity for economic growth. In the area of sustainability, economic policies fail to facilitate economic growth in an environmentally friendly way, undermining public health and long-term competitiveness," the index says.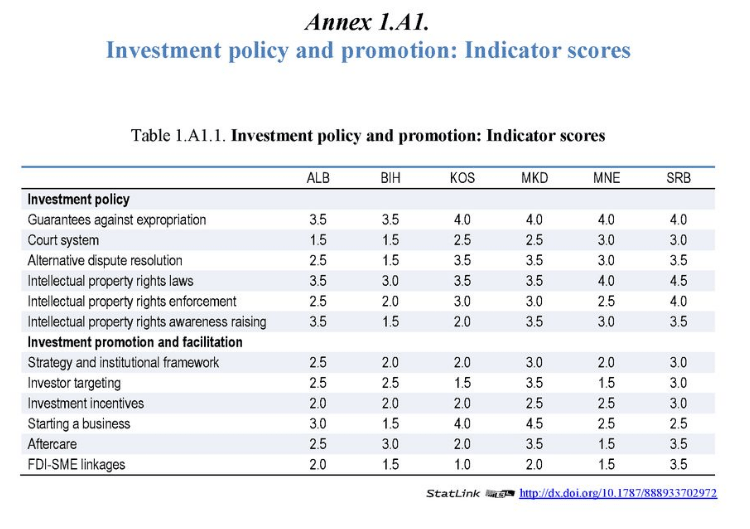 Index data on SEE countries
Population: 18 million
Landmass: roughly the size of the United Kingdom
GDP: $89.1 billion or half of Portugal's GDP
Largest economies: Serbia, Bosnia and Herzegovina, Albania
News Source/Photo Credit: OECD