Tirana, Albania
2 May 2016
This is not an original article of invest-in-albania.org. The article was written by Sarah Drury and published at Spectator.co.uk site.
Seferis's line about his native Greece, 'Our country is a closed in place, all mountains', haunted my mind as I traversed Albania. I had gone in the hope that Albania now would be like the southern Europe of my student days. The news in brief is: it is, and it isn't. First impressions of Tirana, the capital, were that it was a city in a hurry to expand. Despite being badly damaged in 1944, it retains an unexpected charm, perhaps because of Mussolini's pine-lined boulevards and green spaces. The surrounding plain, however — particularly the highway out to the airport — is littered with speculative buildings of various degrees of hideousness, some stalled in a half-completed stage with the ubiquitous notice reading 'Shitet' (For Sale). A moratorium on construction has been imposed, rather late in the day: coastal resorts, even sleepy Saranda, have been badly served.
Grappling with the ins and outs of Albania's history over the past two thousand years may or may not appeal to the visitor, but it certainly puts flesh on what can appear to be rather naked bones. Unless you're in a place which caters for tourists, such as the Unesco sites of Gjirokastra, Berat and Butrint, or are trekking through spectacular mountain scenery, you may be left with no more to occupy the brain than wondering how the countless onion sellers along the shores of Lake Ohrid make enough to live on, or why Albanians seem obsessed with mirrors, to the extent of putting them on the inside of lavatory cubicles, or how exactly to pronounce 'Gjithcka nis me nje', a frequent exhortation on Nescafe billboards.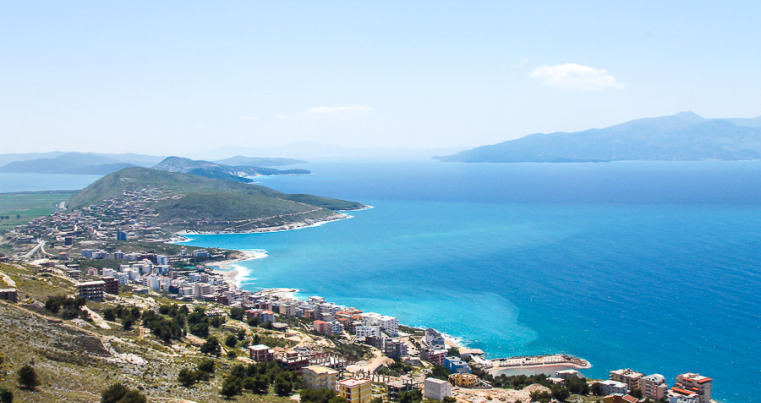 Saranda city
Being interested in the wartime activities of Britain's Special Operations Executive, I had ploughed through a lot of literature, but while this prepared me for the scale of the country-side, it had also given the impression of an unforgiving, suspicious race. The greatest delight was to discover quite the opposite: the Albanian enthusiasm for eating, dancing and music, together with telling jokes against themselves, is instantly endearing, as is their natural generosity and hospitality. Most striking is the atmosphere of religious tolerance. They are very proud of this, and it is difficult to distinguish, should one want to, a Muslim (almost two thirds of the population, but many adhering to the liberal Sufi-inspired Bektashi sect) from a Roman Catholic or an Orthodox: head scarves are barely in evidence. Maybe a period of enforced atheism is good for the psyche, if bad for frescoes and religious buildings.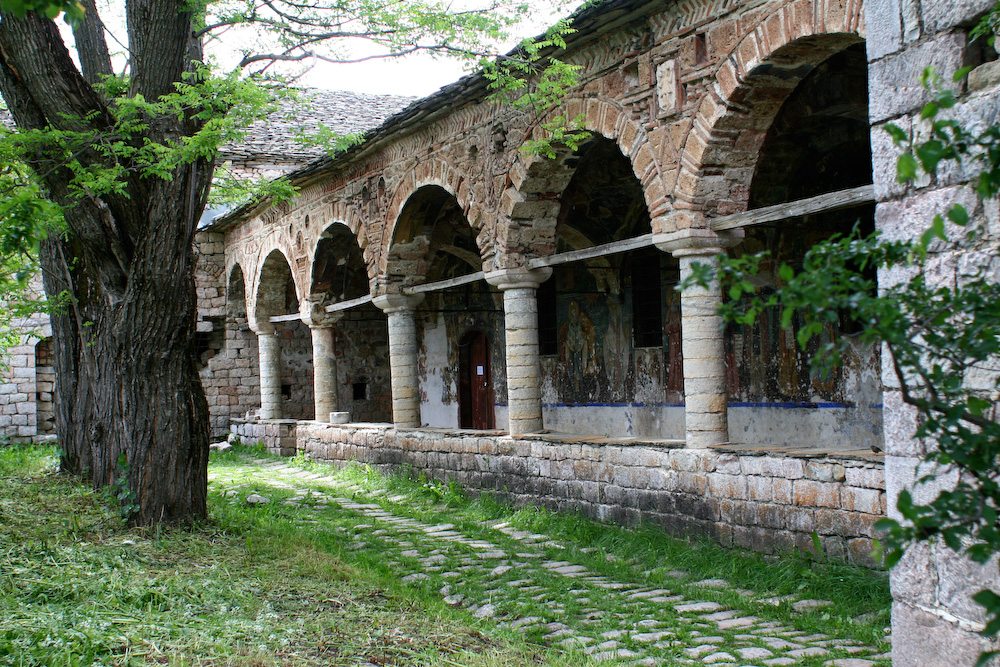 An old church in Voskopoja village, Korca district
Ever since the Hoxha experience, Albanians have been fairly dismissive of their politicians — they feel are not quite up to scratch. It is no coincidence that the most fashionable area to eat and greet in Tirana is the 'Blloku', previously the fiefdom of communist apparatchiks. Food, by the way, is cheap and delicious.
Scandinavians and East Europeans have already discovered Albania, but tourism is in its infancy and private tours are the most effective way of seeing the country. Albanian Trip and Drive Albania are particularly recommended. No patter from bored guides, no beaten track, more a series of discoveries. A highlight for me was the remote monument to the 107 inhabitants of Borova, killed in reprisal for a partisan attack on a German convoy; for my friend, it was qifqi (egg and rice balls) and Korça beer. Albania to join the EU? Six years, they say. Go now.
Dhermi beach photos by Arton Krasniqi