TIRANA, May 27
The home in the building with cubes, where the Albanian writer Ismail Kadare lived and worked for 15 years, and where he has written some of the most famous books, opened this past Saturday, on May 25. The building was known also as 'the palace with cubes' got notoriety during the communist era as it was built by the fellow architect Maks Velo and for that, he got imprisoned for 10 years.
According to the Italian architect, Elisabetta Terragni who designed the museum 'House of Leaves' (in Albanian: shtepia me gjethe) during the transition of the house into museum said that the goal is to keep preserve the atmosphere of the house in order to understand better the point of view and the way of thinking of the writer.
She added that it is important to understand the period when Kadare has written inside this house, you could seat on a chair and view the city or to get an insight into his thinking you could browse his books or see the photographs. On the entrance is a wall, showing the period of his workings from 1954 until 2018. Each one of the books has a title in English to make it easier for foreign visitors.
Another detail is that the accuracy of the documents and data is done by a group of experts of literature. Mural letters didn't exist in Tirana, but Kadare brought them from Paris. The idea of mural letters was considered too extravagant at the time, but the writer wanted to feel connected to the world. It was important to him because as the Ismail Kadare said once he created normal from the abnormal.
On this wall, there are listed more than 100 titles according to chronology, that it was needed the other side of the wall to put them all up. Besides the titles, there are the years of publications too. Regarding the shelves, the author bought them in Italy and he himself assembled them. The books are put in order as he wished, the renovators only reorganized them.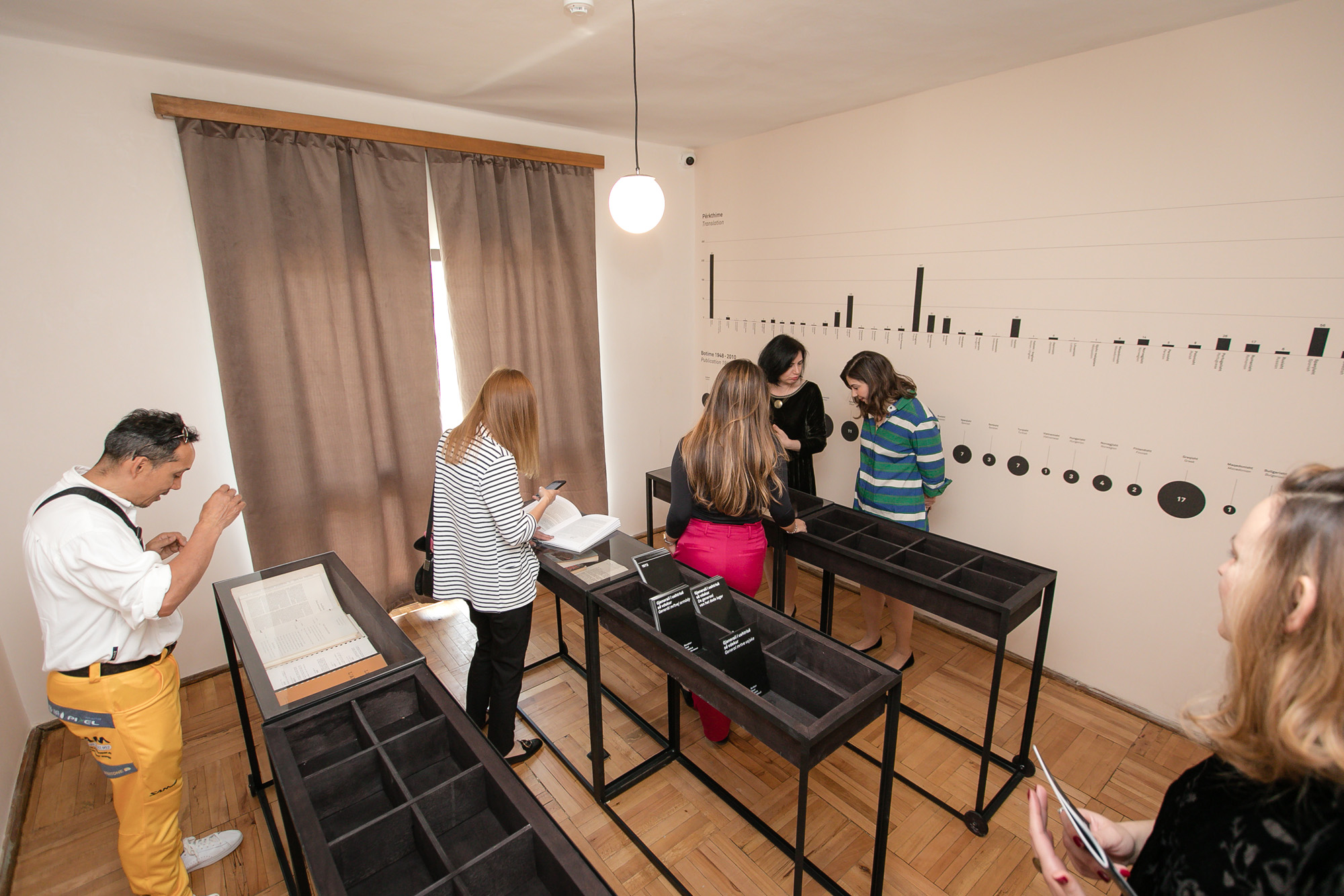 Ismail Kadare and his wife, fellow writer, Helena lived there until 1990 when they emigrated to France, so most of the books seem are frozen in time. At the home, there is a fire-place too, but different from the rest of Europe where the chimney is at the entrance of every house, here is in an angle because the communist regime forbade it otherwise.
Along with Maks Velo, they built the only chimney in the building and according to friends when they came at the writer's home for a visit, they didn't bring flowers or other presents, but a brick. It is expected that the house where the other fellow writer, Dritero Agolli lived and the entire building will be renovated by the architect and painter Maks Velo.
Source/ Shqiptarja
Photo Credit/A.T.SH.