TIRANA, August 15
Starting from today, 15 August, the personalization and the release of the new card for driving license will be realized in only 30 minutes. The General Directorate of Services of Road Transportation (DPSHTRR) announced today, on its FB official page, that the newness starts with the city of Tirana, whose directorate handles 45% of total numbers of driving licenses in Albania.
Individuals could apply for the card, duplicates, renewals, or the first time after passing the test. All of these could be withdrawn on the same day of application, facilitating the process for around 48.000 citizens annually, compared to November 2018, where the same process took between 15-20 days.
Thanks to the investments and modern devices, updated e-DM system, DPSHTRR accelerates these 7 services:
1. Withdrawal of driving license for the first time
2. Renovation of the driving license
3. Loss/theft/destruction/damage of the driving license
4. Conversion of the driving license
5. Driving license for an additional category
6. Change of address
7. Change in generalities
All of these services are for-free, closes the announcement DPSHTRR.
Below is the announcement by DPSHTRR on its FB page: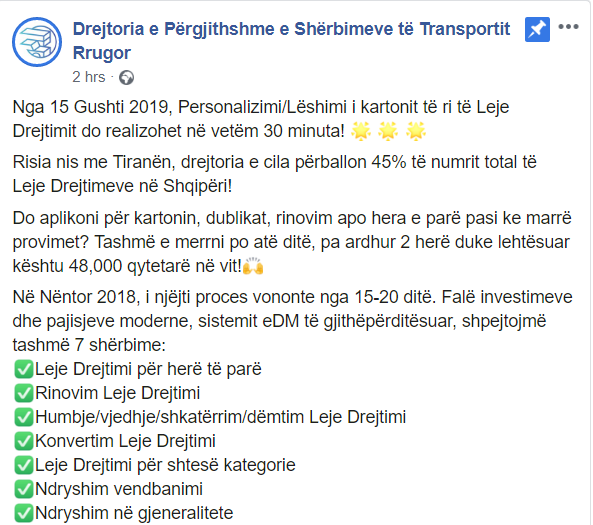 Source/DPSHTRR FB
Photo Credit/ DPSHTRR, Tirana branch
Read also: Albanians can Soon Swap Driving License for an Italian One