Martin Luther King Jr., once said that "Life's most persistent and urgent question is, 'What are you doing for others?'". This is a universal and timeless question that has concerned and concerns people who know the value of contributing for others and thus creating a better society. An important and active communion that is making efforts in establishing good values and helping others in Albania is Rotary Club Tirana West, one of the most active Rotary clubs among 9 that currently are established in the country.
Rotary International is present in Albania since 1992 and now several Rotary clubs are active and give a notable and important contribution to the Albanian society by continually fundraising money for charity events and by providing humanitarian aids through the organization's fund. Rotary Club Tirana West was founded on June 20th, 2012 and currently counts 250 members in total throughout the country. Members of this club are businessmen that want to contribute in improving their society  and spread values of good friendship and social responsibility.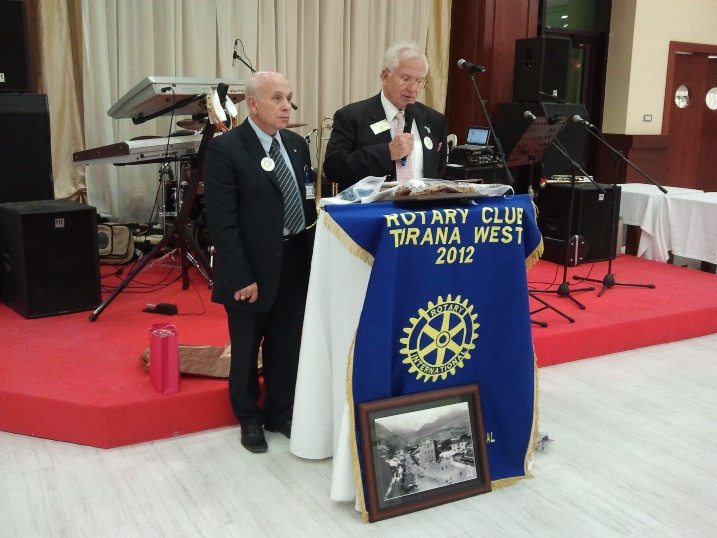 Rotary Club Tirana West has contributed in Gift of Life program by providing assistance and funds for children with heart diseases. In its worldwide activity, Rotary Clubs are praised for ending polio, by raising funds among their members, in a close collaboration with Bill and Melinda Gates Foundation.
Two prominent members of Rotary Club Tirana West which have been honored by Rotary International are Edmond Sheshi and Avni Ponari for their donations to "Rotary Foundation" with Paul Harris Fellow award. Members get evaluated based on the amount of money they donate to Rotary clubs they are members of. Currently, Rotary Club Tirana West is headed by Ilirjan Bushati which serves as the president of the club.
In its official statute, Rotary Club Tirana West defines the organization's long term purposes and intentions which lead every member's activity, which follow: To spread the ideal to serve to others, to boost and develop friendly relations between the members of the club, to lead private activities based on the concept of serving in benefit to the community, to find and distribute humanitarian aids for people in need, ect.
To become a member of Rotary Club Tirana West, visit Rotary Club Tirana West official website.