TIRANA, May 4
About 3,003 is the number of annual deaths in Albania due to air pollution. Breathlife2030, a campaign of the World Health Organization (WHO), UN Environment and CCAC confirms that air pollution in capital city Tirana is 60percent over the safe level. A recent report of WHO found alarming trends in air pollution worldwide. According to WHO, more than seven million people die annually due to air pollution while 9 out of 10 people breathe polluted air.

Fine particles in the polluted air are responsible for diseases such as lung cancer, stroke, heart disease, respiratory infections, and chronic obstructive pulmonary diseases.
"Air pollution threatens us all, but the poorest and most marginalized people bear the brunt of the burden," WHO chief Tedros Adhanom Ghebreyesus said in a statement.
In the meantime, data from breathlife2030.org show an annual rate of ten children deaths due to exposure to indoor air pollution in Albania.
Breathlife also provides air pollution data for the city of Durres, where air pollution lower compared to Tirana, but still 30percent over the safe level defined by WHO.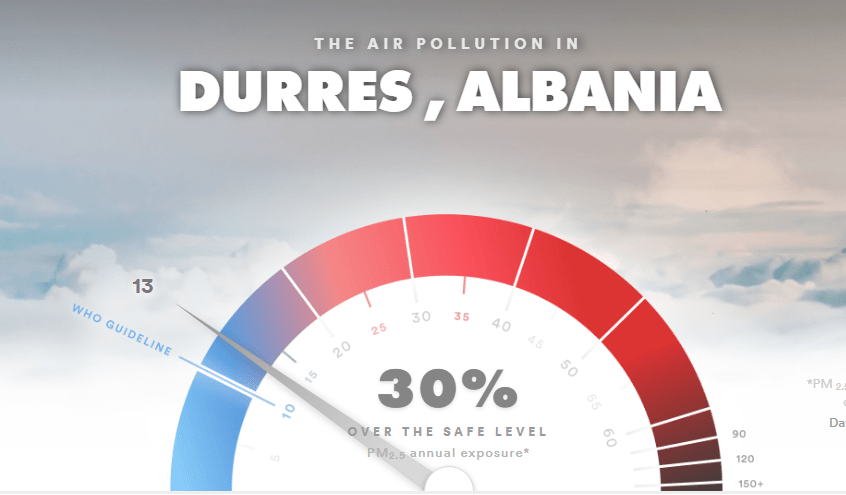 The WHO says that the countries with the cleanest air are Finland, Estonia, Sweden, Canada, Norway, and Iceland. Meanwhile, the countries with the worst air quality are Uganda, Mongolia, Qatar, India, and Cameroon.
News Source: WHO, Breathlife