TIRANA, November 21
After 30 years of strong bilateral cooperation between Albania and Germany, the latter has an ambitious perspective on the former. To make life possible, here in Albania for all those people who eyed anyplace but their homes as the land of hope and opportunities.  30 years of cooperation can now translate into Euro 1 billion of grants, funds, and investments, which further translate into tangible projects spread throughout Albania, improved infrastructure, major energy projects, better education, qualified workforce, and satisfied farmers.
The German support helps Albanians, especially those in disadvantaged areas, to build a perspective and turning it into reality.  This is possible and achievable by identifying people's needs and addressing them in cooperation with the Albanian government, and partners like the European Union and the Danish Government.
What is Germany doing in Albania?
It is paving the road toward building better opportunities for common people, former asylum seekers, youth, disabled children, and socially and economically neglected communities either by supporting their initiatives or providing them with information on safe and legal migration pathways. All these initiatives are implemented through several projects  implemented and financed by GIZ (Deutsche Gesellschaft für Internationale Zusammenarbeit GmbH) and KfW (Kreditanstalt für Wiederaufbau) that were presented during a two-day trip with journalists from Albanian media with the invitation of the German Embassy.
Short Interview with Ambassador Susanne Schütz
Asked from Invest in Albania about the business climate in the country, Ambassador Schütz mentioned the reasons that prevent German investors from doing business in Albania
-Are foreign investors interested in expanding their activities in Albania and if yes, what are the main sectors that they find attractive and was there any case when a potential investor from Germany decided to not invest in Albania for specific reasons and what are the reasons that prevent them from doing business in Albania?
-I think the interest of German investors to come to Albania is very large. There are a number of interested investors for example in the area of tourism or fashion, the textile fabrication there is also interest in the automotive industry. You may follow the work of the DIHA, the German agency for investment in Albania. They will have a conference starting on Thursday, called automative dialogue. they have invited German companies who work in the area of the Car industry to make seeds to make all kind of things. So there is interest to come to Albania to use the relative skills and cheap labor in order to manufacture things in the car industry.
So we will have to see, the interest is there, but you are right – often the framework conditions for businesses here in Albania are not yet in place. And for that, it will be very important to implement the justice reform to implement the vetting, because unfortunately German investors already working in Albania are often confronted with a corruptive justice system. For them, it is very difficult to work in a country where they cannot be sure, that if they have a case in court, they will not get the right results because someone else paid the judge. This is something really preventive. Also maybe some other issues I don't know about because investors who do not come to Albania, don't talk to us. In general, the investment climate in Albania has to improve, in the justice system, also in licensing, to make sure that investors are not asked to bribe. This is what is important.
-There are many areas in Albania that have different economic development mostly remote and rural areas but on the other hand, they have a great potential that remains unexploited because of the lack of experience and location. Which are the best practices that we can borrow from Germany to provide sustainable development for these areas?
-I think there are a number of possibilities and you will be seeing one project tomorrow where with a relatively small investment by our development corporation agencies a farmer has been able to start producing on a larger scale and have more profit from the work he is doing.
We are supporting other farming businesses in Korca or in Lushnja in, not always in Tirana, but the rural areas. There is potential, because agriculture is very crucial in Albania, and there are products which can be of interest also in Germany or to the European market. But very often they are produced in only small scale, so the farmers have to be helped to first develop the product, but also to market and distribute the products to develop the entire production chain.
We will also be looking into a road, which partially has been paid for by KfW to rehabilitate a road. So road infrastructure is also incredibly important for areas like Kukes or also Dibra which are remote areas. So they need road infrastructure to be able to market their products more easily to Tirana, to the Airport and across borders.
Road Infrastructure, Water Supply and more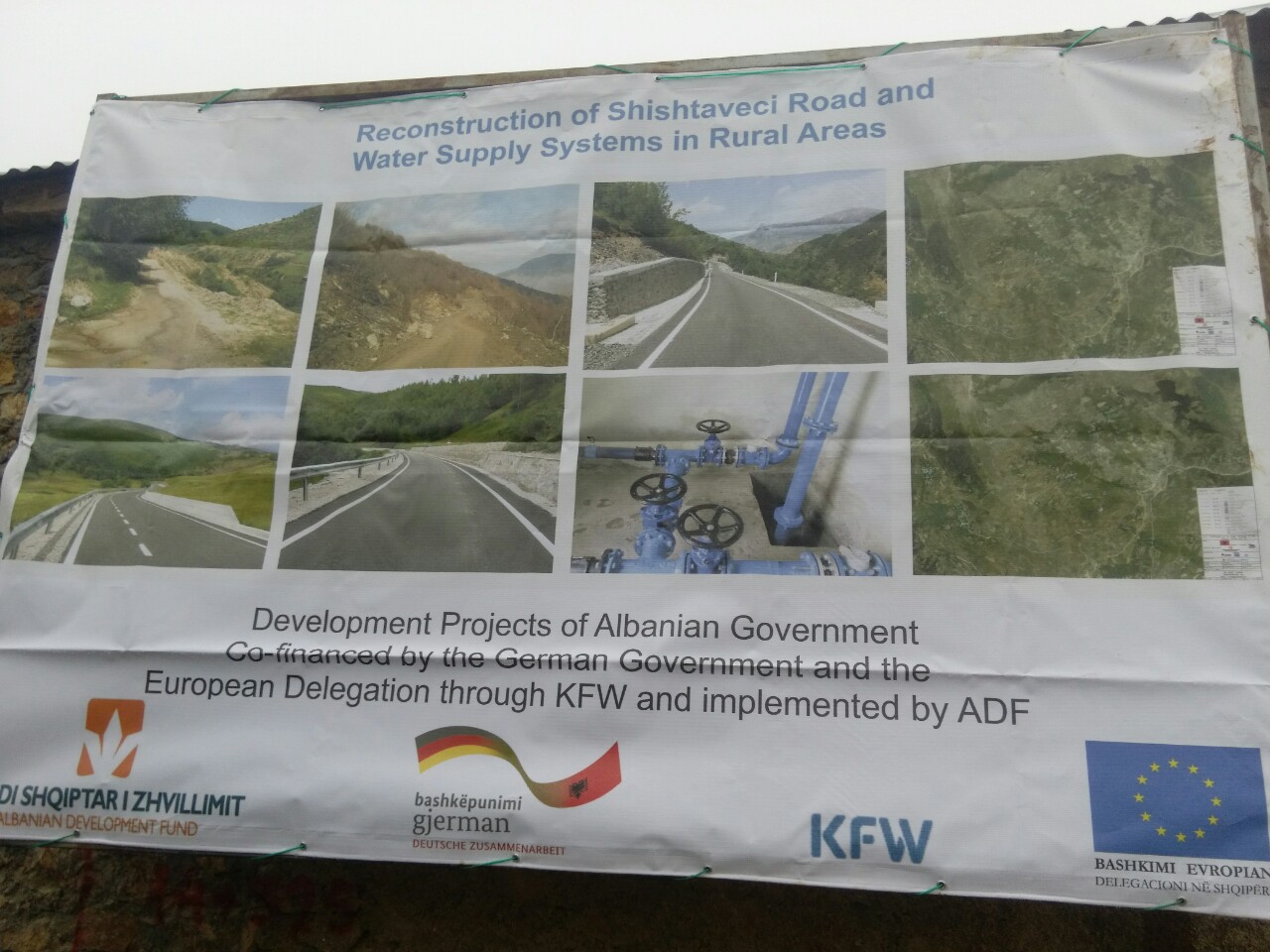 The road is the starting point, German Ambassador to Tirana Susanne Schütz  said from the remote Village of Novosej while inaugurating a Euro 6.2 million road investment from KfW and the European Union (EU), implemented by the Albanian Development Fund (ADF) that provides access for over 14,000 people living in 19 villages of Topojan, Zapod, and Shishtavec communes. You may have heard about Shishtavec, because of its potatoes, but what about the other villages. Me neither. For the first time, I read their names on a tourist map of Kukes at the hotel reception. The mountains of Kukes are home to hiking trails, waterfalls, forests and other tourist destinations that are waiting for fans of outdoor activities and nature enthusiasts. How to reach them? You can follow the newly inaugurated road Kukes-Shishtavec. Before the entire road looked like a hiking trail, now it is a modern road. It runs along Luma river, through a dramatic landscape up to Shishtavec Village and further to the Kosovan border. The road has a total length of 23 km and the German investment consists of the last 16.4km. The road not only brings the urban life closer, but it will also bring more income as the locals have established the first accommodation facilities and small hotels. Meanwhile, the value of immovable property increased.
Life runs at a slow pace in the mountains and these are the first steps for developing year-round tourism in the area.
Bringing clean water to communities is another key purpose of the German support. Novosej- Kollovoz water supply network is the second most important project in the area. People living in four villages now enjoy access to potable water for 24-hours a day.  Before they struggled and used to go the distance for clean water.
What are the roads that KfW finances?
It focuses on roads that lead to poor regions that lack access to main urban areas and key facilities thus, aiming at turning their biggest disadvantages into their biggest strength.
KfW in partnership with the Albanian Development Fund have rehabilitated and reconstructed over 90 km of rural roads in the regions of Kukes and Shkodra with financing estimated Euro 24 million (Euro 15 million from the German Government and Euro nine million from the EU). These roads have a major impact on the life of local people and other major achievements consist of market access for farmers that trade their products,  improved regional and interstate trade, empowerment of women through education and economic activities, reduced poverty and infant mortality, and decreased rate of people that leave the area.
Supporting rural economies through SARED Project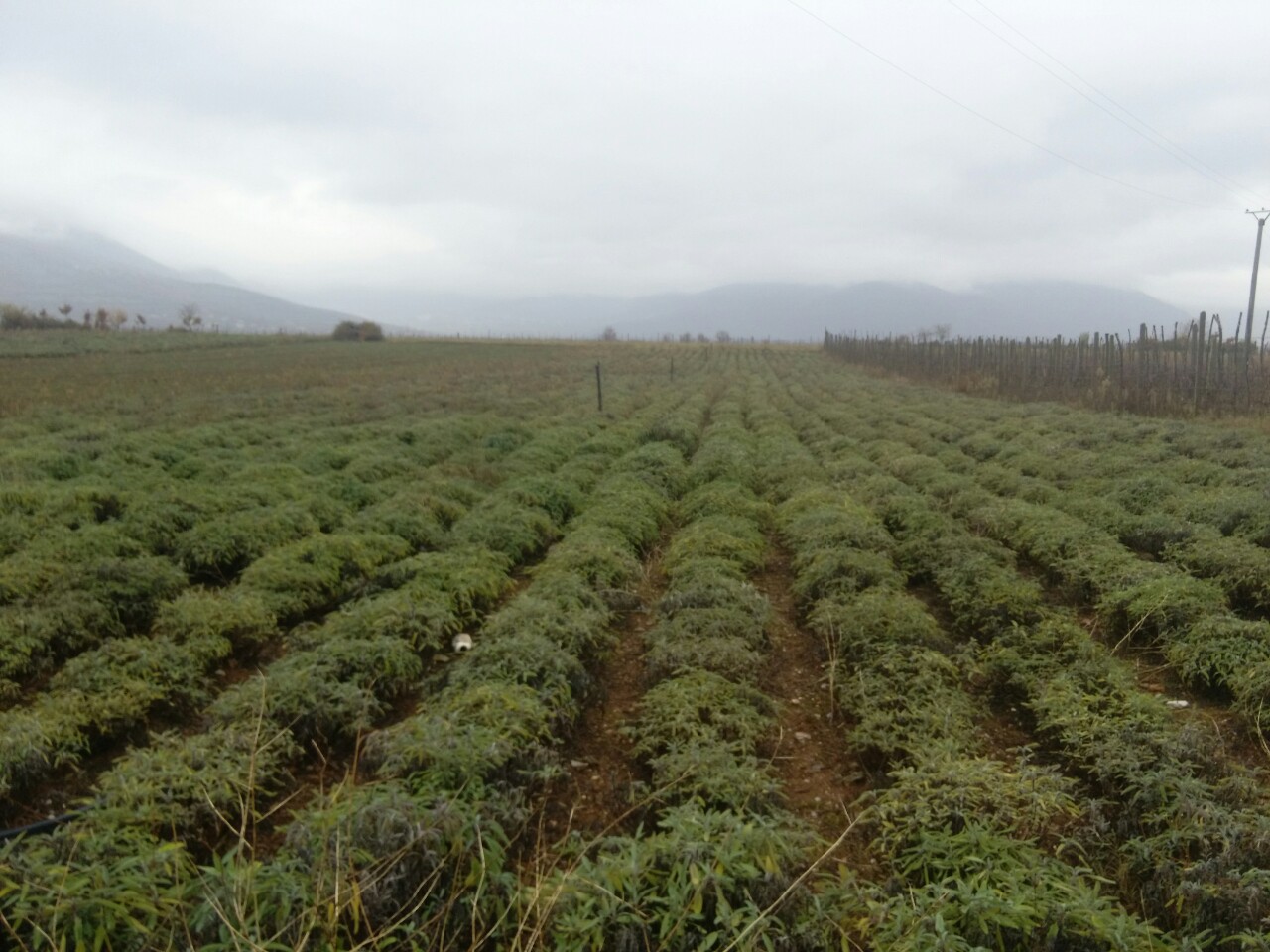 Mountainous areas of Albania share common traits such as unemployment and low incomes as farmers fail to fully exploit and develop their agricultural potential. Thanks to the Danish-German SARED project (Support to Agriculture and and Rural Economic Development in Disadvantaged Mountainous Areas) all those who want to invest in small livestock, fruit and nut trees, medicinal and aromatic plants, and rural tourism in the regions of Shkodra, Kukes, Diber, Elbasan, Korca, and Berat can now receive support in terms of funds and consulting.
The project focuses on finding potential in hidden treasures in mountainous farms and preparing rural economies for the European market and teach farmers how to make their products more marketable.
Asllan Murataj is a farmer from Gostil area, in Kukes municipality that benefited from SARED Project. Together with his son, he runs a local farm that consist of sage cultivation, alfalfa and corn crops, a vineyard, three cows, and 15 beehives. Murataj needed a tractor with a trailer and a milling machine with a total value of Lek 3.5 million and he received a grant support of Lek 2.3 million.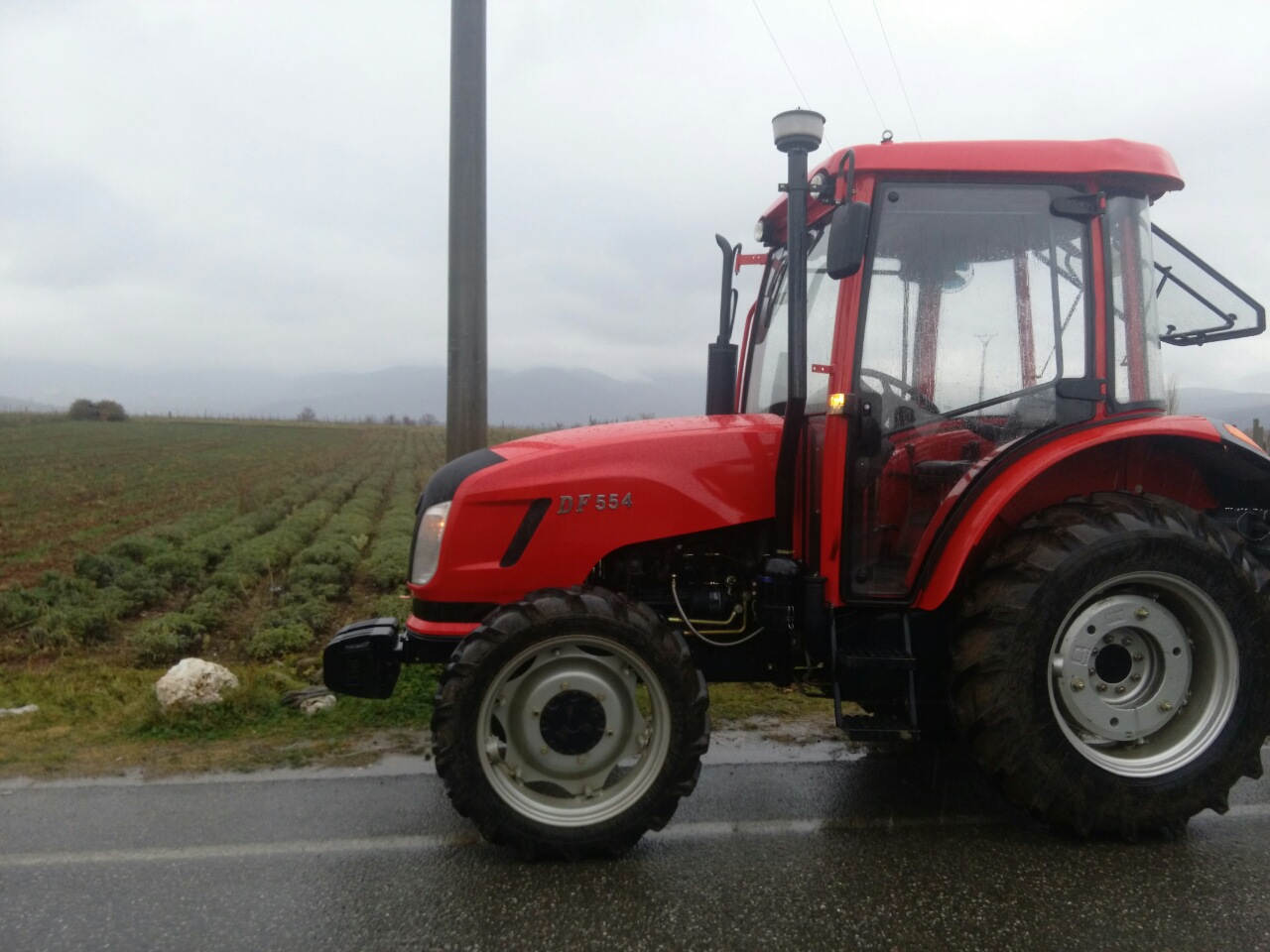 The first results from this investment show an increase of income and reduced cost and further on, the farmer hopes that his son will continue the work he started and build a competitive farm.
Find here all the criteria for benefiting a grant from SARED Project
Migration happens, but asylum in Germany is not possible
Albanian citizens are not eligible for the German reception scheme for asylum seekers because Albania is a safe country. This means that all asylum claims filed by Albanian citizens in Germany will be refused.  Some 4,519 asylum seekers voluntarily returned to their homes in Albania during January-September 2017. Some 14,000 are expected to come back. Asylum is not a solution to a better life. The German presence in Albania helps these people to reintegrate back into their communities or to find legal ways of migration. Follow DIMAK Albania, the information center where you can find all the information avaliable on legal migration to Germany.
Addressing Social Rights for Vulnerable Groups in Kukes and other areas
Kuksi region is one of the poorest in Albania with more than 6,500 people that get a monthly social welfare payment. This district also faced a growing trend of leaving Albania, mostly toward the UK and Germany. So far, some 500 families returned back home from Germany.
A new center on information and orientation on social rights, migration, vocational education, and career was inaugurated at the premises of Kuksi municipality and opened its doors for all people in need. The purpose of this center is not to enable people to migrate, but to provide them with information and ways to stay in their cities.  The activities of the center include additional teaching hours necessary for returned children that lost the school year during their abroad stay, career coaching, vocational education, referring services for all those who are eligible for welfare or disability payments. The center provides service for the entire region, including Gjakova and Prizren in Kosovo.
German Ambassador Schutz said during the inauguration ceremony that Germany considers important to support the Albanian people and create better living conditions for them.
On his part, GIZ Country Director in Tirana Hans-Juergen Cassens highlighted that cities like Kukes lack sources of information and this is the reason why the center is important and it is one of the steps that are necessary to bring a change.
Vocational education and employment, the Multi-functional Center of Kamza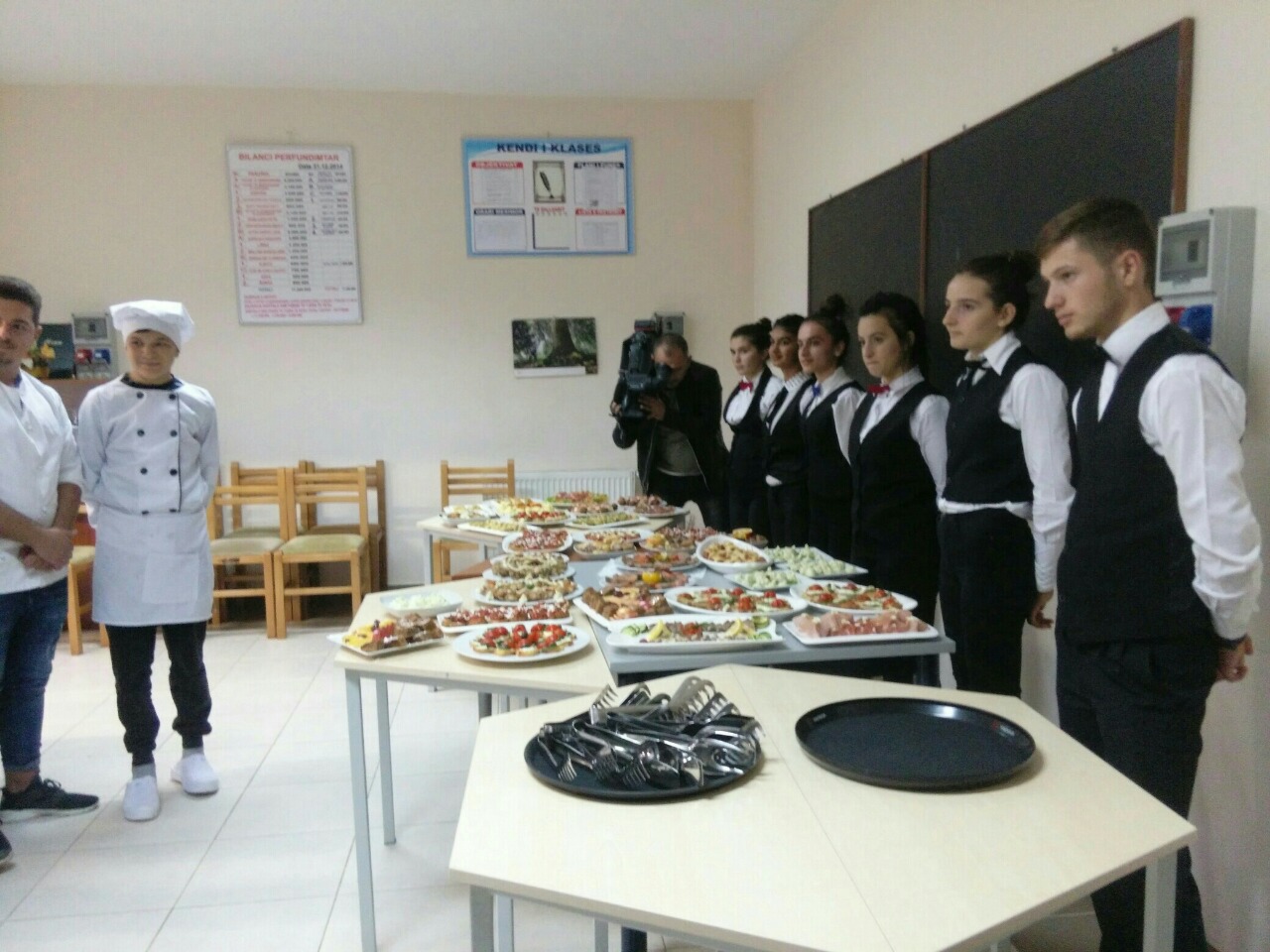 Also known as the Vocational School of Kamza, this was among the first stops in our trip. Head of ProSeed program (Sustainable and economic development, promoting employment, vocational education and training in Albania), Katja Roeckel said that this school trains about 450 students every year and more people want to join. ProSeed and the fund for VET and Employment are two projects implemented and financed through GIZ and KfW. Both projects aim at supporting Albanian youth in poor areas like Kamza to deal with unemployment and to build their lives in Albania instead of migrating to another country.
MFC Kamza is the first center that provides vocational education both for students and adults.  It brings international experience both for students and teachers and it also focuses on expanding the facility's infrastructure by building new workshops and providing teaching equipment.
Learning by doing is one of the principles followed in this school. Currently, 1,736 students study at MFC Kamza and they gain skills on IT, mechanics, nursing, agriculture, and hotel and tourism.
The principal of the school, Ergys Papaproko highlighted that infrastructure, training of the staff, and a modern curriculum are the main fields of focus. The goal of the school is to bring students closer to the demand of private businesses. A fund of Euro 4.5 million will be invested in building new workshops.
Energy efficient infrastructure for students
The resident students of Student City No.2 in Tirana will soon be accommodated in the best dormitories in Albania thanks to Euro 6.2 million investment financed through KfW. The investments consist of the energy efficient rehabilitation of the four existing buildings. Under the new project, the rooms will be organized in mini apartments with a shared bathroom. Every floor will have a common kitchen, a dining area, and library. The dormitories house 236 rooms and they will accommodate over 1,088 students in the future including people with special needs.
The engineers said that they are using the best-imported materials on the construction works because materials provided by the domestic market fail to meet the required standards. The four dormitories will have solar hot water panels, integrated heating floor, air heat pumps, demand controlled ventilation system, energy efficient lighting, new energy efficient windows, exterior shading elements, thermal and water insulations of roofs and ground floor.
These are some of the main fields of economic development that the German cooperation supports in Albania.
Invest in Albania, November 2017
Photo Credit: German Embassy in Tirana