This is not an original article by Invest in Albania. The original can be found here.
By Dan Flying Solo
'Our guest house is in the Castle' I slowly repeated to the police man. He wagged his finger at me, waved his hands around in the air like a snake and then grinned like a big kid. We would learn that translated to 'Move your god damn car…'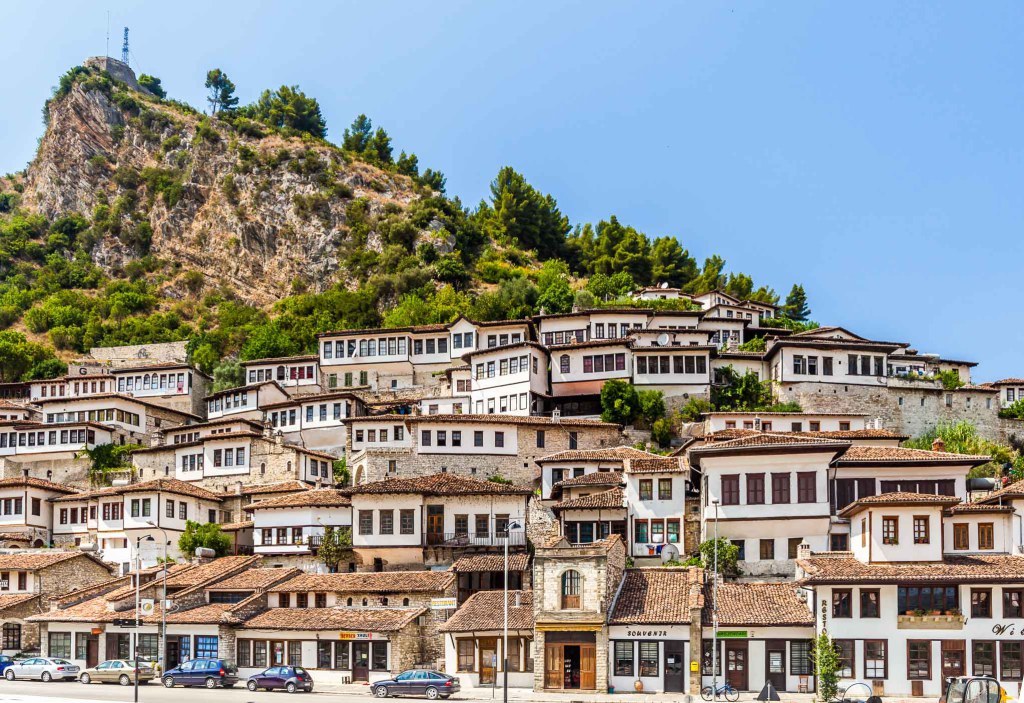 'So you will stay just one night in Berat?' enquired our guest house owner whose grinning smile was as welcoming as the cold beer he had produced near instantly.
I glanced over at the neatly kept flower beds, the medieval style arch door to the courtyard and turned backwards to my underground cave room with its dimly lit charm. 'Let's make it two.'
 Five minutes. That was all it took to know that two nights in Berat wouldn't just be relaxing but was an absolute necessity. Why? It had that vibe, the one that shouts you've finally arrived, even though you didn't know what you had been looking for.
 To be honest, five minutes isn't entirely true. We had actually made our noisy, dramatic and somewhat ridiculous entrance to this historic white washed wonder nearly an hour before…
It had started some hours earlier in the car (a car which is essential if you want to discover all the incredible hidden spots in Albania).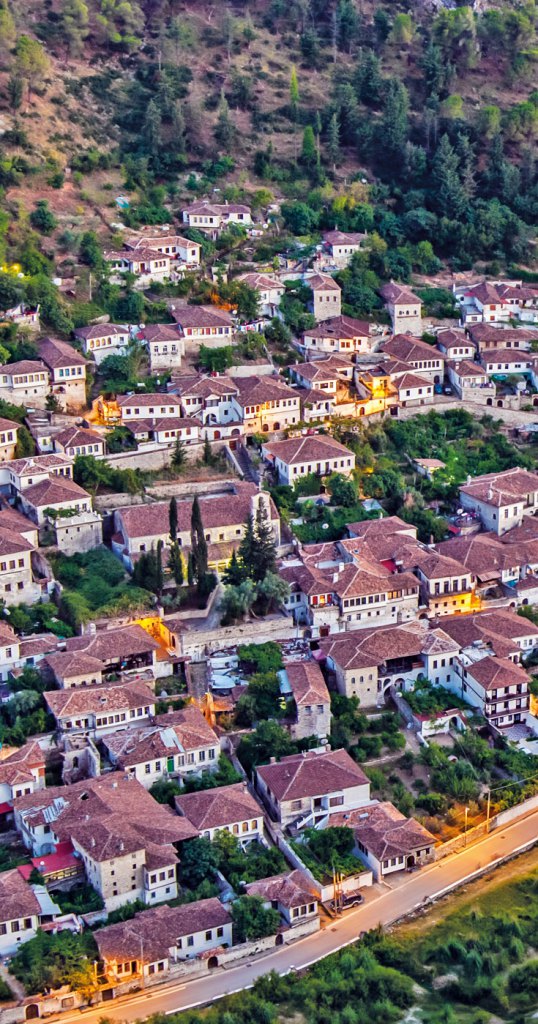 'Do you guys want to stay in the Castle?' Jones had called out from the front seat. I'm not sure we had to actually reply nor that it was even a real question. It was what many would call a no brainer.
 As the roads went from good to bad to plain sketchy winding in and out of the somewhat odd Albanian countryside. Tiny villages and bizarre stuffed bears spiked on roofs blended into dirt tracks and greenery for miles.
Short drives in much of the Balkans run on a different time scale than the rest of the world. If you trade out the word short for 'kinda long, bumpy and totally lost' then you get a better picture. Six hours later as we turned the bend and the white houses of Berat, with their gaping windows came into view I knew it was worth every second. Berat, which translates to White City in the old Southern Slavic language was only inscribed to the UNESCO world heritage list in 2008. I can only assume no one from the body had heard of it before that because damn this city deserves its spot on the list.
The white houses, with their wide windows and red dirt specked rooftops slowly build up the mountain on either side of the Osum River. On the right they fade into lush greenery and to the left they rise to the castle walls which was to be our home for the night.
I glanced at the steep white cobbled road leading upwards and knew our crappy car was about to fall out with us. 'Let's get this baby up the road' screamed Lili, our designated driver and all round nut job and somehow skidded it up to the castle entrance before triumphantly parking it in a spot that anywhere else in the world would be considered illegal.
So when I said five minutes was all it took to fall in love that was a complete lie. The next hour consisted of one of the most cheerful police man I have ever met whose use of hand signals was exemplary, even as he steadily lost patience with us.
As he made his arm look like a dancing dolphin for the 98th time and continued to repeat the word up with a grin to me I was starting to lose faith in our four-wheeled friend. It slipped, it skidded and it wasn't having any off it. Eventually, between the command of up in an Albanian accent and the occasional swear word being emitted too loudly from the car we pulled up outside Guesthouse Kris Berat with enough snapchat footage to make a mini comedy.
'Make sure you use the new side road' our new friend advised as he served up a second round of beers. 'The old road to the castle is near impossible'. Next time I'm getting a four by four but for now I'm getting Berat Rakia…
 Exploring the UNESCO listed city of Berat in Albania…
The castle itself dates back to 13th century and is fairly unique to the area as it is a mix of Ottoman mosques and Byzantine churches. Spend a couple of hours strolling around the walls, through the small streets that people still call home or hunt down the woman selling fresh fruit and stock up on some cheap and tasty plums.
I've gotta say staying in the castle walls was pretty special and as it never closes you can come and go as you please. The restaurants up here with their brick walls and colourful vines serving home-made wine and Rakia (the local spirit) are an ideal spot to end the day.
The old town of Berat just below is even more adorable and somehow, in the middle of an August day, surprisingly devoid of tourists. I'm pretty sure most of your time here will be spent photographing the white houses by day and lapping up the great river views from a restaurant by night. Seriously, do not skip this place on your Albania road trip!
The new town is close by, follow the promenade along the river and you'll be amazed at how buzzing it comes by early evening. Coffee (or beer) culture is alive and kicking here making my favourite sport, people watching (athletic I am not), a treat. With the population around 70k people there is a good vibe here and it never felt too crowded. The history of Berat is long and impressive and well worth reading up on if you have a spare few minutes.
A day trip to Bogove Waterfall
'The place is beautiful but the road is so so' he advised before we set off from Berat. I had learnt to accept so so could mean no road at all so nothing was going to shock me.
Driving along the river, into the mountains and following the road up and down you can't help but become addicted to the landscape of Albania. At times like these I am glad I never passed my driving test as keeping my eyes on the road would certainly be a mission impossible. As the road turned to a dirt track leading high up a mountain I realised we had hit that 'so so' moment.
'It won't MOVEEEEE!' screamed Lili from the front seat, clearly ready to drive the car off a cliff as it was good for nothing. We sat there, deflated and wishing we had just paid the bit more to get something that actually functioned more as a car than a glorified shopping trolley.
Luckily, we were just blind and stupid. Slowly coming back down the red dirt road we had so aggressively tried to climb we saw a little turning. 'Waterfall'. My Dutch is not so great but I assumed the muttering I could hear was not a PG rated word.
Bogove was a funny little area. We had stopped to ask directions in a café. 2 Cigarettes was the going rate for being pointed in the right direction. With a lack of a mutual language it wasn't surprising we had hit the wrong turning.
The path leading to the waterfall was a contrast of untouched nature and big steel pipes carrying water away. After a twenty minute climb the small waterfall and its beautiful enclosed pool came into view. A lone figure sat pensively staring at the trickle of water. Tourism hasn't hit this country hard yet and that is both the charm, and the challenge of travelling through it.
After getting a bout of frost bite trying to photograph the thing you just have to settle into the uninterrupted sounds of nature and turn off from the rest of the world. I found a few moments of bliss in Bogove which I won't be forgetting.
Need to Know
Where to stay?
I can't recommend Guesthouse Kris enough – it has a dorm room, a two bed apartment and a three person underground den (my favourite) so is small and homely. I'm not even gonna chuck an affiliate link in here to a booking site, just book direct through their Facebook page so they get all the dollar and enjoy their tidy courtyard, perfect hospitality and the magic of staying in Berat Castle.
How to get there?
I'll always advocate getting a car in the Balkans, so many of the hidden gems can only be reached that way. Alternatively, the big cities such as Saranda run day trips and tours to places such as Berat though I imagine you won't get the same vibe rushing to see it.
How much does it cost to travel Albania?
I have to admit I was surprised that everything cost more than expected, but this was August and peak time. That said, a great meal in Berat could be found for about €6 and a three person room at Guesthouse Kris came in about the €35 which for peak season I thought was more than worth it.