TIRANA, August 2
A few changes to the decision on Agrotourism activity, which came into effect over a year ago, were adopted during the latest meeting of the Council of Ministers.
The reviewed decision includes three new points on what is considered Agrotourism activity.
According to the decision, agrotourism is defined as a specific form of rural tourism focuses on the utilization of local leisure resources and it aims at encouraging alternative models for the development of tourism products and agricultural production.
Moreover, agrotourism facilities must own a farm either agriculture or animal husbandry, accommodation facilities, food, and recreational activities.
The hospitality activity takes pale in the agricultural/animal farms which operate without impacting the environment. Leisure activities that include the participation of visitors in farm actions must be educational.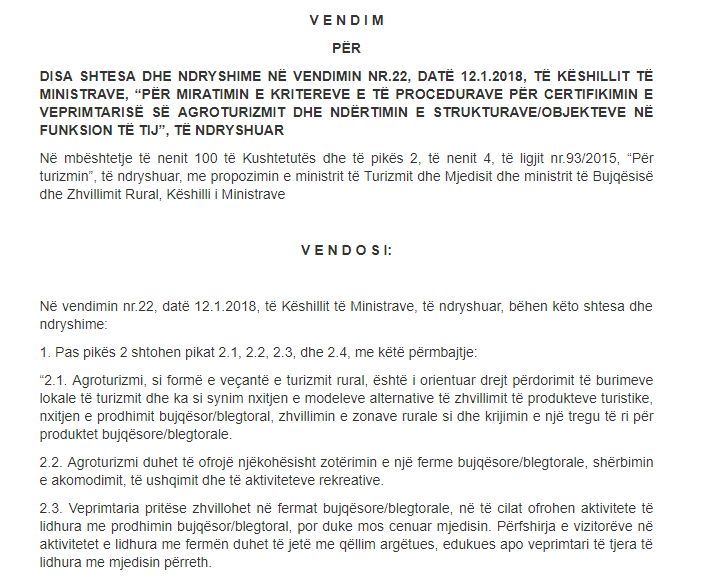 Further on, the reviewed decision does not include a 0.5 hectares greenhouse requirement that was defined in the initial decision. The only requirement is a 1hectare of crops.
Regarding the services that the agrotourism subject must provide, the newest version includes accommodation, food/restaurant, and leisure.
A new change was made to the accommodation capacity. The older version defined a limit from six to no more than 30 rooms. The new version does not include 'no more than'.
Further on, the decision points out that the commission which issues the agrotourism certificate has the right to suspend the license in case of breaches. The subject must obtain the certificate to benefit the tax incentives for agrotourism activities.
Source: prime minister's office