TIRANA, October
Albania made minimal progress in Doing Business report 2019 by jumping only two ranks compared to the previous year. Albania ranks 63rd among 190 economies on the World Bank Ease of Doing Business. Compared to other countries of the region, the country's overall performance in this index is better than Bosnia and Herzegovina, 89th. In the meantime, Macedonia scored the best position as it ranks 10th, followed by Kosovo 40th, Serbia 48th, and Montenegro 50th.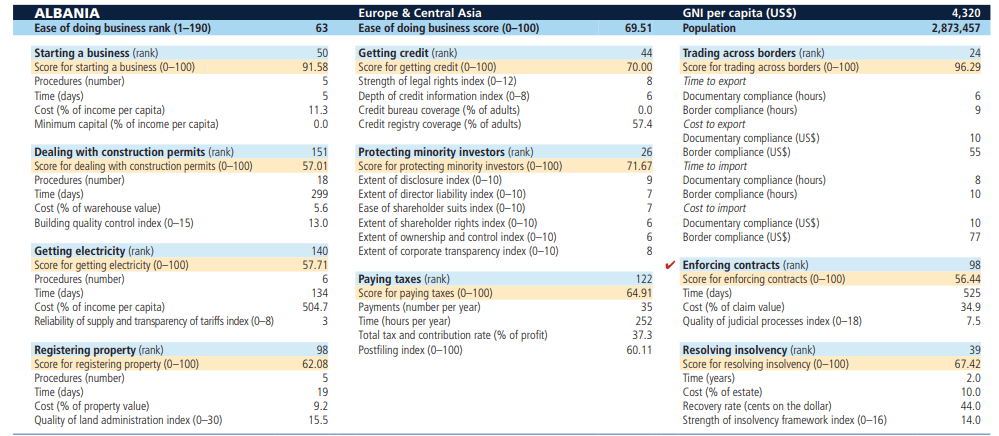 According to the quantities regulations used to measure the ease of doing business, Albania improves only on one of the ten parameters, Enforcing Contracts.
"Albania made enforcing contracts easier by amending the code of civil procedure to establish a simplified procedure for small claims and introduce time standards for certain court events," the report highlights.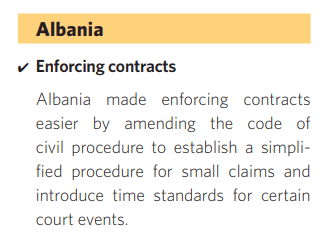 On the other hand, low performance in starting a business, dealing with construction permits, kept Albania from advancing in the global ranking.
New Zealand, Singapore, and Denmark secured the first the ranks in the report.
News Source/Photo credit: doingbusiness.org