TIRANA, November 15
Besides being a driver for competitiveness, digital infrastructure both advanced and underdeveloped  has an enduring appeal to foreign investors
The latest report on Information and Communication Technology (ICT) usage in households and by individuals drafted by the Institute of Statistics (INSTAT) reveals the number of people using the internet has surged over the year.
The report is based on the findings of a statistical survey that targets Albania households and individuals between the ages of 16 and 74-years-old.
We'll explore below the key trends and insights from the latest report
Households with internet access
The statistics confirm that 82.2 percent, or 2.3 percent more than in 2018, of Albania households, have internet access.
Households with broadband access
The percentage of households with broadband access concerning households with internet access in 56.6 percent or more than half (359,884). Broadband coverage/availability stands for households that have access to high-speed internet service provided through transmission technologies such as DSL, cable, modem, fiber, etc.
Households with a mobile broadband connection
The survey confirms that 88.9 percent of households have internet through mobile broadband connection by using wireless access, or cellular networks.
Use of ICT by individuals aged 16 to 74
"This indicator has shown growth by over 6 percent compared to 2018. Frequent internet users who use the internet almost every day represent 87.1 percent, while those who use the internet at least once a week represent 11.5 percent of the target population," the report points out while adding that the 2018 numbers for these two categories were respectively 85.4 percent and 13.1percent.
For what do they use the internet:
Searching for information on goods and services: 50.2 percent
Email communication: 32.5 percent
Internet streamed TV: 38.2 percent
The percentage of individuals aged 16 – 74 who made calls / video calls (via Skype, Viber, WhatsApp) over the last three months from the moment of conducting the interview in 2019 is 92.3 percent.
Use of e-government
The report shows a positive trend in the use of the internet for public services such as taxes, social benefits, official documents, education, etc.
Use of e-Commerce
eCommerce refers to companies, businesses, and individuals that sell goods and services online. According to international statistics, the number of digital buyers in 2021 will be 2.1 billion up from 1.66 billion in 2016. This shows that shops must think seriously about creating their online presence through an e-commerce website.
According to INSTAT's survey, online purchases are carried out by 10.1 percent of the population aged 16 – 74 years-old.
What did they mostly shop online?
It seems that fast-fashion prevails among Albanian online buyers. Over 82.6 percent (4 percent more than in 2018) purchased sports equipment and clothing.
Use of ICT by age group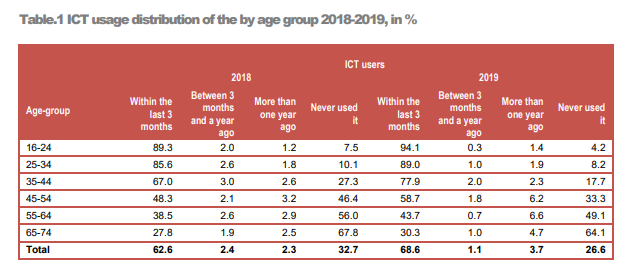 As expected youth and younger adults are those who use the internet more than others. Therefore, 94.1 percent of people aged 16-24 used the internet during the last three months from the moment of the survey interview. At the same time, this group uses the internet almost every day (95.2 percent). The older the age group the lower the percentage of internet users.
Yet what's interesting is the decline in the percentage of people that have never used the internet in their lives to 26.6 percent in 2019 from 32.7 percent in 2018.
What about Digital Gender Gap?
In terms of internet usage, the gender gap refers to less likely a woman is to use the internet than a man. While the stereotype has women underrepresented in ICT jobs and management positions, the digital gender gap between internet users in Albania is a difference of 5.2 percent.

Based on the survey, the percentages of women and men that used interned during the last week from the interview were respectively 66.0 percent and 71.2 percent.
The frequency of internet usage by gender shows that in 2019 men and women use the internet "every day or almost every day", respectively 88.0 percent and 86.1 percent.
Further on, in 2019 women bought more clothing/sports equipment than men (56.9 percent for women, 43.1 percent for men), while men showed a greater preference for computer-related items: software computer, computer equipment, electronic equipment (63.3 percent versus 36.7 percent for women).
Source: INSTAT