TIRANA, November 21
The Global Knowledge Index 2019 ranked Albania 67th out of 136 countries. Compared to the 2018 ranking Albania neither gained nor lost places. This is the third edition of the GKI, which is a roadmap on the sustainable development of societies worldwide. The GKI was unveiled by the United Nations Development Programme (UNDP) and the Mohammed bin Rashid Al Maktoum Knowledge Foundation (MBRF).
The Index helps countries formulate forward-thinking strategies to support knowledge and promote it as a main component in building a stronger knowledge economy while ensuring sustainable development.
The data show that Albania is 0.5 points below the world average knowledge index. Regarding other countries of the region, Serbia ranked 49th, North Macedonia ranked 71st, Croatia 45th. Meanwhile, Bosnia and Herzegovina, Kosovo, and Montenegro were not included in this edition of the GKI. This year's index was topped by Switzerland, with Finland, the US, Singapore, and Luxembourg following.
The country ranking is made based on seven main sectoral indices and their sub-indicators. In 2019 Albania had the best performance in Technical and Vocational Education and Training. Meanwhile, higher education was the worst-performing sector.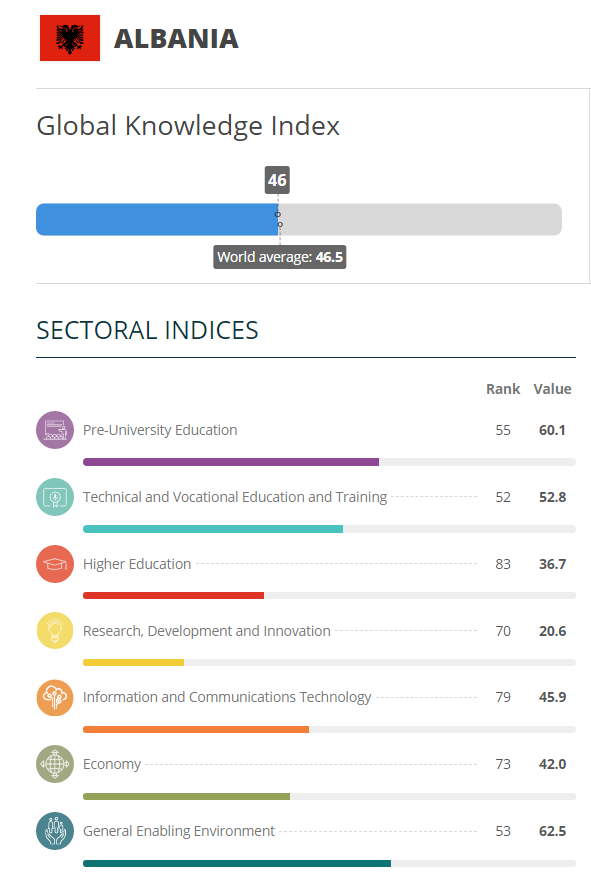 Best and worst performing indicators by sector
Pre-university education, Global Ranking 55th
Best performing indicator: Early Childhood Education, Global Ranking: 29th
Worst performing indicator: Expenditure on Education, Global Ranking: 75th
Technical and vocational education and training, Global Ranking: 52nd
Best performing indicator: Features of the Labor market, Global Ranking: 33rd
Worst performing indicator: Educational Structure, Global Ranking: 96th
Higher Education, Global Ranking 83rd
Best performing indicator: Human Resources, Global Ranking: 21st
Worst performing indicator: Global Ranking: Employment after Graduation: 113th
Research, development and innovation, Global Ranking: 70th
Best performing indicator: Inputs of Innovation in Production, Global Ranking: 5th
Worst performing indicator: Research and Development Outputs, Global Ranking: 129th
Information and communications technology, Global Ranking, 79th
Best performing indicator: Infrastructure, Global Ranking: 65th
Worst performing indicator: Subscriptions, Global Ranking: 85th
Economy, Global Ranking: 73rd
Best performing indicator: Trade, Global Ranking: 35th
Worst performing indicator: Domestic Value Added, Global Ranking: 111th
General enabling environment, Global Ranking: 53rd
Best performing indicator: Environment, Global Ranking: 26th
Worst performing indicator: Empowerment, Global Ranking: 92nd
Source/Photo Credit: knowledge4all