Let's connect  
Albanian Alps are an oasis of pristine nature and wonderful landscapes that impress tourists and make them come back each season. Except from being recognized as the shelter of natural parks and high peaks, the Albanian Alps have high tourism potential due to the area's climate conditions.
In the northern peaks of Tropoja city, (northern Albania), tourists can visit glacial lakes which date after the last glacial era about 15,000-12,000 years before. They are situated in Doberdol village, 2124 meters above the sea level.  Such glacial lakes are not only a tourism attraction but also a study object for experts and naturalists.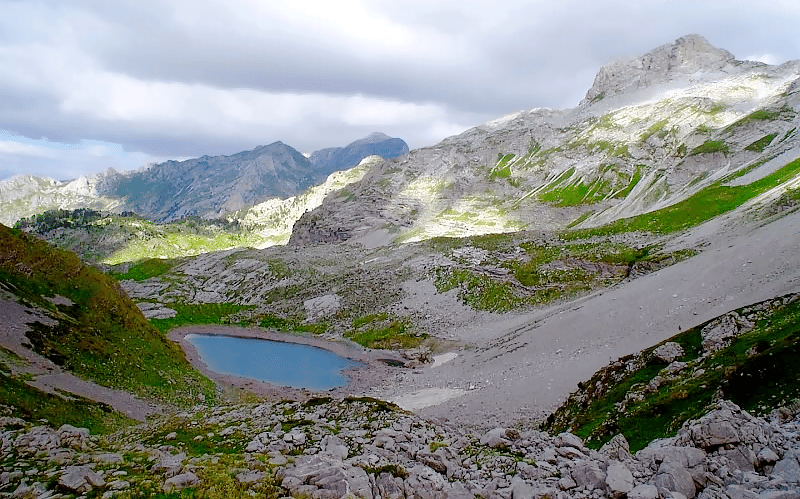 Glacial Lake in Jezerca valley
Photo by Wikitoc / Wikimedia
Another glacial lake tourists can visit in northern Albania is Sylbica lake, situated about 1900 meters above the sea level in the glacial meadow of Sylbica in Highlands of Gashi, Kukes region.  The glacial meadow of Sylbica is known for its 9 glacial lakes (including Sylbica Lake,) the biggest one in the area, at an average altitude of 1000 -1500 meters and each cover circa 40 hectares surface.
These glacial lakes have permanent water at a temperature under 0 Celsius Degree and during winter their surface freezes. According to experts, these lakes have a livid and diverse ecosystem of plants and high scientific, geologic, hydrologic and biologic values.
The Albanian Alps are the preferred destination of alpinists, hikers, and backpackers to have an adventurous trip with friends and tour guides.
Source/photo: ATA