TIRANA, July 17
The project on the rehabilitation of the outdoor premises of Gjirokastra Castle, where the Ottoman cannons are exposed, implemented by the Peace Corps and Cultural Heritage without Borders Albania (CHwB) is now completed. The conclusion of the projects coincided with the 12th anniversary of the inscription of Gjirokastra on UNESCO World Heritage. An event was organized on this occasion.
Chair of the Regional Directorate of Culture Albert Kasi praised the cooperation of the Peace Corps with CHwB. He highlighted that this type of cooperation helps to implement projects that enhance the values of the castle and its artifacts.
On her part, Minister of Culture Mirela Kumbaro said that Gjirokastra must take advantage of its status of a UNESCO World Heritage Site.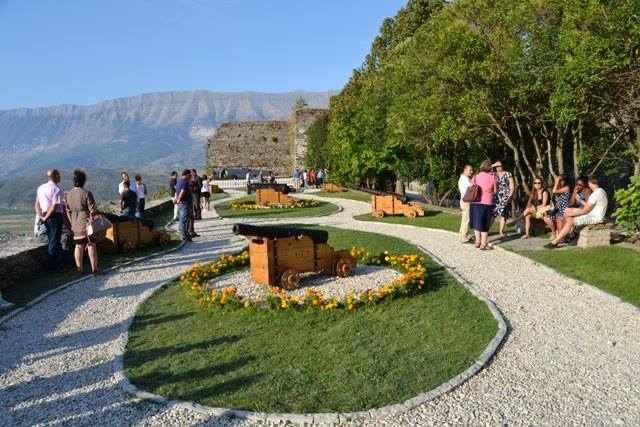 "A combination of the cultural heritage potential with economic development potential is the best path for the city's development," Kumbaro said.
Further on, she added that so far in 2017 some 22,000 tourists have visited the castle many restoration works are taking place in building with historic value.
A week ago, 41st World Heritage Committee session approved the progress-report made by the Albanian government regarding the historic centers of Berat and Gjirokastra.
Albanian institutions interfered in several objects in both cities. The image of Gjirokastra will improve with the restoration of the buildings' facades in the lower part of the city. This project will be implemented in cooperation with the Albanian Development Fund and it is financed by the Council of Europe Development Bank (CEB). It foresees the rehabilitation of facades for 140 buildings constructed before the 90s.
News Source: Scan TV
Photo Credit: Ministria e Kultures