TIRANA, November
Building permit activity in Albania increased by 48.4 percent over the period 2016-2018 with a total floor area of 1,442,783 square meters. The official data on the construction sector in the country were unveiled on Friday by the Institute of Statistics (INSTAT) on the regional statistical yearbook.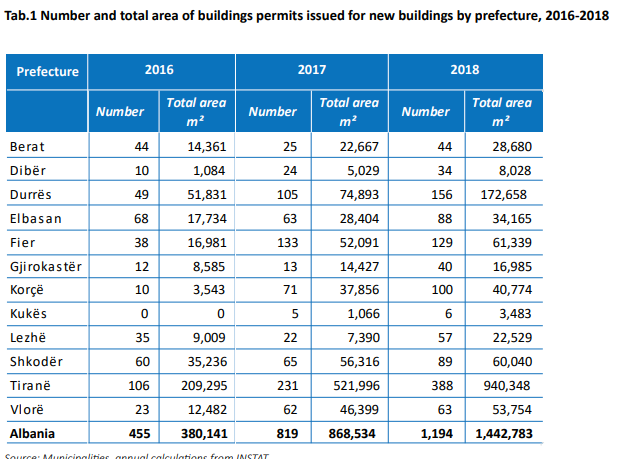 According to the statistics on this sector, the total number of building permits issued during 2016, 2017 and 2018 were respectively 455,819, and 1,194.
Further on, over 54 percent of permits issued during the afore-mentioned period were concentrated in Tirana, Durres, and Fier.
On the other hand, Kuksi region had the lowest concentration and construction area of permits issued for new buildings.
Regarding the type of permits, those issued for residential buildings account for 64.4 percent of the total. The top three regions with the highest number of residential permits are Tirana, Durresi, and Fier. Meanwhile, the top three regions with the largest area of new constructions are Tirana, Durresi, and Shkodra.
Meanwhile, 36.6 percent of new permits were issued for commercial buildings such as hotels, offices, industrial, wholesale and retail, etc.
Read also: Real Estate and Property in Albania
Source: INSTAT